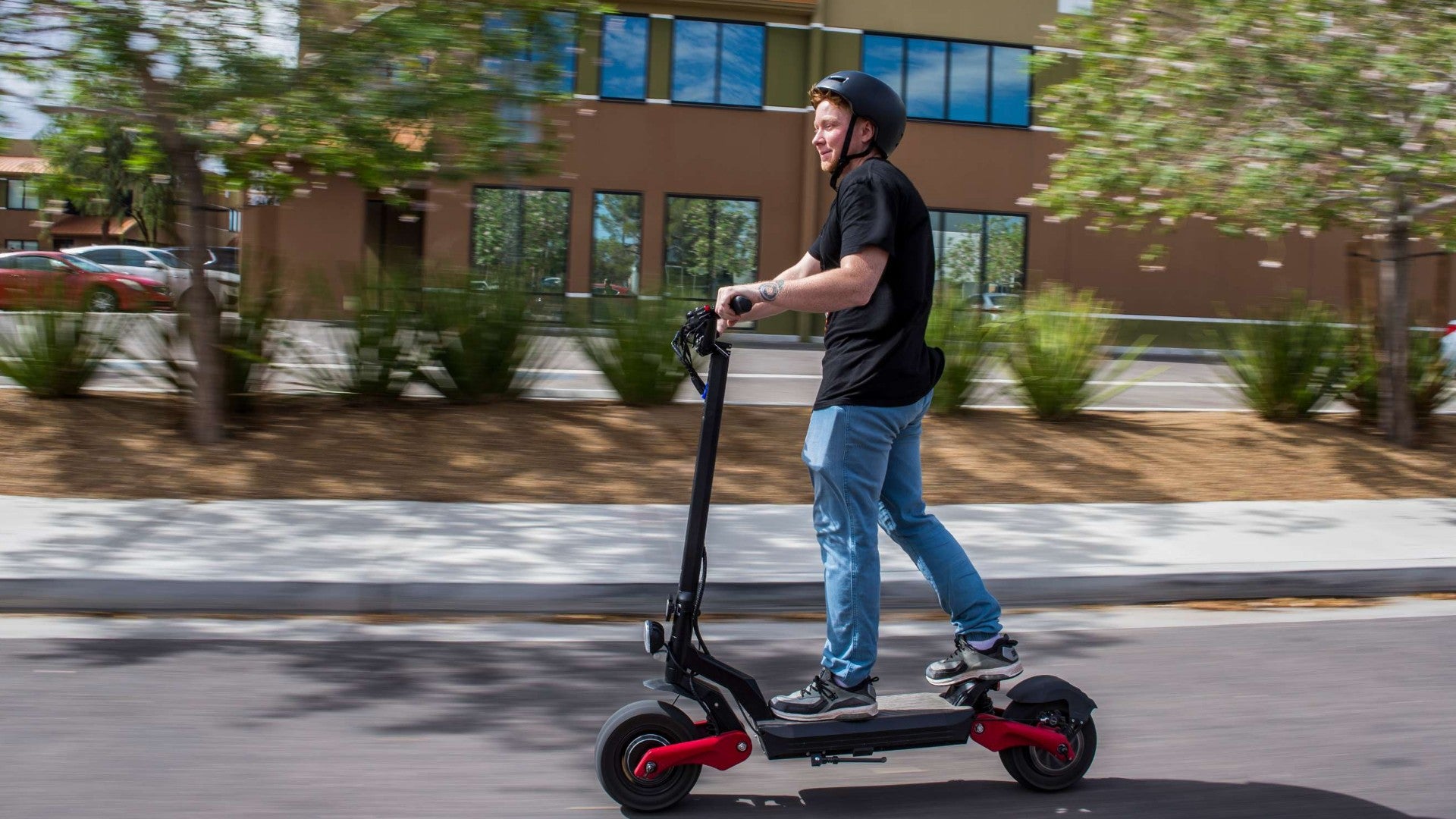 Why Should You Take An Electric Scooter Ride Test
When you finally decide to take an electric ride on scooter for yourself, you enter a market with myriad options. There's a wide variety of these scooters, each catering to the specific needs of varying individuals. Selecting an electric scooter based on your preference and its capabilities can pose a challenge.
Trying to decide which electric scooter to buy isn't easy, especially when searching online. The visual features and specifications may not match the actual product. You need to see it in person and take a test run to make an informed decision.
Why Should You Take Advantage of E-Scooter Test Rides?
When you are cautious about which scooter deserves your money, you leave no room for error. You will be safe from buying a moped scooter for adults that doesn't fit your needs. Once you test rides it, you can determine whether it exceeds your expectations or not.
Here is a comprehensive list of advantages of taking a test run of battery operated scooters.  
See It in Person
Seeing the adult scooter in person can be a significant advantage that you need to consider. It answers various questions, i.e. whether it has the minimalistic or stylish appeal you want, if the mechanics are what you need, or if it is strong, durable, and portable.
When you're surfing the internet for the ideal scooter, it isn't easy to gauge if it's the right size, and an electric sit scooter's most prominent quality is its portability. Once you visit the store, you can see for yourself if it adequately meets your requirements.
Moreover, you can accurately assess the bolts, tires, weight, and other functionalities that you won't notice through a digital screen. If you end up with any compromises on these specifications, your electric scooter won't perform up to par, nor will it last long. It may even need constant repairs.
Check Its Performance
When you test ride the e-scooter, you can see if the performance is up to par. It's one of the main reasons why you should test drive adult motorized scooters, to begin with. This is the perfect way to check if the advertised specifications are reflected in the electric sit scooter.
Some of the necessary features of an adult scooter include suspension, motor, breaks, acceleration, and range. A good test run will tell you if the electric sit scooter has a powerful motor, proper breaks, suspension, and range. These are especially essential measures to take if you ride on steep terrains requiring substantial breaks and heavy motor power.
Lastly, this allows you to determine if your weight and the scooter's weight are compatible. If not, then your experience with an electric scooter may get increasingly uncomfortable as time progresses.
Ask the Right Questions
When you visit the store, you get the opportunity to talk to the retailer and ask them more about their service and the electric sit scooter. This will be a great chance for you to learn in-depth about moped scooter and their after-scale assistance.
Your contact with the retailer won't be over after your purchase. They will be associated with you throughout your experience with the electric service through customer service and feedback requests. They're also the most reliable source when you need an emergency repair or monthly maintenance for electronic scooter. However, some stores don't offer this commitment to their customers. If you want more dedicated services, make sure your retailer has them.
Aside from this, ask if the scooters have a warranty. Often warranties on an electric scooter vary based on specific parts. For instance, a motor and a controller have 6 months at least of warranty; reliable companies offer up to 1 year or 2. The battery usually has a year at most, and the rest vary from 2 weeks to a month. Some companies, such as Varla, offer an incredible warranty with free maintenance.
Don't Invest in a Bad Scooter
Often manufacturers may advertise their scooters a certain way but fail to deliver on their word. They may claim it has a dual motor, but the body is lightweight and therefore incapable of supporting such power. Or that their electrical scooter is a top-speed vehicle with excellent range, but when you use it daily, it deteriorates in power, and the battery life goes downhill too. To prevent such misfortunes, you should run a test ride to save your time and money.
Also, you should consult with the people already using electric sit scooter about which one is the most reliable and competent. Word on the market is that Eagle One and Eagle One Pro are everything you could need in motor scooters.
Schedule a Test Ride with Varla
Depending on what you need, Varla offers various models. You can go for the city commuter, ideal for daily and friendly use, Pegasus, or the high-powered Eagle One Pro, suited for all terrains. You can't go wrong with either of these options. However, if you are on a budget and still need a high-powered motor, try our best seller Eagle One. With our discounts and deals with free accessories, you can rest easy knowing you got an excellent deal. Our duty is to ensure our customers get quality, power, and an overall better aesthetic with Varla Scooters. If you are on the hunt for a competent scooter, then a Varla adult scooter is the answer.
Conclusion
When you're browsing the internet, you cannot clearly understand what's best and what isn't. There are many questions and concerns that can go unanswered, except when you're testing it in person to ensure maximum satisfaction. When you are already investing in something as innovative as a motor scooter, you should take an extra measure and perform a test run.
Varla offers test runs to customers who wish to purchase. We ensure everything is running smoothly before releasing our electrical scooter to you, so there are no doubts or room for error.
---
---
Share Article
Newletter
Promotions, new products and sales. Directly to your inbox.
Lastest Blog Post
Category