About Varla
The founding of Varla was upon the idea of providing electric scooter enthusiasts with a perfect all-terrain riding experience. In 2018, this simple idea struck our brand founder-Ben's mind, which gradually became the core ideology of our team - to satisfy people with cost-effective outdoor products.
Our company is developing rapidly and have 2 product lines by 2021. Varla Eagle One is an off-road electric scooter that helps you conquer all terrains, while Varla Pegasus is mainly designed for city commuters that meet 99% of your on-road needs. The new model will be released in 2021, and we are planning on more high-performance models to meet the various outdoor needs of our customers. A larger number of electric scooter enthusiasts have joined us, and enjoy an affordable, convenient, and environment-friendly transport style.
About Varla Eagle One
We know that there are various electric scooters out there, but if you compare scooters at the same price point, you will find out that Varla Eagle One is definitely the most cost-effective one among high-performance electric scooters. Whether you are looking for something to accompany your last-mile travel or off-road partner, we strongly believe that Varla Eagle One would be an amazing value for the price and ticks all the boxes for features you are looking for.
| | | |
| --- | --- | --- |
| Dual Hub 1000W Motor | Dual Hydraulic Brake + ABS | 52V/18.2Ah Lithium-ion Battery |
| Top Speed: 40 MPH | Max Range: 40 Miles | 30+ Degree Climbing |
| Independent Suspension | 10 inches Pneumatic Tires | Water Resistance (IP54) |
| Reasonable Weight | Quality Construction | Massive Deck |
| Great Heat Dissipation | LED Headlight & Taillight | 2-Year Warranty |
About Varla Pegasus
A 28 mph & solid tire city commuter electric scooter.
We worked with a design group and made a unique scooter based on most Varla riders' needs.
Pegasus will meet your 99% of on-road riding needs!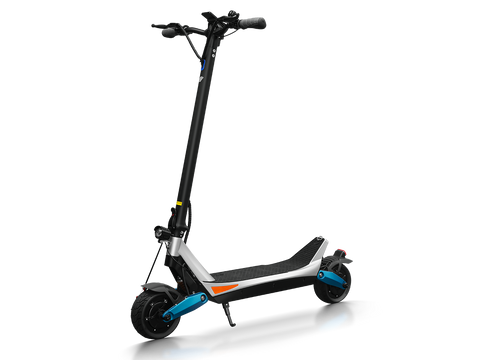 | | | |
| --- | --- | --- |
| Dual Hub 500W Motor | 8 inches Fat Solid tires | Dual Disc Brake |
| Top Speed: 28 MPH | Max Range: 28 Miles | 250 lbs |
| LED Headlight & Taillight | Quality Construction | 2-Year Warranty |
About Varla Team
We are a customer-focused and detail-oriented team with people from all around the world. Our experienced and professional engineers and 24/7 customer service team are always here to respond to your queries. Most importantly, we are confident that with our strict quality control and pre-shipment quality check, every high-performance scooter we sell would spice up our customer's life.
As a young team, we never stop improving and innovating. Now we have already established a long-term relationship with electric scooter manufacturing partners. Currently we just launched Varla Eagle One, there will be more and more models launched in the near future. And we are considering opening offline stores to provide customers with better and more convenient after-sales service.
Check out our Varla Scooter Gallery. We've created this gallery full of photos and videos only to help you get a closer look at what our scooters are like as well as providing some practical scooting tips or guides.
Be young, have fun, go far, grab life, Varla will always be there for you.
Phone: (424) 645 5125
Email: support@varlascooter.com 
Our Facebook Page
Our YouTube Channel