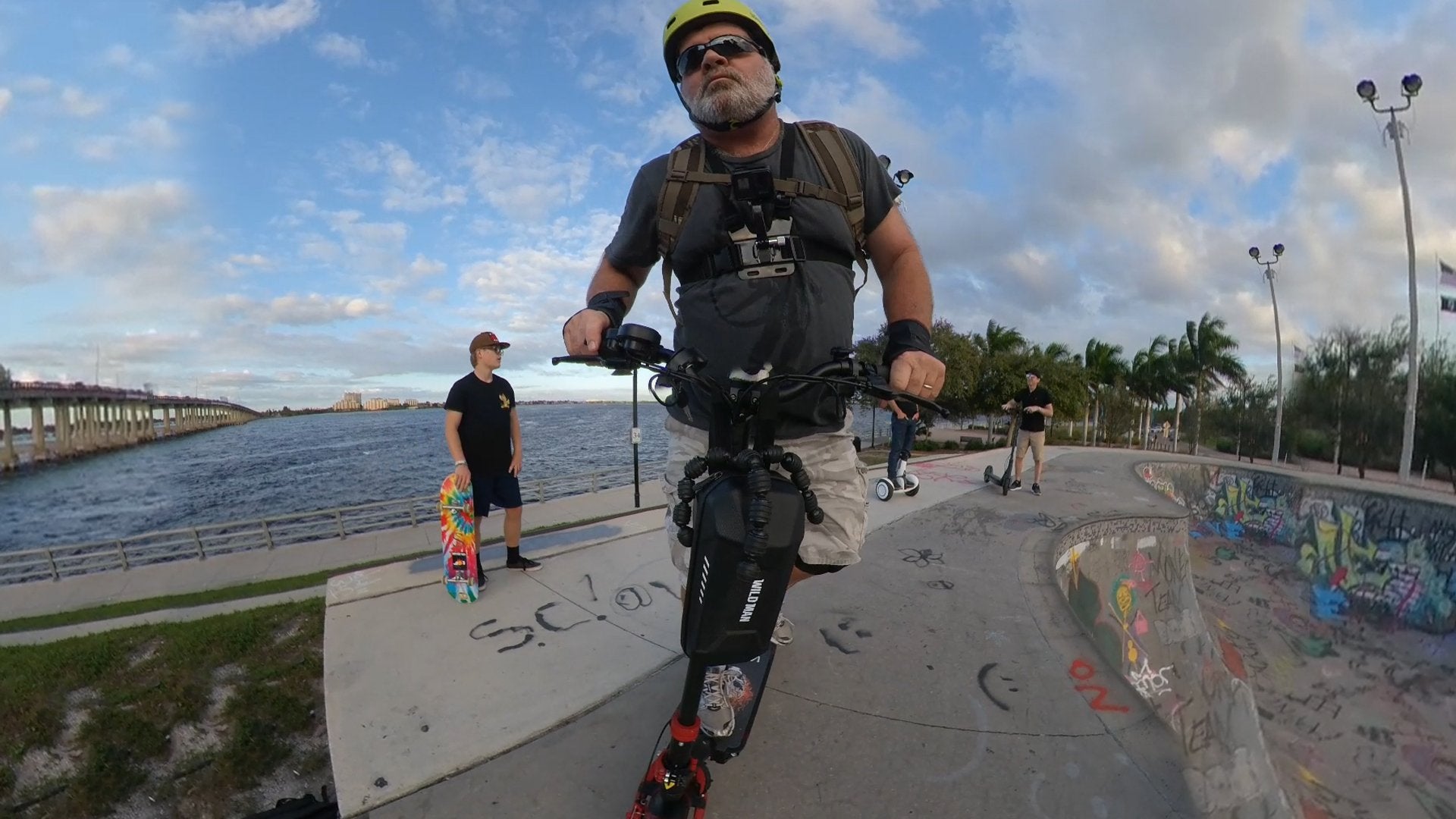 Best Electric Scooter for Heavy Adults 2021
If you have thought about buying an electric scooter recently, you won't be disappointed. Electric scooters will save you money on your commute each day, it's eco-friendly, and you can adventure on- or off-road whenever you want to!
Finding the best electric scooter for heavy adults is easy when you understand the components. For example, what kind of motor or battery do I need for my electric scooter to have a long range? Is it heavy duty? Is this the best electric scooter for heavy adults?
Let's find out what the best electric scooter for heavy adults is, why they are the best, and where you can get your hands on your new heavy-duty e-scooter!
What is the weight limit for an electric scooter?
The weight limit for an electric scooter is a deal-breaker, and various parts will influence the payload capacity of the scooter. These include the battery, motor, scooter frame, suspension, and braking power.
Battery and motor
There are three batteries that are found in electric scooters. These include sealed lead-acid batteries, nickel-metal hydrid batteries, and the preferred lithium-ion batteries. The top-choice for high-quality electric scooters use lithium-ion batteries because they are lighter and have a longer lifespan.
Cheaper and lighter electric scooters tend to have small motors and weaker battery capacity, which reduces the max weight limit. The e-scooter will have a lower range because the battery doesn't have enough energy to carry a heavy load. If the motor has a 500w motor, it has enough power for heavy-duty riders. However, the max speed the rider can get is approximately 20 mph.
When you look for a high-performance, top-quality electric scooter, it should have two motors to power the e-scooter and carry the heavy load. If an electric scooter has a payload capacity of 265 lbs and can reach speeds of 25 mph and range of 20 miles, it gets considered the best electric scooter for heavy adults.
Braking Power
Braking power is essential for your safety because heavier loads result in longer braking distances when traveling at higher speeds. There are various types of braking systems in electric scooters. These include:
Foot brakes: The rider will push down on the fender to brake. They normally don't perform well in wet conditions or on e-scooters for heavy adults.
Electronic brakes: These brakes cause resistance against the motor, causing the electric scooter to stop.
Drum brakes: Located in the wheel hub, drum brakes have pads to cause friction to slow the wheel by pushing out against the surface of the brake. The downside to drum brakes is that they can overheat, lowering their performance.
Disc brakes: Like drum brakes, disc brakes are located in the wheel and works by using the lever on the handlebar. They are more lightweight and highly effective in wet and dry conditions. They are the perfect brake system for electric scooters for heavy adults.
Electric scooters for heavy adults that reach high speeds get equipped with disc brakes because they will respond faster. However, keep in mind that the braking time will also be affected by the terrain, weather conditions, and the rider's response time.
The frame of the scooter
The quality and sturdiness of the electric scooter frame will also impact the weight it can carry. If the frame is too light, it won't be able to carry a heavy load. The frame must be sturdy and heavy-duty when buying the best electric scooter for heavy adults.
The two most common materials that get used to building electric scooters are aluminum alloy and carbon fiber. This is because they won't get corroded easily and are incredibly durable. Carbon fiber electric scooters are 30%-40% more expensive even though it performs similar. The benefit of carbon fiber is that its lighter than other materials.
Suspension
The suspension is critical to your comfort while riding. If you are an off-road adventurer or ride your scooter for your daily commute, then you need suspension on your electric scooter. They not only carry heavier riders, but it provides stability and safety by absorbing bumps in the road and ensuring your tires remain on the surface of the road.
How much is an electric scooter for heavy adults?
Let's take a look at the best electric scooter for heavy adults and determine which provides you value for money.
| | | | | | | | |
| --- | --- | --- | --- | --- | --- | --- | --- |
| Model | Price | payload | Motor | Top speed | Mile | Brake | Suspension |
| Dualtron X | $5999 | 330 lbs | 2x2700W | 50 mph | 80 miles | Dual Disc Brake | 19-step adjustable hydraulic suspension system |
| Wolf Warrior | $2999 | 330 lbs | 2x1200W | 50 mph | 70 miles | Dual Hydraulic brake | front hydraulic/ rear springs |
| Varla Eagle One | $1599 | 330 lbs | 2x1000W | 40 mph | 40 miles | Dual Hydraulic Brake | Dual suspension |
| EMOVE Cruiser | $1399 | 352 lbs | 1x600 W | 28mph | 62miles | front and rear hybrid hydraulic brake | Dual suspension |
| Varla Pegasus | $1099 | 280 lbs | 2x500W | 28 mph | 28 miles | Dual Disc Brake | Dual suspension |
| Apollo City | $999 | 265 lbs | 1x600 W | 25 mph | 28 miles | drum in rear and disc in front | Dual spring suspension |
Dualtron X
The Dualtron X is making waves in the electric scooter community. Not only is it one of the most powerful electric scooters on the market, but it's clear the Dualtron X  was designed for thrill-seeking heavy adults.
The maximum payload is 330 lbs and is suited for the most aggressive riders. With 2 x 2,700w motors, expect to reach impressive speeds of 50mph. This scooter is going to get you moving over hills without breaking a sweat. This electric scooter for heavy adults has a 19-step adjustable hydraulic suspension to ensure a smooth ride even if you are reaching the maximum weight capacity.
Unfortunately, all this is coming at a hefty cost of $5,999, which means it might not fit into most people's budgets.
Dualtron X
Price: $5,999
Payload: 330 lbs
Motor: 2 x 2,700w
Top speed: 50 mph
Range: 80 miles
Brake: Dual cable brakes
Suspension: 19-step adjustable hydraulic suspension
Wolf Warrior
The Wolf Warrior can also break the bank with a price of $2,999, but it comes with 2,400w output (2 x 1,200w motors), so you can take the same maximum weight of 330 lbs over steep hills. It is also almost twice as fast as most affordable electric scooter options, with its top speed reaching 50 mph.
On a single charge, get a range of 70 miles. Adding a couple more lbs could make the mileage a little less. Even if it doesn't take you the whole 70 miles, it will still take you farther than most electric scooters for heavy adults. These miles are certainly going to be comfortable with the front hydraulic and rear spring suspension. The brake system is just as impressive as it boasts dual hydraulic brakes. With its perks, one can justify the price.  
Wolf Warrior
Price: $2,999
Payload: 330 lbs
Motor: 2 x 1,200w
Top speed: 50 mph
Range: 70 miles
Brakes: Dual hydraulic brakes
Suspension: Front hydraulic and rear spring
Varla Eagle One
The Varla Eagle One shares a few specs with its higher-priced competitors. When comparing options, this makes it one to consider, especially if you require speed and mileage on a budget.
The Varla Eagle One soars at 40mph, which is not too bad considering the snail-paced cheaper options. It also offers a range of 40 miles per charge, which should be far enough for most people.
This electric scooter is not a problem for heavy adults with a payload of 330 lbs. With dual hydraulic brakes and dual suspension, rest assured that the ride stays comfortable as if you were gliding on air.
It has a maximum power outlet of 2000w (2 x 1000w motors) to give you a steady climb over hills. The Eagle One offers riders the same quality specs while remaining budget-friendly. The price tag for this all-terrain beauty is $1,599.
Varla Eagle One
Price: 1,599
Payload: 330 lbs
Motor: 2 x 1,000w
Top speed: 40 mph
Range: 40 miles
Brake: Dual hydraulic brakes
Suspension: Dual suspension
EMOVE Cruiser
Here is a perfect example of value for money, the Emove Cruiser. Falling in the middle of the price bracket at $1,399, you don't need to break the bank to get the benefits of mileage and payload.
It may not have a memorable power outlet, but its single 600w motor can still get the job done. Its lack of power is made up for by its ability to carry more weight than its competitors. It boasts a noteworthy payload of 352 lbs.
Safety isn't overlooked even when on a budget. It has admirable front and rear hybrid hydraulic brakes. You might not have speed, but at least then you can enjoy the scenery as your travel. It has a dual suspension to support the heavy load and ensure it's smooth going over bumps.
EMOVE Cruiser
Price: $1,399
Payload: 352 lbs
Motor 1 x 600w
Top speed: 28 mph
Range: 62 miles
Brake: Front and rear hybrid hydraulic brakes
Suspension: Dual suspension
Varla Pegasus
The very budget-friendly Varla Pegasus will save you money while still offering great range and speed. You want your money to go further, and the Pegasus gets the job done. With a range of 28 miles on a single charge, you will be satisfied after each commute and never worry about running low on juice.
The Pegasus has a maximum payload of 280 lbs and reaches speeds of up to 28 mph. This may not be top of the range, but it is for those looking for affordability without cutting down on quality. Moreover, it has a reliable dual disc brake system accompanied by the usual dual suspension for easy riding.  
It has a maximum power outlet of 1,000w (2 x 500w motors). Depending on your needs, consider your riding needs and what you need from your electric scooter. The Pegasus is the best commuting electric scooter for heavy adults that will save you money. Costing only $1,099, you can get everything you need for safe city travel.  
Varla Pegasus
Price: $1,099
Payload: 280 lbs
Motor: 2 x 500w
Top speed: 28 mph
Range: 28 miles
Brake: Dual cable brake
Suspension: Dual suspension
Apollo City
At only $999, one can not expect all the fancy bells and whistles as seen in its opponents. However, it may be more than enough for those who don't require longer trips, speed, or high payload.
With a trivial payload of only 265 lbs, it may not be the best choice for those who are concerned about weight. The individual 600w motor might not be powerful enough to get you over steep hills but will still get you moving. It can go 28 miles on one charge, which compares well with its other budget-friendly counterparts. But, similar to its rivals, it also doesn't break any speed barriers with a top speed of only 25 mph.
Safety and comfort did not get neglected. To ensure safety, it has a substantial front disc brake and drum in the rear. For comfortable rides, it has a humble dual spring suspension.
If you are looking for affordability and are not concerned about specs, then this scooter will do the trick. You won't go too far or too fast, but it'll get you to your destination.
Apollo City
Price: $999
Payload: 265 lbs
Motor: 1 x 600w
Top speed: 25 mph
Range: 28 miles
Brake: Front disc brake and drum in rear
Suspension: Dual spring suspension
Where to buy the best electric scooter for heavy adults?
1.Shopping online
Shopping online is so convenient. Anything you want can be found at your fingertips, but what are you getting when you order online? Big-ticket items should get bought from reputable sources online. For example, when purchasing an electric scooter online, ensure you purchase from:
First-party retailers: If anything goes wrong with your purchase, you can contact them directly. They are held accountable, and there's a level of trust between the seller and purchaser.
Well-reviewed business: Purchase from a company with many good reviews by verified buyers. A website where there are no reviews can also be a red flag and an indication they may have something to hide or a scam. On the other hand, when there are a few reviews with images left by a handful of people, it is most likely a legitimate company still building its reputation.
Qualified, available customer service reps: Customer service reps available to answer all your questions, good or bad, are safe places to buy online. Those that ignore calls from the consumer are less than legitimate.
Varla Scooter as first-party retailers, you can buy the best electric scooter for adults at the Varla scooter online store! Varla is a reputable company whose reviews from satisfied customers speak for itself
Take your pick from the best commuting electric scooter, the Pegasus, or the best all-terrain electric scooter, the Eagle One. 
2.Shopping third-party sellers
There are two categories when purchasing from third-party retailers:
Advertised through a reputable third-party retailer: While major retailers such as Walmart and Amazon sell their own goods, third-party sellers can also sell through their websites. These are legitimate online-only offerings, and the order gets fulfilled through the manufacturer or third-party seller.
Unverified third-party websites: These websites are normally badly designed and have a variety of products for sale. It might appear that they sell electric scooters from high-end brands, but you end up receiving a cheap knock-off. The products are poorly made and could be a danger to your safety.
3.Shopping in-store
You can also find the best electric scooters for adults in regular brick n mortar stores, although there are few of them. The huge benefit of buying an electric scooter in-store is that some allow you to test drive before making a purchase. This gives you a chance to see it in person, feel the ride and make a more informed decision.
There are also sales representatives who will answer your questions, a place to order parts, and return should things go wrong. The process is smoother when buying an e-scooter in person. The downside is the options available to you. There are thousands of makes and models to choose from online, but there will be a much smaller selection in-store.
4.Shopping pop-ups
Pop-up stores are a great way for companies to generate followers and buzz around new products. In addition, you will get to test drive your potential new electric scooter and talk in-depth about the product with the experts. But the pop-up stores are not common.
Buying an electric scooter from a pop-up store is purchasing from a first-party retailer. You might not be able to go back a couple of weeks later to talk about your purchase, but you can contact them directly online. Pop-up stores let you see your purchase in person and getting firsthand experience.
The Varla Store
Buying a new electric scooter is a great way to get you outdoors and exploring your neighborhood. Whether you have a need for speed or love to cruise around town, Varla electric scooters will meet all your needs.
The Best Commuter Electric Scooter
The Varla Pegasus electric scooter is perfect for commuting in the city and residential neighborhoods. With a two-year warranty, long-range, and solid tires, you are in for a ride of top quality and ease of motion for up to 28 miles before you need a recharge. The Varla Pegasus has the following features:
A maximum speed of 28 mph
Payload capacity is 265 lbs
The Pegasus comes with free shipping!
The charging time is 7-8 hours
2 x 500W motors
Fold and carry
Beyond these cool features, you get the following in the box:
1x User's manual
1x spare kickstand
1x Pegasus Charger 2.0A
1x Electric scooter lock
1x Spare deck loop
1x 16-in1 assembly and repair (multi-function) tool
2x Spare brake pads
The Best Heavy-Duty Electric Scooter
The Varla Eagle One would be the best model to use for fun on both on-road and off-road terrain! This dual motor electric scooter has the following outstanding features:
The electric scooter travels at a maximum speed of 40 mph
Payload capacity of 330 lbs
The motor power runs at 2x1000W
Upgraded dual hydraulic brakes
Front and rear shock absorption
LED headlight and taillight
You get the following in the box:
1x LCD display
1x dual lock clamp
1x Electric scooter charger
1x Varla Eagle Oneinner tube
1x User's manual
4x Motor axle nut covers
1x 16-in-1 multi-tool
Head to the Varla product store and grab your new electric scooter today! Choose between the Eagle One and Pegasus! Neither will disappoint! Your adventure is about to begin.
---
---
Share Article
Newletter
Promotions, new products and sales. Directly to your inbox.
Lastest Blog Post
Category