As electric vehicles are taking the world by storm, so it's no surprise that people are looking for a new and innovative way to commute to work, school, or running errands around their neighborhoods. From the environmentally conscious riders and adventure seekers to commuters who want to save money – there are riders of every kind.
Let's talk about the thrill-seekers! How fast do you need your off-road self-balancing scooter to go? Do you need speed or like to hit the off-road dirt track on your weekends? That's what we love about Varla electric scooters. They are perfect for hitting the dirt and cruising through traffic on the morning commute to work or school. You get the best of both worlds.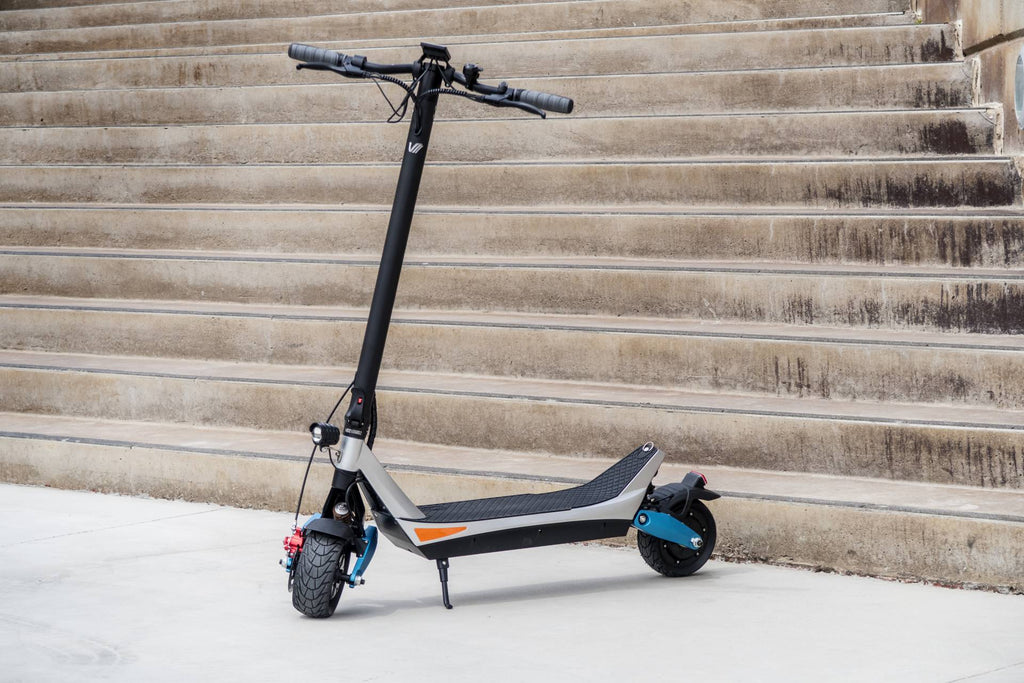 Commuting of the Future
Never mind, skateboards and mopeds – electric scooters are here to stay and taking over urban commuting. They are everywhere, and you can't pass a local coffee shop or drive through city streets without seeing some of these bad boys getting ridden around. They are not only trendy, but they are environmentally friendly, portable, and you can save a ton of money.
You can save time by skipping traffic or walking to your destination by riding kick scooters for heavy adults. Get a smooth ride to the gym, office, school, or social gatherings. It is every commuter's dream mode of transportation.
Aside from all these convenient riding experiences, you can have, how fast do folding electric scooters for adults go? Let's explore scooter speeds and the best e-scooters for commuting.
The Average Speed of Electric Scooters
The speed for top foldable electric scooters for adults average about 26 mph, but most have average speeds of 15 mph. There are a few on the market that can reach speeds of 100 mph. When it comes to these crazy high speeds, most people will agree that they are dangerous and that level of speed is unnecessary. These scooters are also exceptionally heavy and expensive, and you can pay thousands of dollars.
You also want to see it from a legal point of view. You have to abide by street laws, and if the speed limit is 30 mph, that is how fast you can go safely.
Different methods can make your foldable scooter go fast. There are:
Risk-free methods: These are safe ways to produce the maximum speed without physically adjusting your e-scooter. They aren't risky, and they won't void your warranty. These can include taking off heavy items to make the e-scooter more lightweight.
Modifying methods: When changing parts on your electric scooter, there is a risk of losing your warranty, but you can ride significantly faster to get the most out of your purchase. You can upgrade the motor and battery for higher speed.
Advanced methods: Making major changes internally takes some mechanical knowledge to achieve and should be the last resort because you need to open the scooter and make internal changes.
How to Go Faster on an Electric Scooter
There are several ways you can make your fast electric scooter for adults can go:
Battery power: The battery life of your e-scooter has a significant impact on how fast you can go on your electric scooter. Before leaving the house, make sure it is charged to the max!
Motor: The size of the motor also affects the speed you can ride. If you can improve or enhance the motor, you can ride faster. An electric scooter that offers you a 2,000-watt motor will have more than enough power to get high speeds.
Aerodynamics: Modifying your electric scooter does have some risks, and you can lose out on your warranty by making adjustments. Many riders can gain a few more miles per hour by improving their aerodynamics. Inspect the scooter and determine if there are unnecessary parts that you can remove, such as a handlebar bag. The lighter you can make it, the faster it will go. You can also lessen the weight by wearing lighter clothing and avoid carrying a backpack with heavy items.
Terrain: Riding on smooth terrain with few uphills can make you ride faster. Rugged off-road trails will slow you down.
When you are shopping for the best electric scooter for adults, 250 lbs, consider how you plan to ride.
Where will you ride your electric scooter?
Do you ride off-road often?
Will you use your electric scooter for your daily commute?
What is the max payload you need?
What brake and suspension system does the electric scooter need to have?
Who will be riding the scooter the most?
Knowing what you want out of your foldable electric scooter for adults will help you determine what to buy. If you are purchasing a scooter for your daily commute and need a quick way to get around city streets, getting a scooter that travels 25 mph is ideal. On the other hand, if you are a thrill seeker and like to go fast and ride off-road, a better-performing scooter will suit your needs, such as a 40 mph scooter.
Varla Eagle One and Varla Pegasus
The Varla Eagle One and Varla Pegasus are heavy-duty, long-range electric scooters. Let's compare their speeds and uses.
The Eagle One has a 2 x 1,000-watt motor and has a max range of 40+ miles and a max load of 330 lbs. With 10 x 3 Inches of pneumatic tires and an amazing motor, you can reach up to 40 mph! The Eagle One is not only great for running errands and exploring neighborhoods, but you can take it for off-road excursions.
The Varla Pegasus has 2 x 500-watt, and the max range is 28 miles and a max load of 280 lbs. With an easy-to-use thumb throttle and dual spring suspension, you will be riding in style! The Pegasus is the perfect city commuter. With such a long-range and lightweight, you can ride, hop off, and carry your urban commuter in style.
Don't miss out on scooter accessories in the Varla electric scooter store!