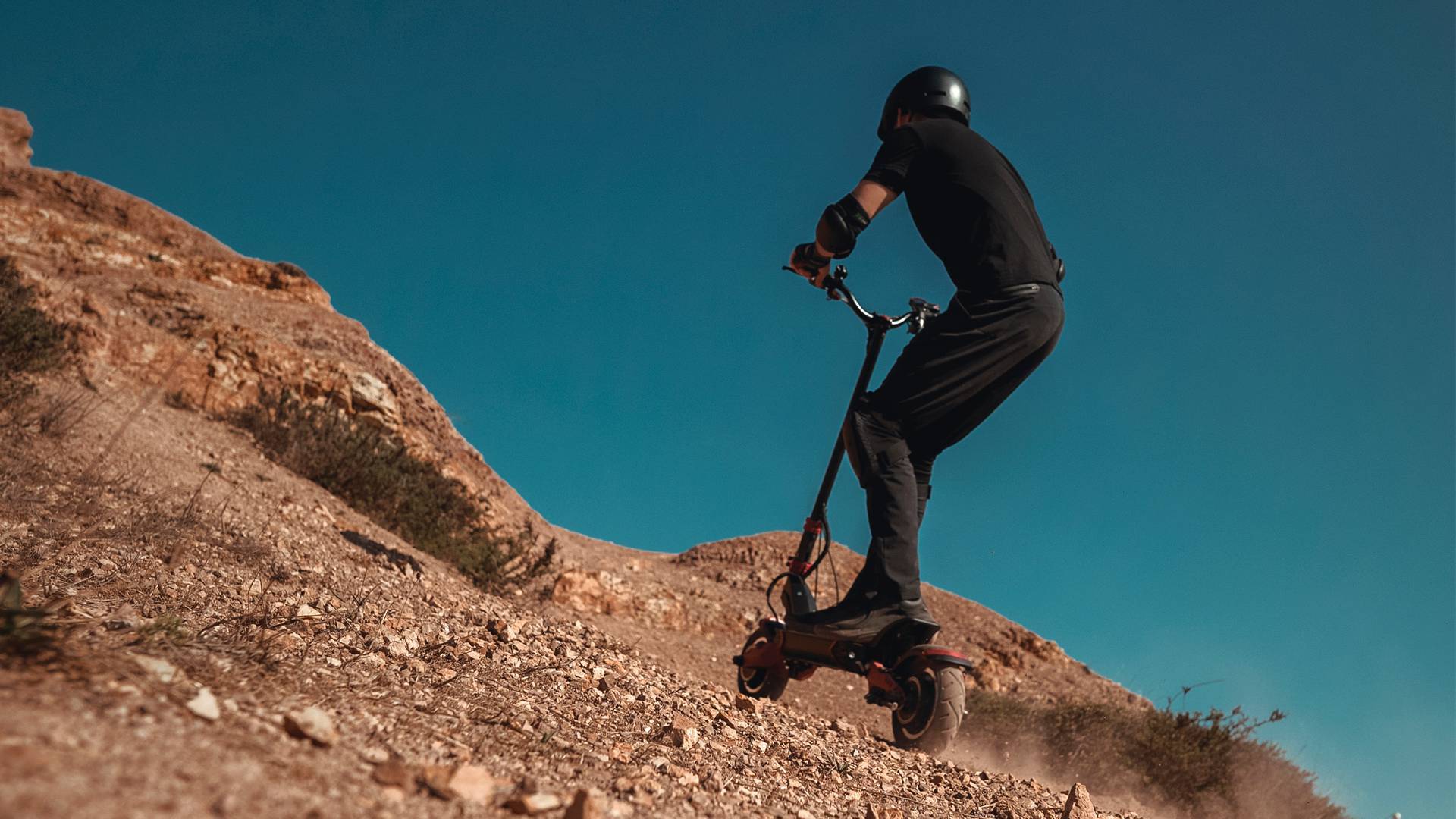 How to Make Your Electric Scooter Go Faster?
Things change quickly. Nowadays, electric scooter not only serves as a toy for kids to pass the time in a fun way but also as an alternative transportation medium. There are many options on the market. Low-speed scooters are convenient for short commutes; high-speed e scooter like 40 mph scooters for adults provide more practicality and fun.
This article will introduce 6 tips to increase the motor scooter speed and 5 scooters for adults with different maximum speeds. You can choose an electrical scooter that suits your needs!
How fast can an electric scooter go?
How fast do you think it is? This isn't easy to define. It depends on the vehicle involved and where you go. You may feel slow when driving a car at a speed of 25mph, but when you drive a motor scooter at the same speed, you will feel very fast!
Combined with the speed limit of 25mph in many states for escooters, we believe that electronic scooter with speeds of 25mph or above are faster, especially because they are heavily used in urban areas, and we must consider pedestrians, bicycles, and cars.
Segway Ninebot ES4
11-20 mph
One of the most reliable scooters, the Segway Ninebot ES4, is a commuter-type design. The range of 28 miles and the 19 mph top speed will cover most of the short commute distance.
INOKIM Ox Super
21-30mph
The OX is made by the famous scooter brand INOKIM. It is an electronic scooter that can turn its head. It is one of the most durable models on the market and offers excellent ride quality. Ox can up to 28 mph and reach 45 miles. Ox is very suitable for driving on off-road roads; although it may take some time to speed up, it is versatile.

Varla Eagle One
31-40mph
With this all-terrain electric scooter, you can not only venture freely on outdoor adventures but also enjoy upgraded city riding. Equipped with dual 1000W motors, it reaches a top speed of 40 MPH and climbs 30-degree inclines with ease. Its cruise ranges up to 40 miles, which can satisfy most of the commuter's needs. Safety, Speed, Smoothness, and Style, Varla Eagle One is designed to meet all you want.
Dualtron Thunder
41-50mph
Dualtron Thunder with lighter in weight and price than many adult electric scooters of 50 mph. It offers a 75-mile cruising range, and its top speed of 50 mph saves you from spending hours on crowded public transportation. Its functions are more diverse, and it is suitable for use in urban and off-road places due to its rugged and durable design, wide tires, and excellent suspension.
RION2 RE 80 Racing Edition
51+mph
The top speed of the RE 60 is 60 mph, while the RE 80 racing version is 80.7 mph. Combined with its endurance of only 30 miles, it shows that this is no longer a e-scooter for daily commuting but an adult electric scooter for a race. It can be said that RE's speed has reached the highest speed that the motor scooter (for now) can reach.
What factors affect electric scooter speed?
The maximum speed of a escooter is usually tested under the most ideal conditions. The rider's weight, road conditions, tire pressure, battery capacity, or weather will all have a great impact on the speed of the adult electric scooter.
Motor
The most critical factor is the power of the motor. If the horsepower of the motor is larger, it can climb steeper long slopes and reach higher speeds. For example, Varla all-terrain electric scooter, equipped with 2 x 1000W dual motors, can easily climb steep slopes of 30+ degrees, and the top speed can reach 40 mph. The commuter scooter, such as the M365, has only a 250W motor and can reach a maximum speed of only 15.5 mph. The motor plays a vital role in how fast the adult motorized scooter can reach.
Battery capacity
The second influencing factor is the battery capacity. When the battery capacity is sufficient, we can reach the top speed more easily. When the power is only 25% or less, the speed that can be achieved will be relatively low. So every time before you set off, check whether the battery is fully charged.
Weight of the rider
The heavier the scooters for adults takes, the more effort the motor needs to push it. Generally speaking, the rider's weight within the max payload weight can reach the top speed recommended by the motorized scooter. If the rider is heavier, it will take longer to reach the top speed. It should be noted that a heavier rider will also consume the battery more quickly, so it will be a bit difficult to reach higher speeds.
Try to choose a adult electric scooter with a max payload capacity far greater than your own weight, which allows you to reach the highest speed possible!
Type of terrain
The terrain also has a great influence on the motor scooter. For example, it is difficult for the motor to maintain continuous high-speed driving on a bumpy road. If you encounter a steep slope, the motor needs to work harder to reach the top speed possible. If you prepare to go off-road riding, it's best to choose all-terrain scooters. The motors and tire designs are more able to overcome rough terrain.
Tire pressure
The lower the tire pressure, the greater the area of the tire in contact with the ground, and the more the resistance during driving, which will affect the speed of driving. Besides, at high speeds, low tire pressure will increase the risk of puncture. Generally speaking, the air pressure of the scooters for adults is kept within the range of 40-60 psi. It also carefully looks at the maximum pressure value displayed on the side of your tires and does not exceed the maximum inflation value.
6 Tips to make the electric scooter go faster
Upgrade the motor
The motor is the most critical factor affecting speed. If you want a faster speed, change to a larger motor will be the most direct and effective way. But at the same time, the battery also needs to be matched with the motor. Take Varla Scooter as an example, Eagle One uses 52V/1000W motors. If they are replaced with 60V/1200W motors, the battery should also be replaced with a 60V configuration.
Ride on a full charge
Sufficient power can provide enough energy for the motor. Before each departure, fully charge the scooters for adults and you will get as close to the maximum speed as possible.
Keep the weight down
The heavier the total weight carried by scooter, the greater the impact on speed. Reduce the weight of the scooter and try not to carry too many unnecessary items.
Adjust tire Pressure
For most motorized scooter, the recommended tire pressure is between 40-60 PSI. In the maximum inflation range, in order to obtain a higher speed, increase about 3-5 PSI. The front-wheel pressure should be 2-3 PSI lower than the rear wheel pressure. Lighter riders should also lower the tire pressure by about 3-5 PSI, while heavier riders should increase the tire pressure slightly by the same amount.
Adjust the P-Setting
The speed limit in P-Setting of the best electric scooter can be changed. For example, Varla scooter uses the throttle of QS-S4, enter P8 of P-Setting, you can adjust the range of Power level, from 1 to 100 kph.
Remove the speed limiter
For some electrical scooters with a speed limiter, this is also an optional way to increase the speed. There is a speed limiter that came with your best electric scooter to ensure the speed is kept at a reasonable check. You can get the scooter running at a higher speed by removing the speed limiter in the controller.
Things to know before high-speed riding
USA riding law
For most states, the speed of the motorized scooter cannot exceed 25mph.
For example, in California, there is no permission to ride a motor scooter on sidewalks or streets if the posted speed limit is over 25 mph (40 km/h) unless in a Class II bicycle lane.
In Louisiana according to the DMV, Louisiana allows electric, low-speed scooters to operate on sidewalks, bicycle paths, and highways with posted speed limits of 25 mph or less.
In Maine, electric scooter operators must always ride to the furthest right side of the road unless the rider is passing another motorist or making a left turn. Electric scooters are not permitted to be operated faster than 20 mph
Given that the laws regarding motorized scooters vary from state to state, if you want to know more about the rules, please refer to your local government.
Common injuries
And the Portland Electric Scooter Pilot Study noted that the most common cause of a motorized scooter crash injury was falling, accounting for 83% of injury visits. Once slipped during high-speed driving, it is easy to cause fractures and bruises.
Stay safe
Reaching these top speeds means you must be very careful about how you ride. And you should also be aware that you may hurt others while riding at this speed.
In addition, we must be equipped with protective equipment when driving at high speeds. A helmet is an obvious requirement, but it is wise to purchase body protective gear, such as elbows, knees, and wrist pads. We consider that Varla Eagle One is a 40mph adult scooter, for the safety of customers, please wear a set of protective gear when riding your electric scooter. Here are the top 5 best helmets for e-scooters. For more tips on how to stay safe when riding at high speed, check out our previous post.
Final Word
If you are not familiar with your motorized scooter yet, please pay attention to your own limitations and expertise. Unless you are a confident and experienced rider, don't speed up. And it'll be great if you could choose a quiet section away from heavy traffic and pedestrians when you ride your adult scooter at high speed.
Enjoy your ride, and stay safe!
Check out more helpful tips from Varla Scooter:
---
Related Product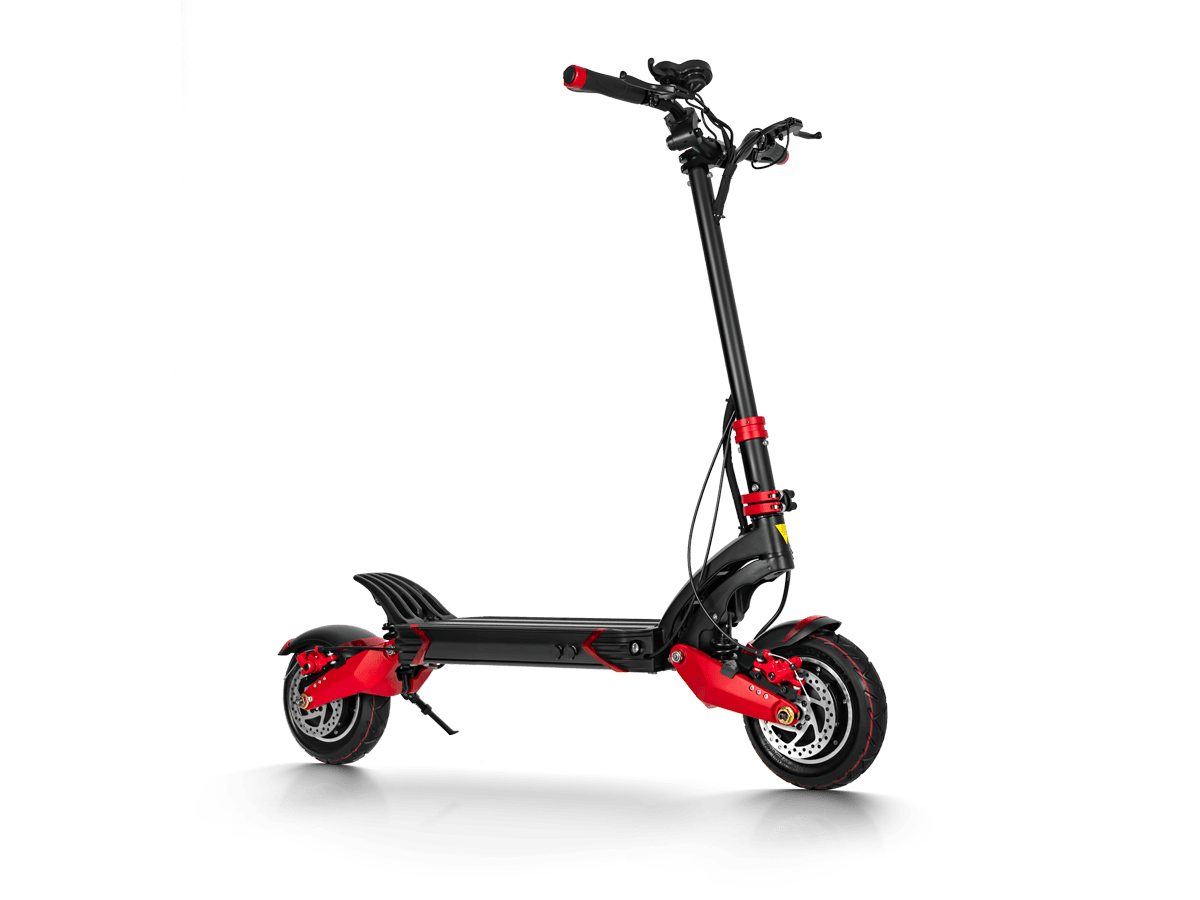 Eagle One Dual Motor Electric Scooter
---
Share Article
Newletter
Promotions, new products and sales. Directly to your inbox.
Lastest Blog Post