As electric scooters gradually enter people's lives, people surprisingly find that electric scooters are becoming an essential part of their daily life. It is a perfect vehicle to solve the "last-mile" issue and greatly reduces people's travel costs, including time and money.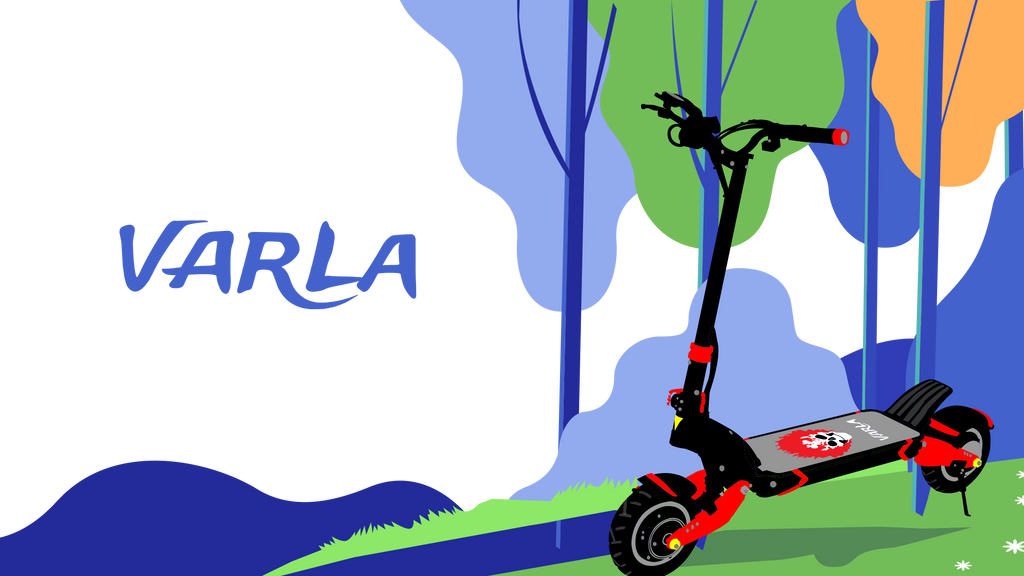 CONTENTS
Why more people become a fan of electric scooters?
Speed

Portability

Eco-friendly

Cost-effective

Fun
How does Ryan spend his day with his electric scooter?
7:40 AM- Leave home

12:00 AM- Have lunch

6:00 PM- Get home

9:00 PM- Hang out with friends

11:30 PM- End of the day
How much does riding an electric scooter really cost?
Cost comparison between different models

Average weekly transportation cost for different means of transportation
Why more people become a fan of electric scooters?
With the advancement of technology, the performance of electric scooters has been greatly improved. As a fast, portable, eco-friendly, cost-effective, and fun personal vehicle, more and more people have become fans of electric scooters.
Currently, the speed range of electric scooters mainly ranges from 15 mph to 50 mph, depending on the price. For example, the high-performance dual-motor Varla scooter with a price of $1,599 can reach a speed of 40mph. Although it cannot be compared with the maximum speed of a car or motorcycle, it's got no problem with daily urban riding. You don't need to worry about traffic jams so that you can arrive at your destination at a similar time!
While riding, we should note the regulations that electric scooters generally cannot exceed 25mph in the city to the most state of the USA. Please follow your state's regulations when you ride.
As a foldable and portable means of transportation, it allows you to take them on the subway, bus, or the trunk of a car. Most people's houses or companies are usually 2-3km away from the nearest bus station or subway station, and it'll take 20-30 minutes to reach it on foot. But if you ride on an electric scooter, it only takes about 5 minutes to reach, which will greatly save your energy as well as commuting time.
According to the survey, in the United States, nearly 30% of climate-damaged gases come from fuel transportation. More and more people raise awareness of protecting the environment and are willing to choose environmentally friendly transportation methods, such as electric vehicles. Electric scooters move forward by electricity, and they will not emit harmful gases, which will be much more friendly to our Earth.
Most of the electric scooters on the market now cost about $300-$2,000, depending on the performance. Generally speaking, electric scooters can have a service life of at least three years. If you ride it every day, the daily cost will be meager.
Let's take the Varla Eagle One for $1,599 as an example to calculate it simply.
1599($)÷3÷365=1.46 ($/Per day)
If you need to use an electric scooter every day, it only costs $1.46 a day for 3-year use. But if you choose to use a shared scooter or Uber, the cost will be greatly higher.
For Varla Eagle One, there is a 2-year warranty. If you encounter quality problems during the warranty period, you can contact the Varla after-sales team to solve problems at once. From this aspect, the maintenance of the scooter won't be a trouble and won't cost you a lot of money.
Anyone who has ridden a scooter knows how fun it is! This may be the main reason why electric scooters are becoming more and more popular! By riding an electric scooter, you can travel through the city's streets as you like and explore the city's mysteries more freely. If you like outdoor riding, you can also ride an off-road electric scooter to hit the trail! As you become more proficient in riding the scooter, you will enjoy your scooter riding more!
How does Ryan spend his day with his electric scooter?
Ryan, a fan of Varla scooters, is very happy to share his riding experience with us.
"The Varla scooter has greatly improved my life! I can no longer stand the crowded subway.", he said.
Let's take a close look at his day with an electric scooter!
60% of all vehicle trips are under 6 miles.
Before owning an electric scooter, Ryan must wake up at 6:30 in the morning at the latest and leave home before 7:00. If he is lucky enough, he can run into a shared scooter and come there within 10 minutes. Still, most of the time, he had to take 25 minutes to walk to the subway station, catch the subway at 7:30, and take 1 hour to reach the subway station near the company, then walk 20 minutes to arrive at the company.
Now, he owns a foldable scooter. He can sleep 40 minutes more every morning, and sometimes he can read for half an hour. As long as he arrives at the subway station before 7:50, Ryan can get to the company on time.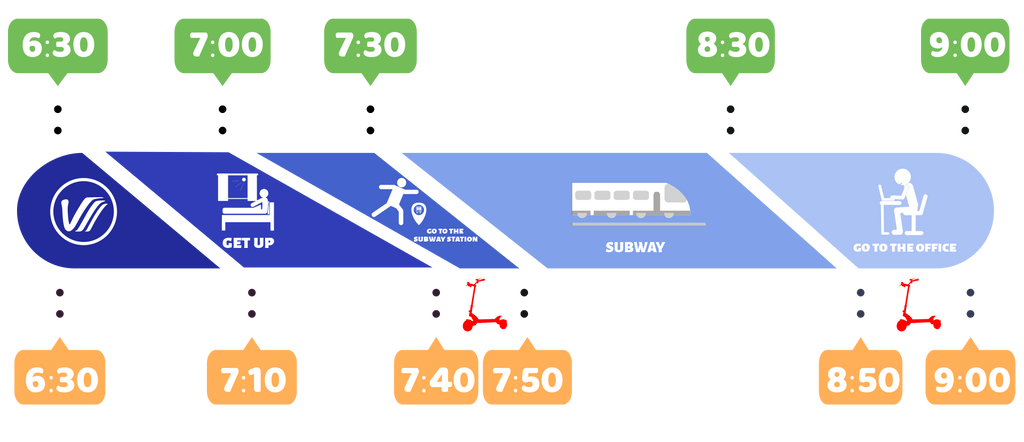 Ryan's company has a two-hour lunchtime. He likes to bathe in the sun, ride an electric scooter to explore a restaurant a little further away, or meet friends and have lunch together. This is the most relaxing time of his day. But 6 months ago, things were totally different. At that time, without an electric scooter, he had to walk for more than ten minutes to get to the restaurant every day. There were only a handful of restaurants to choose from, and it usually takes more than an hour for him to eat and walk back to the company. But now things change, Ryan is happy to ride his scooter to explore different restaurants every day, and he get to taste different food.
After lunch, he rides the scooter back to the company and puts it under the table.
With a two-hour break at noon, Ryan said, "I'm able to welcome the busy work in the afternoon with a delighted mood."
It used to take more than half an hour for Ryan to get home, sometimes arrive at 8 pm. He said that when he got home, he was so tired that he just wanted to lie on the bed and play with his phone. But now with an electric scooter, he can get home before 7:30 pm!
Now the commute time has been shortened by more than an hour in total. He has more time and more energy to chill out and do something that he's really into!
9:00 PM- Hang out with friends
On Friday nights and weekends, Ryan likes to hang out with friends. Beneath the streetlights and moonlight, Ryan rides his electric scooter through rows of trees, passing by the park, and coming to the meeting place. He can enjoy himself with friends all night! There is no concern to catch the last subway or bus or take an Uber back home!
Back home, Ryan plugged in and charged his scooter. Today he rode a Varla scooter for more than 25 kilometers, saving at least one and a half hours, $5 in transportation cost.
He said that the electric scooter has greatly improved his life and has already become an essential part of his life!
How much does riding an electric scooter really cost?
This is Ryan's day, and he can save nearly $150 in transportation costs. Many people still doubt that can electric scooters really save money. Let's take a look at the cost of electric scooters and the comparison of common vehicles.
Cost comparison between different models
Let's first look at the comparison between different models of electric scooters. The cost of electric scooters varies greatly, from the cheapest $200 to the best over $4,000. You can choose the scooter you like according to your performance needs. Even a high-end scooter, such as the Varla Eagle One, can only cost $1.46 per day after three years of use. This is indeed a very cost-effective investment.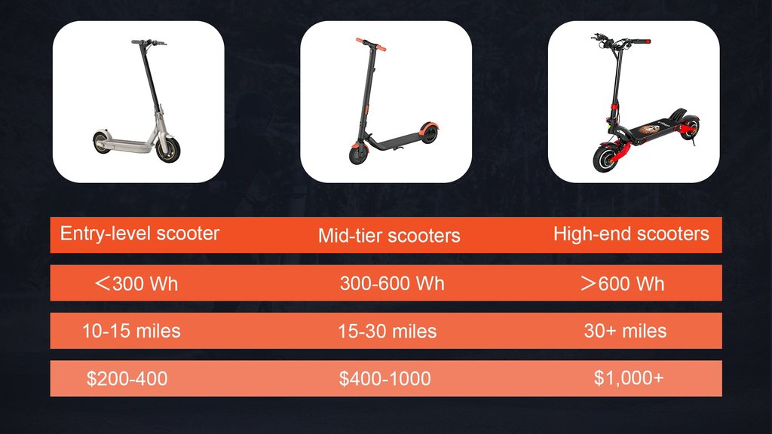 Average weekly transportation cost for different means of transportation
Comparing with other common means of transportation according to the distance of 20 miles per day, the average weekly transportation cost is as follows.
| | | | | | |
| --- | --- | --- | --- | --- | --- |
| Transportation Means | Electric Scooter | Car | Ride Share | Public Transport | Scooter Hire |
| Average Weekly Cost | $32.25 | $70 | $280 | $20 |  $60 |
Although the cost of public transportation is lower, it has a fixed time and route and is more crowded. In comparison, electric scooters give you more freedom, and for a travel distance of 20 miles, the travel time of these two means will not be much different. Electric scooters will not face the risk of traffic jams and may reach the destination faster.
 Conclusion
Once you try it, you love it! Electric scooters have become such a fun thing to use and ride because of its own performance. At the same time, it is also a great way to get from point A to point B without worrying about traffic jams or delays in public transportation. Your route is in your hands! Find the best electric scooters and enjoy the freedom right away.
Check out more helpful tips from Varla Scooter: