We know that scooters are a fast way to a fun day outside. Ask the kids on their foot-powered scooters–they have a blast. However, adults, with adult resources, have the means to take "fast and fun" to a whole new level.
That being said, Varla is ready to open up your world to the awesomeness of electric scooters. This post is going to tell you how to get your hands on some of that awesome directly from the source.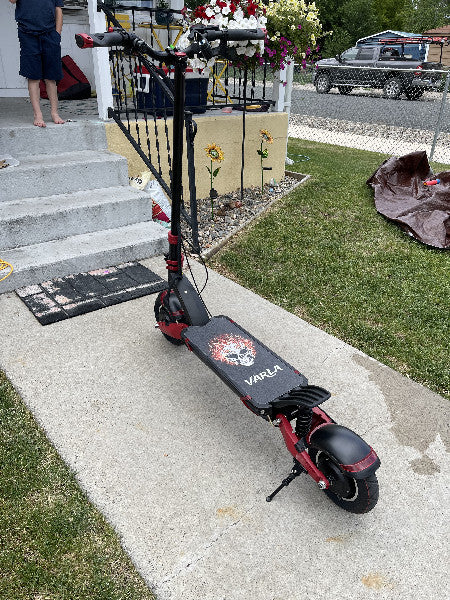 1. Select the Right E-Scooter for You
First and foremost,  you have options regardless of skill level and personal needs. More specifically, electric scooters have a way of making the experience easy on the rider. They (adult electric scooters) are more accessible than one might assume and require only a bit of balance and practice before hitting the open road.
For instance, the Varla Pegasus is an easy-to-ride city commuter that reaches speeds of a comfortable, yet purposeful, 35 miles an hour. The Pegasus can also accommodate a weight of up to 300 pounds, and once fully charged. It, which has a range of 28 miles. The Pegasus is for the person that wants to quickly navigate city streets on their way to work and zip through the park on the weekends. Pegasus riders keep it breezy.
If you possess a more adventurous side, the Eagle One, the best all-terrain electric scooter option, is geared with a 1000Wx2 Dual Hub Motor motor that can kick the rider up to 40 miles per hour. With the Eagle One electric scooter, you can conquer more "wild" terrain because it's built to shred off the beaten path. Tackling hiking trails and forest paths is the job of the dashing and daring Eagle One rider.
When selecting the right scooter for you it comes down to where you want to go and what you want to do for your "fun and fast". And as was mentioned, scooters are easy to learn and can provide both function and recreation once you decide on the model.
2. Make the E-Scooter Work for You
Second, adult electric scooters are crazy versatile and easy to use. The perks of owning an electric scooter are similar to biking but different in the sense that the e-scooter works for you. You'll have some freedom to vary your commute route because it'll save you some time and energy (all at 35 miles an hour you glorious, breezy Pegasus riders), and you'll save money because electric scooters are electric…, and, not to mention, an Earth friendly option if you're trying to reduce your carbon footprint.
Notably, Modern electric scooters are designed to be sleek, reliable, durable, and convenient.
The city commuter Pegasus enhances your on-road experience with dual suspension and a puncture-proof solid tire which is a great option for added reliability when commuting or leisure riding. The 3.5-inch wide size provides a more comfortable riding experience on bumpy roads. The Pegasus is a cool, calm, and collected way to get where you need to be.
Varla has included in the off-road Eagle One model an LCD heads-up display, LED headlights and taillights, hydraulic brakes, and front and rear shock absorption for a more stable ride on the trails. It can also tackle 30+ degree inclines and posses a 40+ mile max range. This e-scooter is meant to cover ground both purposefully and intentionally all while still providing the rider a fun way to get around.
Accessories are also available for those that enjoy a more personalized approach to their riding experience. Varla has everything from protective wear to frosted deck stickers to locks and fenders–all designed with the customer's needs in mind, and further contributing to the scooter's functionality and purpose.
It comes down to this: with an electric scooter you will save time and money while still doing your part for our lovely Mother Earth. The scooter, at this point, is working for you.
3. Do E-Scooter Things That are Fun…For You
There is a lot to do on an electric scooter. City streets, parks, and trails are all your playground on the deck of a scooter. The glory in it is that the rider can make any experience as low energy or high energy as they choose, or as on-road or off-road as they desire.
Remember that scooters are considered transportation–which also means that they must also adhere to the same rules that apply to any vehicle. However, that shouldn't limit the rider because a little common sense can go a long way. Watch your speed in precarious or high pedestrian areas, be aware of your surroundings, and if what you're doing feels dangerous–it probably is. So stay safe out there.
Now that words of caution are out the way (it's because this writer cares about you), and the freedom of a Varla electric scooter is limited to only where you want to go and how you want to get there.
The electric scooter community has become popular over the last decade or so, and as access to scooter rental hubs in urban centers and large cities continues to pop up. And yes, these are great, but when it comes down to it–the investment in a Varla electric scooter of your own can pay for itself rather quickly and save you the time and trouble of renting a less reliable scooter.
A sightseeing tour in your city on a Pegasus or a trail-thrashing outdoor adventure on the best off-road electric scooter for adults, the Eagle One, can be precisely the kind of getaway a person needs.
Finally, when purchasing the e-scooter that fits you, it's essential to focus on how you intend to use it. Remember that adult electric scooters are engineered to provide the rider with pleasure and convenience yet still help make life a bit more exciting. Take some time to check out Varla's products, accessories, reviews, and information.
Don't let the kids have all the fun.