If you are looking for an urban scooter or a fast electric scooter for adults – you have come to the right place. Electric scooters are used as a source for entertainment and outdoor adventures, but they also get used as a reliable form of transportation. Change your daily commute up with an electric scooter!
Folding scooters for adults are here to stay, and whether you are new to the world of e-transport or a long-time fan, there are many reasons why you would like to ride an electric kick scooter.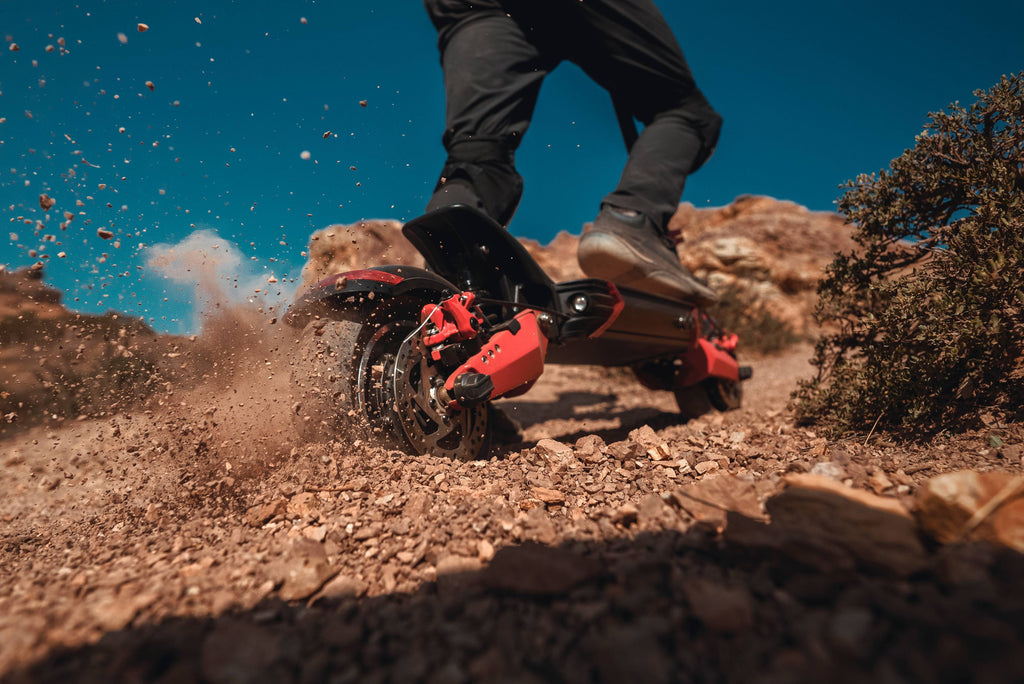 1. Electric Kick Scooters Save Time
You might be thinking that folding electric scooters for adults are limited by their speed – not a chance! People who ride e-scooters for their daily commute reduce their travel time significantly. Electric scooters for adults travel at speeds ranging from 25 mph to 40 mph. Not only does it have speed, but you get to skip the traffic jams on city streets and take the later bus or train because your walking time is cut in half.
If there is an accident on the road or road blockage – that is no problem for adult scooter riders! Fold it up, pass the blockage and continue the journey.
2. Portability
Adult electric scooters are portable! One of the best things about electric scooters is you can take them almost anywhere. Foldable electric scooter for adults can get parked on the sidewalk (or designated docking stations), fold it up and put it under your desk at work, carry it on the train or bus – the opportunities are endless.
If you need to carry your electric scooter up the stairs or through no-ride zones, you can push the scooter next to you or carry it since most e-scooters are lightweight. They take up less space than a bicycle, too, and you never have to worry about getting to work sweaty.
3. Save Money with an Electric Scooter
There are no monthly insurance fees, maintenance costs, and loans associated with electric scooters. You also don't have to pay expensive gas prices or pay parking fees.
How much does an electric scooter cost? Anywhere between $200 and $3,000. It depends on the quality and performance you are looking to get out of it. Other than this initial cost and a small increase in your electric bill, you are saving money!
4. Electric Scooters are Good for the Environment
Always wished to reduce your carbon footprint? Now you can by riding an electric scooter. There are no carbon emissions compared to cars, motorcycles, and busses. Avoid those gas-guzzling vehicles and jump onboard electric transportation means with an electric scooter.
Do you know the sound of horns honking, idling trucks, and the noise of vehicles revving in every direction? People who live in the city say it is the worst part about living on busy streets. By riding kick scooters for heavy adults, you are doing your part in lessening noise pollution.
5. Electric Scooters are Fun
Electric scooters are fun! Whether you are zipping through traffic or rising through walking paths in the woods, expect to have a fantastic time on an off-road self-balancing electric scooter. Explore your city and travel to neighborhoods you might never have thought to go.
Electric scooters offer hours of fun and excitement for you and your loved ones.
6. Physical Activity
Believe it or not, but riding an electric scooter is great physical activity. It improves your balance and activates your core muscles. It might not be a replacement for your workout, but it adds more movement to your day, and you can burn a few more calories instead of sitting in a vehicle in traffic.
If you happen to run out of battery or choose to workout, kick your electric scooter and get a cardiovascular workout in before hitting the gym or heading home for the day.
7. Electric Scooters are Safe
Even though some electric scooters have high speeds, they still have speed limitations. If you feel unstable or insecure about your ride, simply step off the scooter and stop immediately. High-quality electric kick scooters are pretty safe, and you can add protection by wearing protective gear for every trip.
Stay safe with these scooter riding tips for beginners:
Wear long-sleeved shirts and pants to protect your skin from scrapes in the event of a fall.
Get an electric scooter helmet and wear other protective gear such as elbow and knee pads and gloves.
Obey the rules of the road.
Ensure your headlight and brake lights are working.
Always be vigilant.
Stay sober.
Practice before you take a long ride.
8. Electric Kick Scooters are Comfortable
Electric scooters for adults are comfortable to ride. The deck is large enough for both your feet and can comfortably support a weight of over 250 lbs. For added comfort, you can look into adding electric scooter accessories.
You can purchase a seat to sit and ride with total ease when you get tired!
Varla Eagle One and Pegasus
If you are searching for the fastest electric scooter for your commute, the Varla Eagle One will get you where you want to be in no time. Your electric kick scooter will be a reliable mode of transportation for you with a sleek design and high-quality parts.
Reach top speeds of 40 mph and payload capacity of 265+ lbs; rest assure that your electric scooter is heavy-duty and great for adults looking for a new mode of transportation. With a range of 40+ miles, you can ride to your destination with peace of mind knowing you won't run out of juice.
The Varla Eagle One has an incredible independent suspension system to absorb any bumps or potholes in the road and ensures you have a smooth and stable ride.
Get your Eagle One today and explore our accessories store for great deals on protective gear, chargers, scooter seats, and much more!