Over the years, riding two-wheeled scooters has become more and more popular in the United States. Electric scooter is not only economical vehicle, but also reduces the trouble of encountering traffic jams and finding parking spot, and become a common way of commuting to work. However, if you really want to upgrade the electric scooter to provide a wider range of riding, then investing in an off-road scooter is a wise choice.
Off-road electric scooters are very different from commuter-style scooters. You will see scooters zipping through the bike in the block. The scooters' speed is getting faster and faster, some of which can reach 30+mph, which greatly improves the traffic speed. And with bigger horsepower, it can take you to venture out on weekends!
This article will mainly introduce 9 factors that need to be noted when choosing an electric scooter for mountain climbing, so as to choose the best off-road scooter that suits you.
CONTENTS
Rough terrain
Uneven terrain
Flat terrain
What makes off-road electric scooter different?
More Exciting
More Comfortable
More Versatile
More Possibilities
9 Factors To Consider When Buying An Off-Road Electric Scooter
Battery-range
Motor Power-speed/ climbing angle
Brakes
Tires
Suspension
Payload Capacity
Size

Deck size
Bar length
Handle width

Lighting
Water Resistance
What is "Off-Road" terrain?
Finding the right scooter to keep up with you and your off-road adventure is crucial. However, the understanding of the term "off-road" varies from person to person.
There are mountains, hills, rocks, and the road surface is extremely steep, with a slope of more than 35 degrees.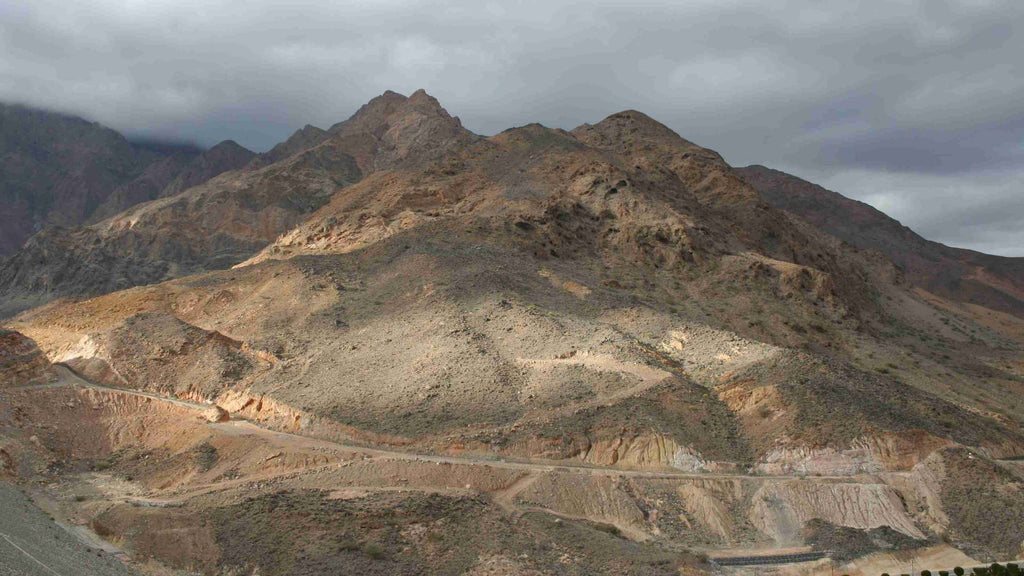 The road is uneven, there are gravel and small rocks, hike on the route, and the slope is between 10 degrees -20 degrees.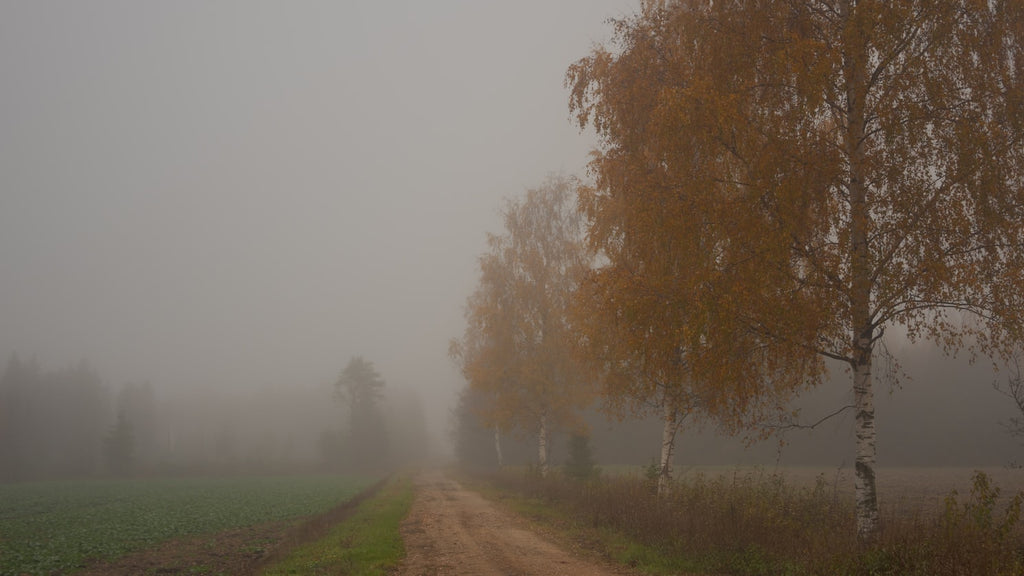 Cement roads in cities, flat lawns, smooth roads, no gravel.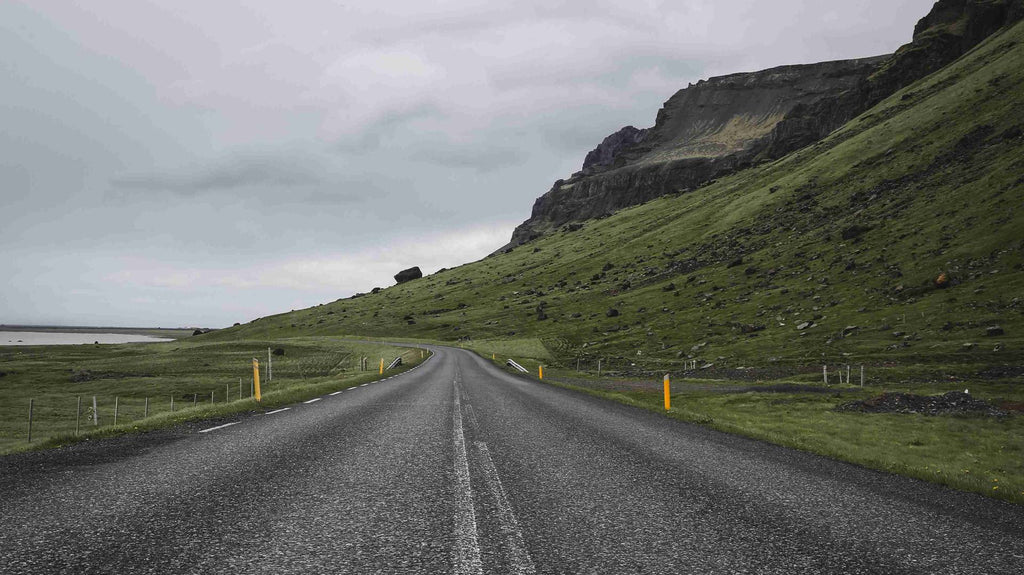 Most people who own scooters use them for urban commuting; they ride them on flat terrain with no trouble. But there are a few riders who want to have a rough terrain trip on weekends or holidays. Unfortunately, the commuter scooter cannot support this adventure trip as a simple transportation tool.
What makes off-road electric scooter different?
Commuter scooters can meet daily traffic needs, but once you have tried off-road scooters, you will never be able to stop riding them. After experiencing the 30+mph driving speed of an off-road scooter, you will find it hard to stand the slow speed of 15mph.
"I just can't keep myself from going faster since it's so fun", one of our customers, Danny said.
Riding on rugged and bumpy roads requires a scooter with a strong frame to cope with complex road conditions. Off-road electric scooters have a durable structure and excellent shock absorption. Take Varla Eagle One as an example, it is equipped with an independent suspension system, which can absorb bumps to the maximum, so that you can tackle most of the rough roads. Riding an off-road scooter to adventure, you can get more fun, and you'll definitely have a more comfortable riding experience in the city.
Commuter scooters cannot go off-road, but off-road scooters can take you between the city and nature. Compared with commuter scooters' single function, off-road electric scooters can meet your transportation and entertainment needs. One scooter, double joys.
An off-road scooter is a means of transportation and a bridge connecting the city and nature. Due to the flexibility of electric scooters, you can have more possibilities to feel nature's charm. Go with an off-road electric scooter, view unlimited beauty.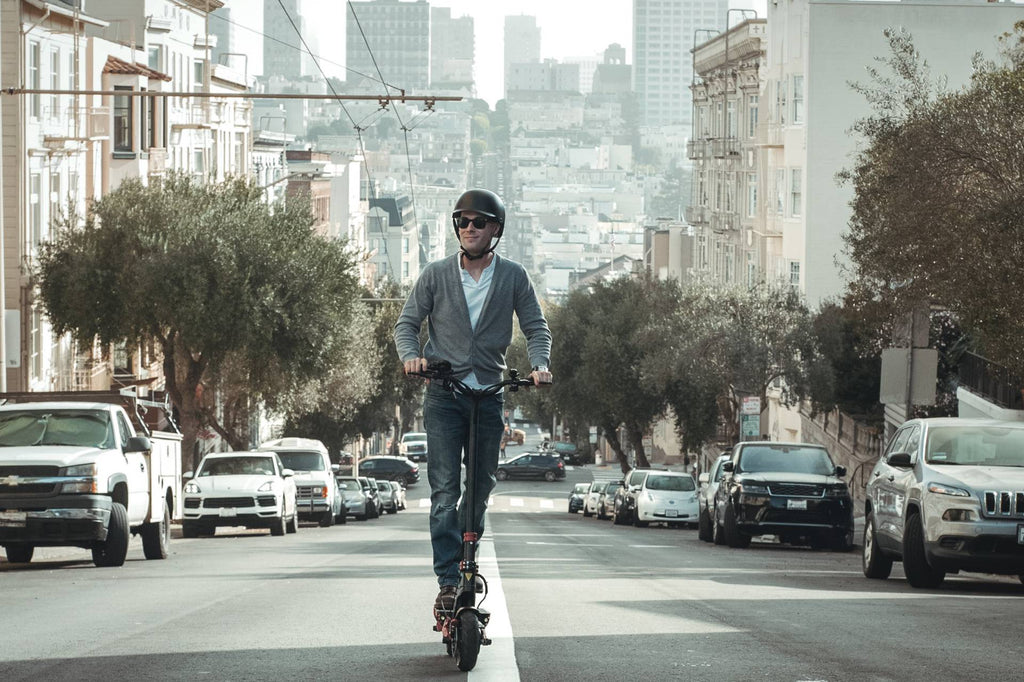 9 Factors To Consider When Buying An Off-Road Electric Scooter
If you want to take a wild adventure and feel the charm of nature, then the range cannot be too short. Imagine that when you are riding halfway, the battery is out of juice! What a disaster!
To avoid this situation, you need to consider your own needs and choose a large battery capacity. Generally speaking, the battery capacity of an off-road motorcycle can reach 720 Wh (equal to 48 V x 15 Ah). When fully charged, it can reach 34 miles on the Eco mode. It can only meet your minimum needs, but you will not be satisfied with this short trip. And normally the longest mileage you see is tested under the most ideal conditions, such as no wind, 25 degrees Celsius, on the Eco mode, and ride on the flat road. But in the real world, the cruising range is only about 80% of the ideal state. To put it simply, you don't need to consider a scooter with a battery level of less than 720 Wh.
Motor Power-speed/ climbing angle
One of the most basic factors for off-road electric scooters is the ability to climb hills of more than 20 degrees. The high-power motor is the key factor. What kind of motor power can meet this requirement? To be precise, a 2 x 800 w electric motor can easily cope with hilly slopes up to 20 degrees (the weather, terrain, and total weight also need to be considered). Therefore, don't believe those scooters that claim that motors under 800 watts can also climb hills, especially single-motor types!
Currently, the brakes of scooters on the market are mainly disc brakes and drum brakes. To put it simply, drum brakes have stronger brakes, and because they are built-in, they hardly need maintenance. Disc brakes have better overall performance and stability. They are used on all terrains and have better heat dissipation and are easy to repair and replace. In fact, disc brakes are now standard equipment on off-road electric scooters. In particular, if the off-road scooter is equipped with an ABS system that can compensate for the possibility of wheel locking, then the safety performance can be greatly improved.
Even if you are adventure enthusiastic, you will not refuse a riding experience as smooth as butter. The wider and larger the tire, the smoother the ride. For a comfortable ride, the tire has a width of at least 3 inches and a diameter of at least 8 inches.
For solid tires, you don't have to worry about the danger of a puncture. It will support your riding very well, but the drawback is that it cannot absorb the bumps on the road and the riding experience will be greatly affected.
Pneumatic tires can bring you a more stable riding experience, especially off-road tires. It can improve the puncture resistance of the tires and balance comfort and durability.
Shock absorption also plays an important role in keeping riding safely. It is best to choose a scooter with independent suspension. Compared with the non-independent suspension, it can keep the center of gravity of the scooter stable and keep the tires in contact with the road to absorb bumps and drive smoothly (learn more about the benefits of independent suspension).
We can know the durability through the payload capacity and material. Pay attention to the effective load capacity, it's more durable if the weight exceeds 250 pounds. Aluminum alloy and carbon fiber are sufficiently strong materials on the market, which are durable and corrosion-resistant. Although there is not much difference in payload capacity between them, the price of carbon fiber is much higher. In short, aluminum alloy is the best cost-effective material for the all-terrain scooter. The stronger the structure, the heavier the payload.
If you compare commuter scooters and off-road scooters, you will see that the latter has a larger size and is more comfortable and safer to ride.
Let's look at the issue of deck width. Nowadays, many sellers pay more attention to performance and rarely mention the deck width, but this is a crucial thing. Some customers feel uncomfortable because the deck is not suitable for their feet. Precisely, if the deck is too narrow, the feet must be placed in a limited position, which would absolutely be uncomfortable. The more severe problem is that it is more dangerous when riding. It will increase the risk of falling. To avoid this, do not choose panels with a deck width of fewer than 8.5 inches.
For the length of the stem bar, that is, the height when people stand, a height of 37'5″ is used for riders between 5'3″ and 6'2″. For scooters that cannot adjust the bar length, you need to ask carefully whether it is suitable before purchase.
For adults, the length of the handle of the scooter should not be less than 22 inches (56cm). As an off-road scooter, it should reach a length of 25 inches (63.5cm). If the handle is not long enough, the rider will be exhausted during scooting.
Generally, scooters are equipped with front lights and brake lights. It is best to choose a light with a brightness above 300 lumens and installed it at the stem's bottom. It can illuminate the ground better than the lights installed on the handlebars. The headlights and taillights also allow you to be seen by other riders while driving at night or in a heavy fog.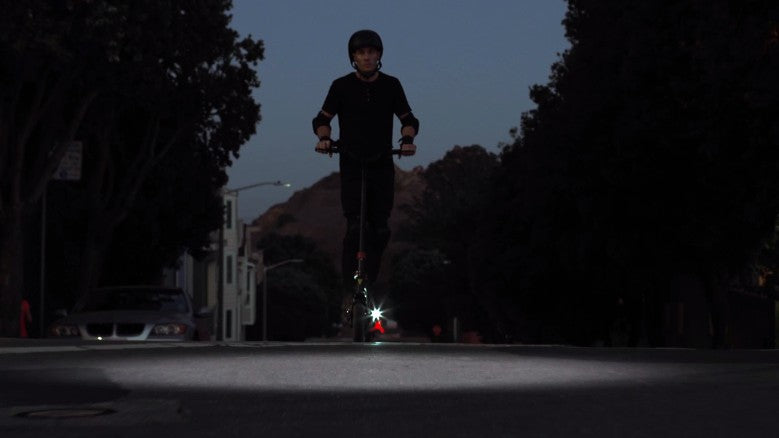 Do you know if your scooter can ride in the rain? If the scooter's waterproof rating is 4 or 4+, it can be ridden in light rain. If you need to ride outdoors, you should pay attention to the waterproof and dust levels to avoid dust entering the electronic circuit and affecting the use. In summary, off-road scooters need to reach IP54 protection.

Conclusion
It is easy to select the best off-road electric scooter according to price, but if the price is far beyond your budget, even you select the best off-road scooter, it is not for you. If you want to own an off-road electric scooter that not only meets your commuting needs but also suits for an off-road ride. The above nine factors will then help you select the best off-road electric scooter for climbing hills within your budget!
Check out more helpful tips from Varla Scooter: