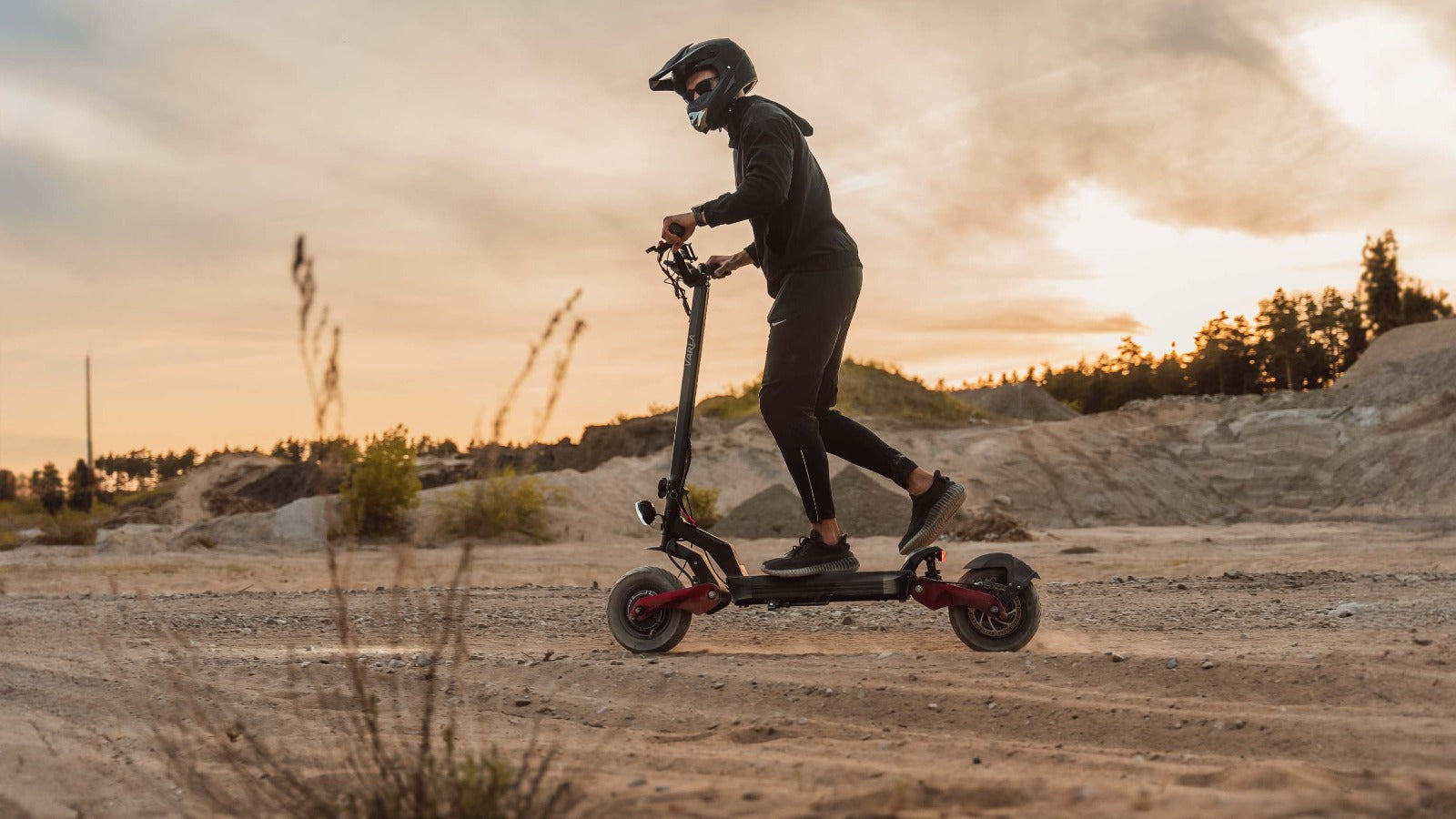 Winter Riding Tips: Essential Gear Recommendations for Your Eagle One V2.0 E Scooter Adventures
Winter is coming, and with it, everything to make you yearn for the Summer or Spring. Only some riders look forward to taking to the roads in this period because of how cold the weather will be. However, the weather shouldn't determine when or how you ride if you own an electric scooter. 
Although they are easy to ride during the summer, if you have the right gear, you can also ride your electric scooter during winter. Using the right gear is essential because it keeps you warm. If you are getting too cold when riding, there is a tendency for you to lose concentration, which may eventually lead to an accident. You can enjoy your Varla Eagle One electric scooter with the right gear. This article will provide vital winter riding advice and gear suggestions to ensure a safe and pleasurable ride on your off-road electric scooter.
Staying Warm and Comfortable: Clothing Recommendations
When riding an electric scooter in the winter, your main priority should be keeping your body warm. The cold weather can be unpredictable, so you must prepare ahead if you want to have a comfortable riding experience. One of the secrets to preserving your body temperature is using a technique called clothes layering. Good layering is critical for temperature regulation. You need to consider the first layer of clothes you will wear. Begin with a moisture-wicking base layer that fits close to your skin. This layer will assist in keeping sweat away from your body and keep you warm. It sounds awkward that sweat can make you feel cold, but if sweat evaporates from your skin, it lowers your body temperature and makes you feel cold. The next layer is where you trap heat. A jacket is an excellent choice that offers warmth without adding too much weight. 
Also, you must invest in high-quality materials that can help you prevent colds when riding. Look for windproof designs to keep you dry and protected from severe winter conditions. Other body parts need to be covered, like your hands and head. When choosing the footwear, choose boots with anti-slip, non-marking bottoms. Some boots even feature winter treads. Ensure your boots fit correctly and have enough room for warm socks without being too tight because tight footwear can limit circulation and lead to cold feet.
Enhancing Visibility and Safety: Lighting and Reflective Gear
There is always less daylight during winter, so you can get caught up with darkness when riding. With the proper lighting, you can safely ride at night. Not all electric scooters are suitable to ride at night because of their poor lighting. Still, if you own a Varla Eagle One V2.0 Electric scooter, it has upgraded lighting, which can help improve your visibility and also keep you safe. During night rides, the bright headlights will help you see better and make you visible to other road users, which improves your safety. The Eagle One V2.0 also has tail lights and turn signals for improved communication with other drivers on the road. These features are essential for communicating your goals and ensuring everyone understands where you're going, which is critical for road safety and makes it stand out from other scooters.
Not only should your scooter be visible at night, but you as a rider need to be visible, and this is possible if you wear reflective gear. Reflective clothes and accessories are essential for improving your safety. You can wear high-visibility vests and jackets as your outer layer clothes. Consider putting reflective tape and stickers on your helmet and scooter. These tiny modifications can considerably increase your vision in low-light situations, especially during winter evenings.
Getting Your Eagle One V2.0 Electric Scooter Ready for Winter Riding
To improve your riding, consider equipping your Eagle One V2.0 E-Scooter with accessories, especially for colder climates. You can do the following;
Upgrade Your Tires for Better Traction and Stability:
The floor might get slippery and wet during winter, and you would not want to fall when riding. Hence, the Eagle One V2.0 dual motor electric scooter has off road fat tires that improves traction and stability. You could also upgrade the tires to those specially designed for winter use. These unique tires have deeper treads with higher traction and also help minimize the chance of sliding and giving you more control over your scooter. 
Using Dual Hydraulic Brakes:
Dual hydraulic brakes provide dependable stopping power in slick circumstances. It is like a necessity when riding an electric scooter in winter. The Eagle One V2.0's sensitive braking mechanism allows you to securely adjust your pace, even on snowy roads, ensuring a safe and smooth sudden brake. The braking parameters of the V2.0 meet the highest safety requirements, giving you peace of mind throughout your winter adventures.
Using the Advantages of the V2.0 for Winter Riding
With the perfect features of your off-road electric scooter, your winter riding experience is on another level. With the 5-speed acceleration function on the V2.0, you can easily adjust your pace to different weather conditions. This feature is helpful while riding in the winter since it helps you stay balanced and control slick conditions. With its 30-degree climbing ability and 10-inch air tubeless tires, the scooter makes it easy to navigate a variety of terrains—even in the snow.
Although cold weather can impact battery performance, the 52V/20.8Ah lithium-ion battery in the V2.0 tolerates low temperatures so that you can take longer rides, up to 42 miles per charge in the winter. You can easily carry all your winter supplies and gear to the long-lasting e scooter's enormous load capacity of 330 lbs and good battery life.
How to Make Sure Your v2.0 Features Work Correctly in the Cold
It would be best to consider certain factors to ensure your electric scooter features function correctly. To guarantee your Eagle One V2.0 E-Scooter works well in the winter, you must take care of it. Routine maintenance and inspections are the secret to preventing problems throughout your rides. The V2.0 is long-lasting because of its sturdy frame and premium parts, but a little maintenance goes a long way. This can include lubricating moving parts and replacing components that may have been affected by colder temperatures.
You also need to adapt your braking skills for slippery situations by effectively using your Eagle One V2.0's dual hydraulic brakes. These brakes give exceptional control and accuracy, allowing you to negotiate your path confidently. The V2.0's braking specifications correspond to safety regulations and ensure dependability in all-weather situations.
Conclusion 
Riding an Eagle One V2.0 long-lasting e scooter in the winter can be a fun experience, but it takes careful planning and the proper equipment. You can assure your safety, comfort, and the best performance of your electric scooter in colder circumstances by following these winter riding guidelines and gear suggestions. The Eagle One V2.0's excellent specs and features make it the ideal companion for your winter adventures. So, suit up, personalize your scooter, and ride confidently through the winter wonderland. Whatever the season, your Electric scooter journey awaits!
---
Related Product
Eagle One V2.0 Powerful Off-road Electric Scooter
---
Share Article
Newletter
Promotions, new products and sales. Directly to your inbox.
Lastest Blog Post