At the first sign of snowflakes, you might choose to store away your electric scooter due to the concern of riding safety during the coldest months of the year, especially on the snow-covered paths. Indeed, winter riding can be challenging, especially for motor scooter riders who live in the northern United States, yet it could be incredibly fun as long as you are equipped with the right kit and get fully prepared. Check out the following benefits of winter riding, together with our riding tips, and get ready to have a blast this winter!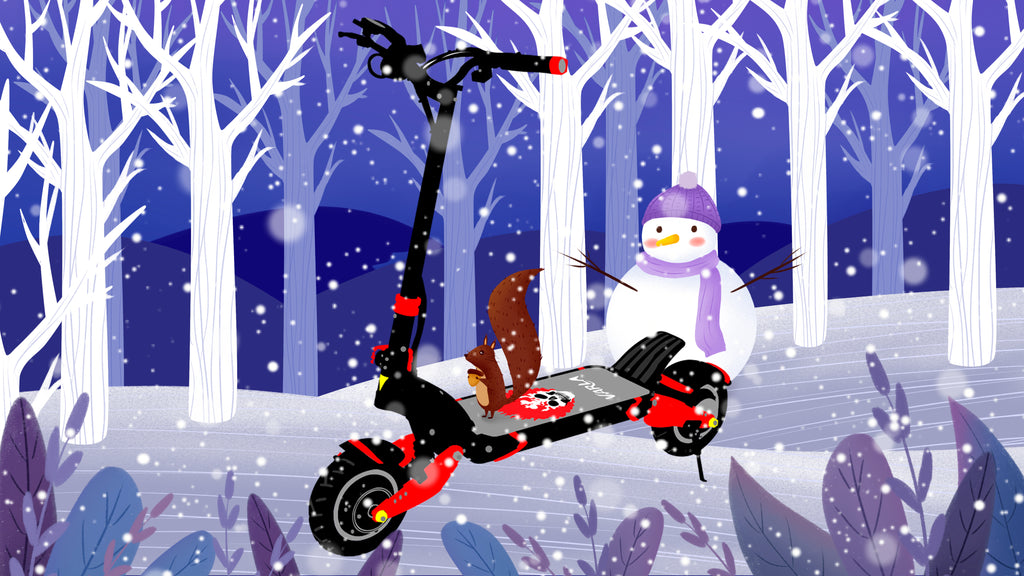 CONTENTS
What are the benefits of winter riding trip?
Get you off the couch and out of the house

Go out to embrace the winter wonderlands
What you should do before a winter ride?
Run a thorough electrical  scooter check

Plan the route and check the weather

Wear waterproof clothes and shoes

Drink and eat well to store energy

Wear safety gear

Prepare Anti-fog Spray
What should you pay attention to when riding?
Pay attention to the road condition

Keep riding at middle speed
What are the benefits of winter riding trip?
Get you off the couch and out of the house
Riding through winter keeps you mentally healthy, which provides a magical combination of exercise and exposure to the outdoors. It gets you off the couch and out of the house. Just hopping on your electrical  scooter and escape from the hustle and bustle of city life, sorrow or stress will vanish into the fresh and cold air.
Go out to embrace the winter wonderlands
All around the world, winter is the time when some places really shine. There are all sorts of spectacular views waiting for your visit. Some of them are breathtaking and you definitely don't want to miss them! So it's time to take your motor scooter to explore the snow-wrapped wonderlands and embrace the wonders of nature.
There is no doubt that not all e scooter can be used on a snowy day. If you plan to have an off-road winter riding trip or can't avoid winter ride, it would be better to have a high performance off-road electric scooter. Commute scooters can't handle with all-terrain, but off-road scooters can.
For most people who rely on electric scooters to go to work, riding in winter can be a very painful commuting time. As the coldest time comes, we hope the following tips will make your ride still comfortable!
What you should do before a winter ride?
Run a thorough electric scooter check
A simple check of the e scooter is required before each trip. If you travel in winter, especially on snowy days, you need a more careful check. In addition to make sure the motor scooter is fully charged, you also need to check whether the brakes, headlights and taillights, throttle, deck, and tires perform well. Normally it just takes a few minutes to go through the check, so don't be lazy or careless when it comes to your safety, better safe than sorry. For specific tips for off-road electric scooter riding, please check out our previous blog.
Plan the route and check the weather
It's a wise decision to plan the route and check the weather in advance. When the temperature is low, the battery's cruising range will be shortened to some extent, and when the temperature rises, the range will return to normal. Typically, if you take an electric scooter riding in an environment of -20℃, the battery life will be reduced by half.
Therefore, it's necessary to estimate the riding route in advance to avoid battery run out when driving halfway! Besides, checking the weather forecast in advance helps you choose suitable clothes for travel.
Wear waterproof clothes and shoes
Sometimes it is inevitable to get rained on mid-ride, trust me, you don't want to let your clothes get wet from rain or snow. Riding an electric scooter in that wet and cold clothes is more painful than being blown by the cold wind. More seriously, it's easy to catch a cold or fever, so that's why a waterproof jacket, pants and shoes or boots are some must-haves for winter riding. Try to prepare some waterproof clothes which can strike a fine balance, resisting the rain from outside, and inside prevent the clothes from getting wet by sweat.
Drink and eat well to store energy
Before setting off, you need to store adequate fuel, eating well makes you feel warmer and you will have more energy to face the various road conditions and react quickly during riding. Foods should be mainly high in carbohydrates and varied enough to provide sufficient protein to support muscle repair. In addition, try to eat foods you are used to, so that you feel comfortable and it won't cause any gastrointestinal symptoms during your riding trip.
Not only for safety considerations but also for riding comfort considerations, the full helmet is your best riding partner! If you don't have a helmet, you can find helmets from various price points on Amazon. Check out these top 5 best smart helmets for electric scooters. Note that if your riding speed exceeds 25mph, then you have to buy a motorcycle full-faced helmet to protect your head as much as possible. In addition, it will keep you from feeling cold while riding!
Common injuries of riding an electric scooter include falls and bruises. Given that the road is slippery in winter, the risk of injury will increase. Wearing a set of protective gear can protect our joints to a great extent.
Our bodies lose heat equally through all areas of exposed skin, so gloves are necessary accessories. They play a key role in keeping our hands warm and flexible and prevent our palms from injury. If you ride a scooter at a low temperature without gloves, your fingers will freeze in 10 minutes, so you will not be able to brake and accelerate well. In the event of an emergency, it will be hazardous. Therefore, it is vital to buy a pair of gloves! Choose cycling gloves with a durable leather or padded palms. Stay covered, and you'll stay warm.
One problem that you may encounter when wearing a helmet is that the exhaled water vapor will fog up the windshield, which will blur the line of sight. If you could not wipe it clean, it may increase the risk of falling! At this time, this anti-fog spray will come in handy. Just spray it before going out to prevent vapor from appearing on the windshield effectively.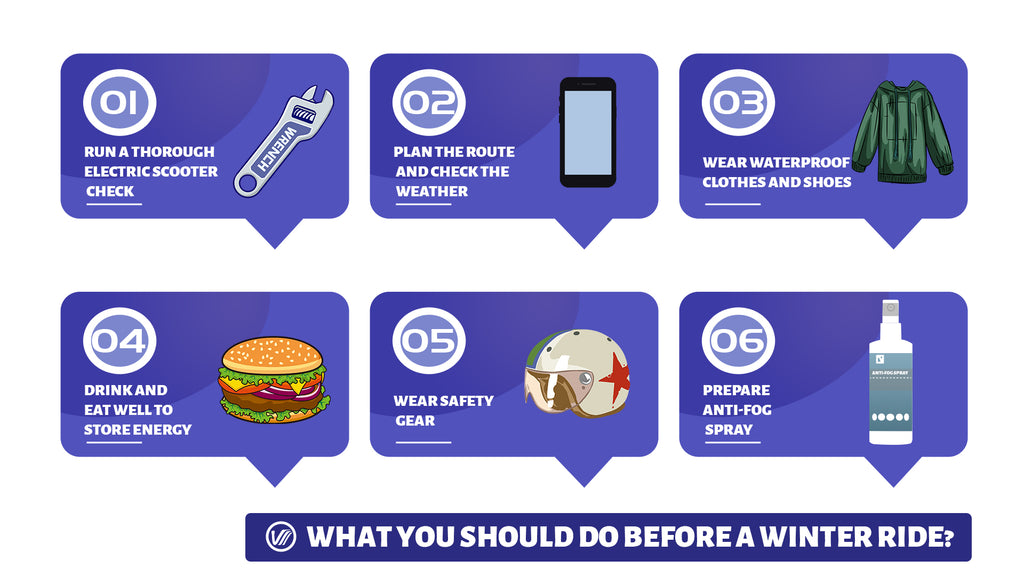 What should you pay attention to when riding?
Pay attention to the road condition
Although off-road electrical scooters can overcome all terrains, we still do not recommend that you ride on heavy snow. Snow can easily make the tires lose their grip and fall. It is best to follow the bike trails and avoid sharp turns.
Keep riding at middle speed
How fast will you ride in warm and sunny weather? 25 mph? 30 mph? Or even 35 mph? Indeed, riding a scooter fast will make you feel more fun, but we should pay more attention to stay safe while riding at high speed. Safety comes first. We recommend a top speed of 20 mph. If you are making a turn, the speed should be as low as 10 or even 5mph to maintain a steady ride!
Final Word
Traveling on a scooter in winter is not that challenging as long as for yourself as well as for your electric scooter. The fun, freedom and adventure brought by winter riding will open up endless possibilities. And you won't miss out on loads of benefits from it. Hopefully, the above riding tips can make you better prepare before you hit the road.
If you have any winter riding experience with all-terrain electric scooters, welcome to share with us below.
Check out more helpful tips: