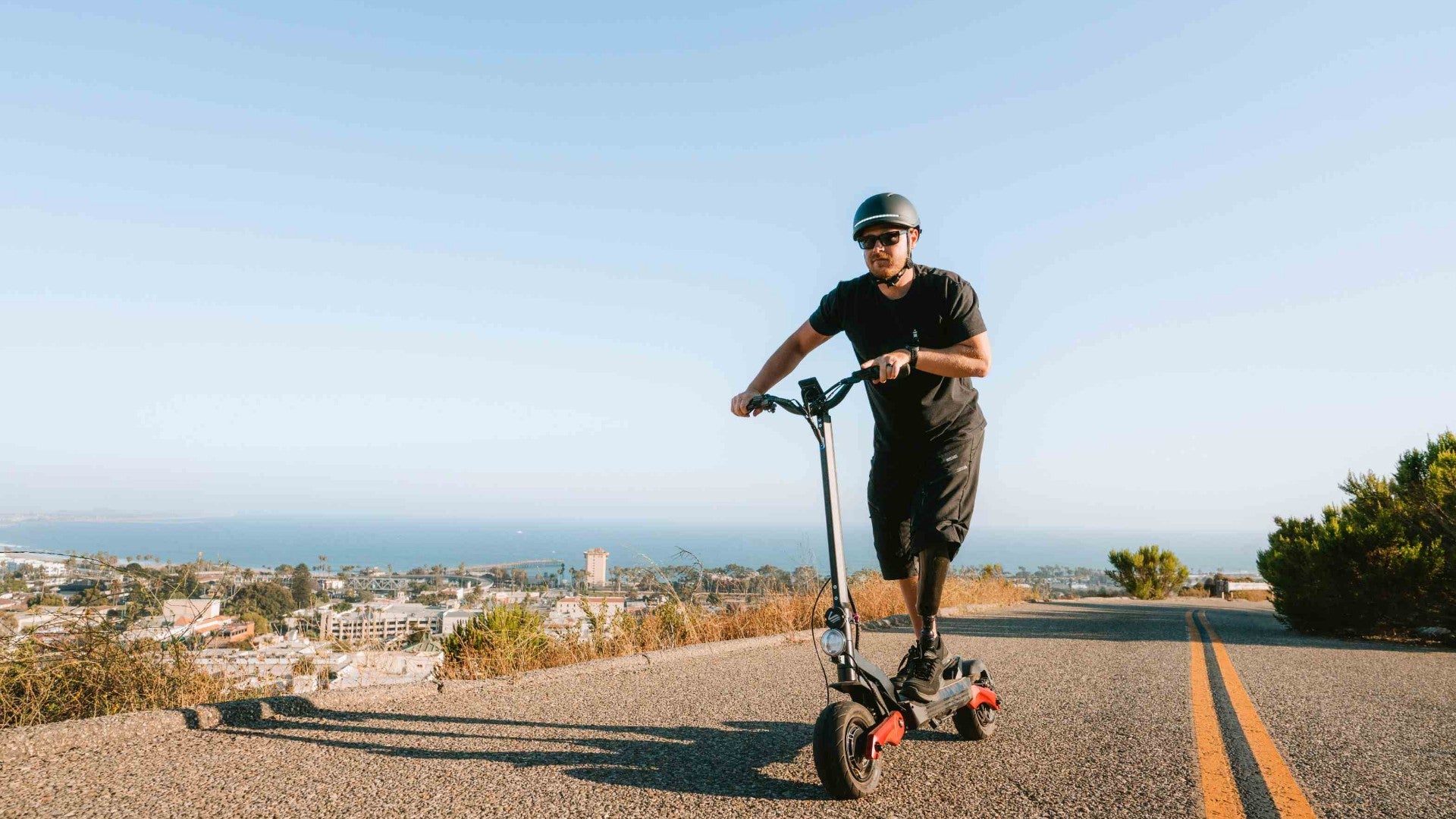 Electric Scooter Safety Guide | Varla Scooter
Electric scooter is a fun, environmentally friendly, and sustainable electrical way to travel to your desired destination. They are very safe as a vehicle. However, a reckless and naive pilot can make any vehicle unsafe.
If you treat the electric scooter with respect, just like you would treat other road users and yourself. It will be as safe and secure as any other vehicle. There are We listed some important safety tips to consider before using a motor scooter so that everyone can enjoy the advantages, while also making sure that they are safe!
You'll also find out why Varla Eagle One is one of the safe electric scooters for adults on the market today.
So let's dive in!
Best Ways To Make Your Electric Scooter Ride Safe
1. What To Know About Electric Scooter Regulation
Although most states have a speed limit of 20 mph, some may have a higher or lower limit. In many states, the minimum age for riders is 16.
Always find out what the motor scooter's rules and regulations are in your state or country before you ride.
2. Always Wear A Helmet When Riding Escooter
Wearing a helmet while riding a motorized scooter is crucial, as it protects your head from impact. Electric scooters are vulnerable to collisions with other vehicles, fixed obstacles, as well as hidden potholes. To make sure you are as safe as possible, it is important to use the right helmet for your riding style and speed.
A proper helmet should include an impact-absorbing liner and comfort padding, as these components help to deflect the force of an impact away from the head. It should also have a chin strap to secure the helmet on your head in case of an accident.
Before riding an adult scooter, make sure you know the laws regarding helmet use. The laws vary in different states and countries, so be sure to check before you start riding. 
Keep in mind: You can avoid upper arms from injuries by wearing elbow pads.
3. Know Your Electric Scooter
First of all, you should read your best electric scooter user manual to get familiar with your scooter settings and functions.
It is important to practice braking and accelerating on your adult scooter before going on the road. You need to learn the different ways to stop the motorized scooter and how to engage regenerative braking and electronic braking. Also, when turning, try not to over-rotate the handlebars. This way, you will reduce the chance of jack-knifing your scooter.
Important: When the adult electronic scooter is not in use, store it in a dry and cool place indoors, and avoid long-term outdoor storage. Sun exposure / overheating/supercooling outdoor environment will accelerate the appearance and tire aging of adult scooters and reduce the service life of electric scooters and their battery pack.
4. Keep Your Eyes On The Road
One of the most important safety tips for electric scooter riders is to keep your eyes on the road. Although it may be tempting to take out your phone while you are riding, you need to make sure that you keep your eyes on the road. When riding an adult scooter, your hands should be on the handles and your eyes must be looking straight ahead.
5. Keep Both Hands On The Handlebars
Electric scooters are easy to ride but can be dangerous if you don't keep both hands on the handlebars. Never use your cell phone while riding. You must be completely focused on the road and follow speed limits. Using a cell phone or browsing your phone is dangerous, as it can cause a collision.  If you have to take a phone call while riding, wait until you have stopped at a safe spot.
6. Make Sure You Check Your Scooter Frequently
Similar to any other vehicle powered by motors electric scooters also require care regularly since the constant use wears them down. While your best electronic scooter may appear to be plugged in and ready to go right out of the box, it will eventually require a devoted hand to function well.
Thus, performing regular inspections and getting familiar with the e-scooter prior to riding is essential.
A quick crucial scooter pre-ride inspection to prevent accidents is simple to perform.
A brake and throttle check is the first thing on that list. Check that they are operating correctly. The brakes must be in good condition.
Verify the condition of the tires and check the tire pressure, if they're air-filled.
The battery level will ensure that you get to your destination.
If you intend to ride in darkness, make sure that your lights work properly.(I will adjust number title 4,5,6 next to title 3,so just leave it alone.)
What To Look For In A Safe Electric Scooter?
Like any type of transportation, the quality of the vehicle is vital. The first step is to buy an e-scooter that is safe. The difference between a quality and a poor scooter could make a huge difference in the overall experience. When you ride an adult electric scooter there will be plenty of obstacles on the road. Unsuspecting pedestrians, cars, bumps in the road, busy shopping streets, you name it.
Brakes
Quality electric scooter like Varla Eagle One is equipped with a dual hydraulic brake plus ABS system ensuring you a safe and smooth sudden brake.
Lighting
Lighting is important, especially when you're riding at night. Most cheap motor scooters don't have sufficient lighting, so you need to purchase an additional headlight or taillight that is bright enough to see the road ahead. Make sure your e scooter has an orange or red brake-response taillight.
Absorption
Dual shock absorption makes your riding safer and more comfortable. It can absorb the bumps greatly and keep the gravity stable.
Tires
Tires are an important part of safety, durability, and ride quality. There are two commonly used types of electronic scooter tires: pneumatic, air-filled tires and solid, airless tires. In general, pneumatic tires perform better than regular tires. The pneumatic air-filled tires are more efficient and offer better padding and traction. That's why it's recommended to use them for safety and comfort.
Why Varla Eagle One Is A Safe Electric Scooter?
The Varla Eagle One e-scooter has excellent safety features. It has a high-beam headlight and taillights. Pull the brake, the rear red lights will light up, reminding other vehicles of your
position. It has an audible warning bell and a powerful braking system. 
The Varla Eagle One also comes with dual hydraulic disc brakes. These brakes engage before the front brake, so if you hit a bump, you won't have to worry about losing control of your motor scooter.
Eagle One comes with awesome dual shock absorption. The independent front and rear suspension can help to absorb the discomfort caused by bumpy roads.
Safe wide deck: 9.1-inch wide deck provides enough room for your feet to stand side by side.
10 Inches of pneumatic tires combined with solid shock, anti-skid and high sensitivity to control let you go off-road safely and without fear.
Fitted with well-designed fenders. There isn't a drop of mud splashing around on the riders.
Summary
The last but not least, being aware of the rules and regulations that govern riding an electronic scooter in your town is crucial. It's your duty to be aware. Understanding and learning the priority rules will allow you to be aware of the right time to slow down, which is the best time to give priority and prevent electric scooter accidents.
Be aware that these rules change from state to state, from country to country, and sometimes between cities - it's your responsibility to learn about these rules prior to embarking on a trip to the city of a foreign state or country.
These safety measures can help you enjoy the many benefits of motorized scooters in a more secure and sensible manner. It will also safeguard you and others. We hope that you will ensure your and others' security seriously by following these easy guidelines.
---
---
Share Article
Newletter
Promotions, new products and sales. Directly to your inbox.
Lastest Blog Post