As spring is approaching, the temperature gradually rises, and night riding has also become a thing to look forward to. Riding at night can make your daily footprints new and exciting again. Whether you want to experience the fun of riding at night or want to go out for supper at night by an electric scooter. For a safe, warm, and pleasant night trip, you should prepare equipment in advance and keep these riding tips in mind!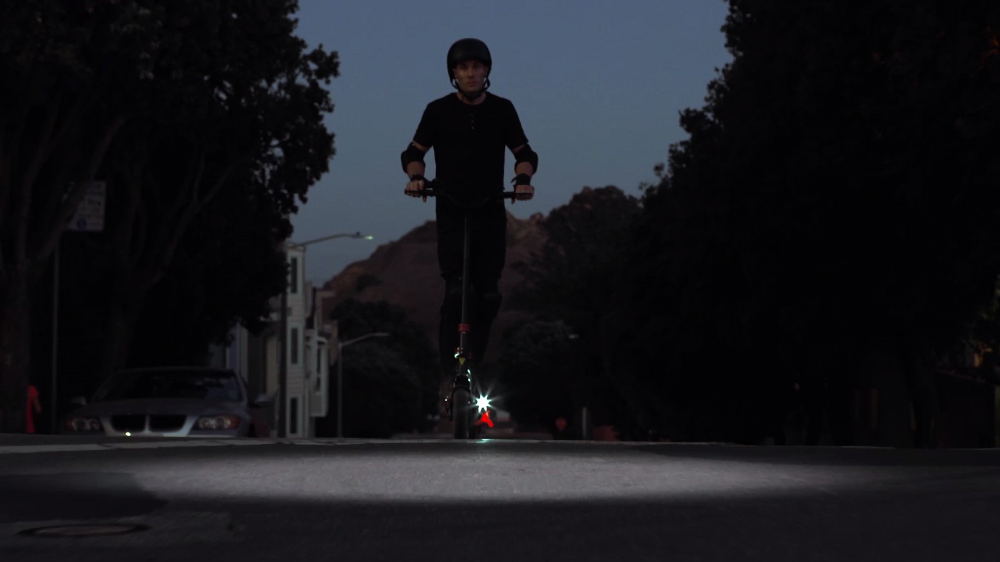 CONTENTS
Essential Items for Night Riding
Front Lights

Rear Lights

Highly visible clothing

Standard protective gear
7 Tips for a Safe and Pleasant Night Riding
Learn local laws for night rides

Check your scooter's battery before riding

Slow down and pay attention to the road

Take your fully charged phone

Get familiar with your route in the daylight

Choose sturdy scooters, preferably with wider tires

Ride with a partner
Essential Items for Night Riding
There are several essential items for night riding. First of all, without proper lighting, riding at night is definitely unsafe. You need to prepare a variety of equipment to deal with the night riding, so that you can see each other clearly and be seen by others in the dark night. When you ride a scooter on the road, the first thing you need to note is the electric scooter lighting. Some lights allow you to see the road clearly, while others can help others see you.
When it is really dark, not seeing the bumps on the road is almost as dangerous as not being seen by cars! Generally speaking, electric scooters are equipped with headlights and taillights. The former can basically meet night riding needs, allowing you to see the road ahead in a limited area. But for a safe riding, please prepare brighter light, which is more than 500 lumen and has a flashing function. It can illuminate a wider area and has better visibility, allowing you to better cope with the road conditions ahead. The flashing lights are more likely to attract the attention of oncoming vehicles, improving night scooting safety.
The danger of riding at night mainly comes from being unable to see the road and others' inability to see you. Bright enough headlights can help you see the road clearly. If you want to be seen easily, the taillight is essential; it allows you to be seen by the car or other vehicles from behind. For example, the Varla Eagle One is equipped with dual red taillights. When you power on the lights, they will keep the red light on. And they will flash when braking to remind vehicles behind and avoid rear-end collisions.
Meanwhile, wearing high-vis clothes can help you be seen. Fashion is a human's pursuit, but please leave dark shirts or jeans in your closet when you ride a scooter at night. Dark clothes will make you almost disappear into the night. It is necessary to wear a reflective jacket or brightly colored clothes or use reflective tape (available on Amazon) to stick to your clothes or electric scooter at night. When the lights hit you, they will indicate your location and help you be seen at night.
Protective gear should be worn on every trip, especially at night. If you often need to ride at night, it's important to consider buying a helmet with lights. It can not only protect your safety, keep you warm but also illuminate the road ahead.
Besides, gloves and protective gear are also essential. Falling is a common injury. Wearing protective gear can protect your palms, elbows, or knees from scratches.
7 Tips for a Safe and Pleasant Night Riding
Learn local laws for night rides
It should be noted that if the electric scooter without a light device is not allowed on the road. And normally the speed of riding at night should be slightly lower than riding during the day, it is best not to exceed 20 mph. Every state may have different regulations, please refer to local rules for specific riding limits.
Check your scooter's battery before riding
Since the scooter is driven by electricity, the scooter cannot be driven if there is no electricity. If you are riding halfway and suddenly run out of power, that would be really trouble! And driving lights must be needed for night riding. If the battery is insufficient, the lights will appear less bright, which is also very unsafe for the rider.
Slow down and pay attention to the road
Fast speed indeed brings more fun, but for night riding, slower is always a golden rule. The visibility at night will be greatly reduced than during the day. If you drive too fast, once you encounter unexpected situations such as bumpy roads or obstacles, there will be little time for you to respond. Therefore, focusing on the road and slowing down can keep you from getting injured.
Take your fully charged phone
In most cases, you won't experience problems while riding at night. But you never know what will happen next moment. This is why you need to take your phone with you and keep it fully charged. No matter what happens, you can ask for help. Even if the scooter runs out of power, you can get a taxi home in time. Never go out for a ride without a phone.
Get familiar with your route in the daylight
Riding on the same road during the day or night, you will feel different. Even you are familiar with the road you go home, the dark light will make the road more complicated. Thus, if you plan to ride a new route at night, it is best to be familiar with the road conditions in advance during the day. Not only will it make a safe riding, but also give you the chance to experience the different beauty of this road during day and night!
Choose sturdy scooters, preferably with wider tires
If the scooter encounters a breakdown during night riding, it is a thousand times more annoying than during the day. If you get a flat tire, even you know how to repair it, and the too dark light will make the repair process particularly difficult. Therefore, if you cannot avoid riding at night, or you like to ride at night, be sure to choose a sturdy and durable scooter. The following two factors will be noted: the aluminum alloy material makes the scooter have a stronger frame, and choose off-road tires or solid tires, which can greatly reduce puncture risk.
Riding with a partner is usually great, but it's especially important at night! We really don't recommend a night ride alone. Apart from the factors that can become a little bit lonely, it is not wise to be alone if there is a problem (such as a broken light, a scooter failure, or injury).
If you are riding with a partner, be sure to keep a proper distance. Although we know that being close is reassuring, you must avoid riding side-by-side, blocking the road, and cause traffic hazards. And if the distance is too close and you may find that your lights will cast shadows in front of your partner, which can be very annoyed and make it more difficult for them to see clearly the road ahead.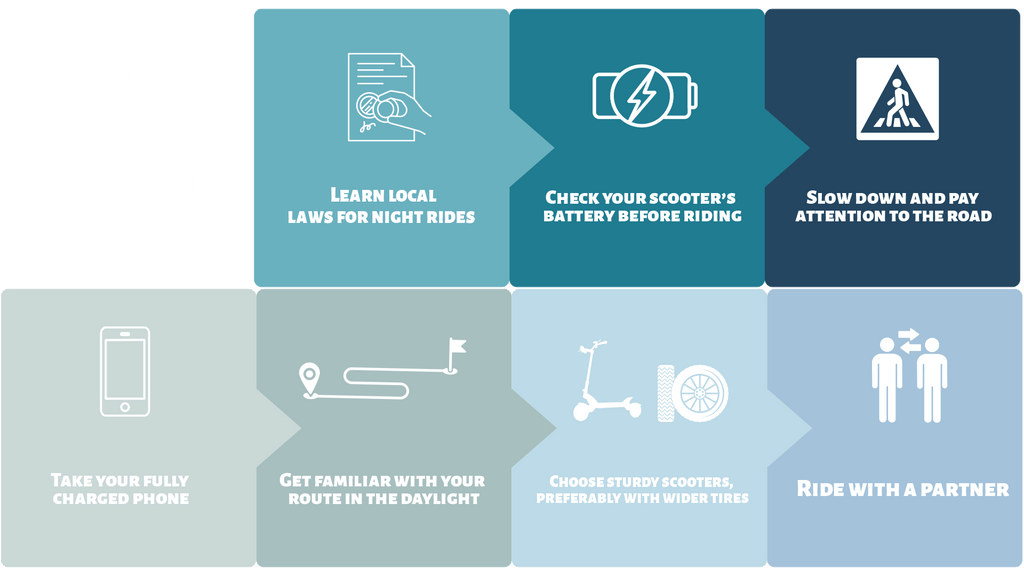 Final Word
Riding at night could be fascinating. The same road, day and night are different views. If you are ready, hop on your electric scooter and start your night riding! Welcome to share your night riding experience and tips with us!
Stay safe and have fun!
Check out more helpful tips from Varla Scooter: