Do you remember when you had manually operated toys such as regular bikes, scooters, and skateboards? Thanks to the ever-changing technology, everything gets improved, updated, and inspired to make the world more eco-friendly.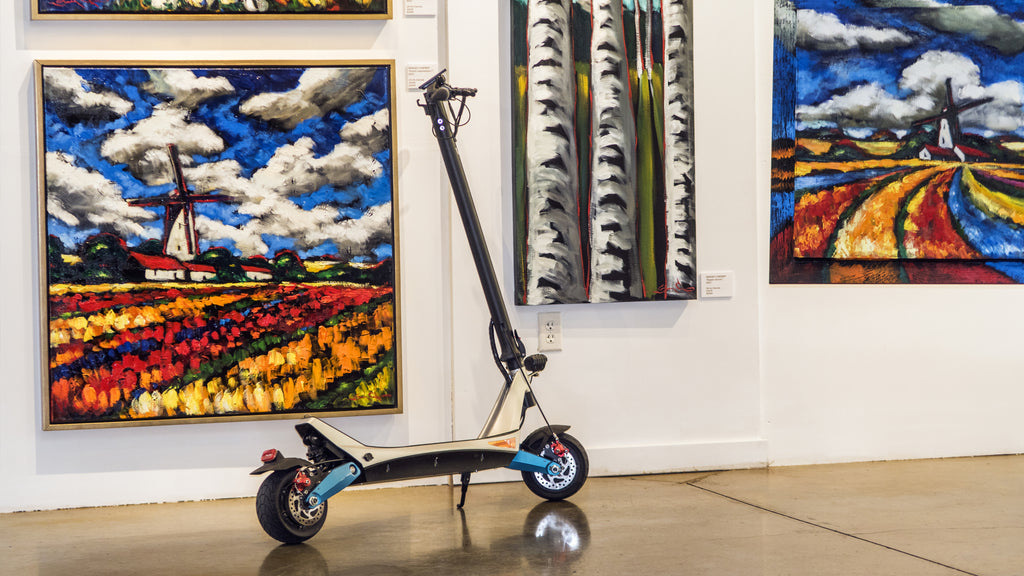 Now you can feel like a kid again and enjoy your most loved things except it is electric! Forget the kick scooter. Foldable electric scooters are taking over urban modes of transportation, and we are here for it.
If you are looking for a premium foldable electric scooter, you have come to the right place! Electric scooters might look fancy, but many won't meet your needs. Heavy-duty, foldable electric scooters need to carry your weight and more if you carry a backpack or wear heavy clothing. Also, it should have a long range, so you aren't stuck with a dead battery halfway through your commute.
Varla electric scooters will fit and satisfy your every need with maximum performance to commute with total confidence in your heavy-duty ride. Let's explore what you should look for in a premium foldable electric scooter for adults.
Speed and Range
All e-scooters have different battery options, and it is the primary part that will affect your speed and range for each charge. The speed and range you want will depend on what you plan on doing with your e-scooter. For instance, if you are into off-roading and planning a fun afternoon outdoors, then you need a long-range. Preferably more than 25 miles of range. The same applies to speed. Outdoor adventures need some speed.
If you are looking for a premium foldable electric scooter for commuting to work or school each day, then the Pegasus is for you! With 2 x 500-watt motors and a 48V/15.6Ah battery, you get a range of 28 miles per charge and 28 mph in speed. Lithium-ion batteries are excellent for electric scooters because they are low maintenance and lightweight.
Check out the Varla accessories store and grab another charger! Fully charge your scooter in 4 hours!
Some things can affect your range; these include:
Weight: The weight of the rider. If the rider's weight reaches the maximum or exceeds the weight limit of the rider, then you will lose range and speed.
Terrain: Rough terrain can also affect your speed, so choose an e-scooter suited to how you plan to ride. For instance, if you ride on gravel roads or city streets the most, pick a foldable scooter to suit that terrain. Riders who live in an area with many hills will also get less range than on flat roads.
Rider: If a rider rides aggressively, the range will also be affected.
Tire pressure: Under-pressurized tires will lessen the speed and range of the e-scooter.
Brakes of the Foldable Electric Scooter
The most vital safety feature of an electric scooter is the brakes. If your scooter can travel 30 mph, you need to have an effective way to stop safely. Fast electric scooters have disc brakes in both the front and the back. The disc brakes must effectively stop an electric scooter without the rider's weight, terrain, weather, and tire size affecting them.
The Pegasus consists of dual disc brakes that are stable when riding in wet and dry conditions. Along with 3.5 inch wide puncture-proof tires, this is the perfect foldable electric scooter for commuting.
Suspension
The suspension is essential for controlling the electric scooter and providing stability for safe riding. While the suspension is not always found in e-scooters, but it gets highly recommended. Most models don't have suspension systems, but you will need one if you want to use it as a commuter.
The average road is not smooth. There are always stones, small potholes, and gravel. A suspension will absorb the bumps and ensure you have a smooth ride. You will also have more control of the e-scooter with a suspension. It ensures that when you ride over bumps, your tires remain on the road.
The Pegasus has dual spring suspension, so you get the smoothest ride possible.
Portability
Your e-scooter must be portable if you are commuting each day. For example, do you need to carry your e-scooter, and does it fold? Do you climb stairs or ride on the train or bus?
Electric scooters need to have some weight. If it is too light and you're a heavy adult, it might not be strong enough to sustain the weight for long periods. Anything below 40 lbs is too light, and weights above 80 lbs are too heavy.
The Varla Pegasus can fold and unfold in three easy steps. It only weighs 66 lbs, so you can fold and carry as you need! Hop on the train or bus, or fold your electric scooter and put it in the trunk of a car for convenience. The Pegasus is the ultimate foldable electric scooter for adults.
Features of the Pegasus
The Pegasus is a premium foldable electric scooter made from aluminum and magnesium alloy, perfect for a heavy-duty commuter. The recommended payload capacity is 250 lbs with a maximum capacity of 280 lbs. Heavy adults will have no problem commuting with this e-scooter.
Your scooter has 2 x 500-watt motors to ensure a long-range and high speed. A smart LED display showing your battery life, speed, and range. There are also headlights that illuminate the road and taillights to ensure all road users see you coming.
Pegasus accessories from the Varla accessories store:
Grab a chargerand charge your e-scooter in 4 hours!
Every rider needs safety gearsuch as gloves, knee and elbow pads.
Choose a fun new deck stickerto suit your unique style.
Don't forget a kickstandfor the Pegasus for convenient parking.
Change the way you commute to work or school with a Varla Pegasus premium electric scooter. So what are you waiting for, and get your Pegasus today!
Learn everything you need to know about electric scooter batteries and the best way to charge them at home!