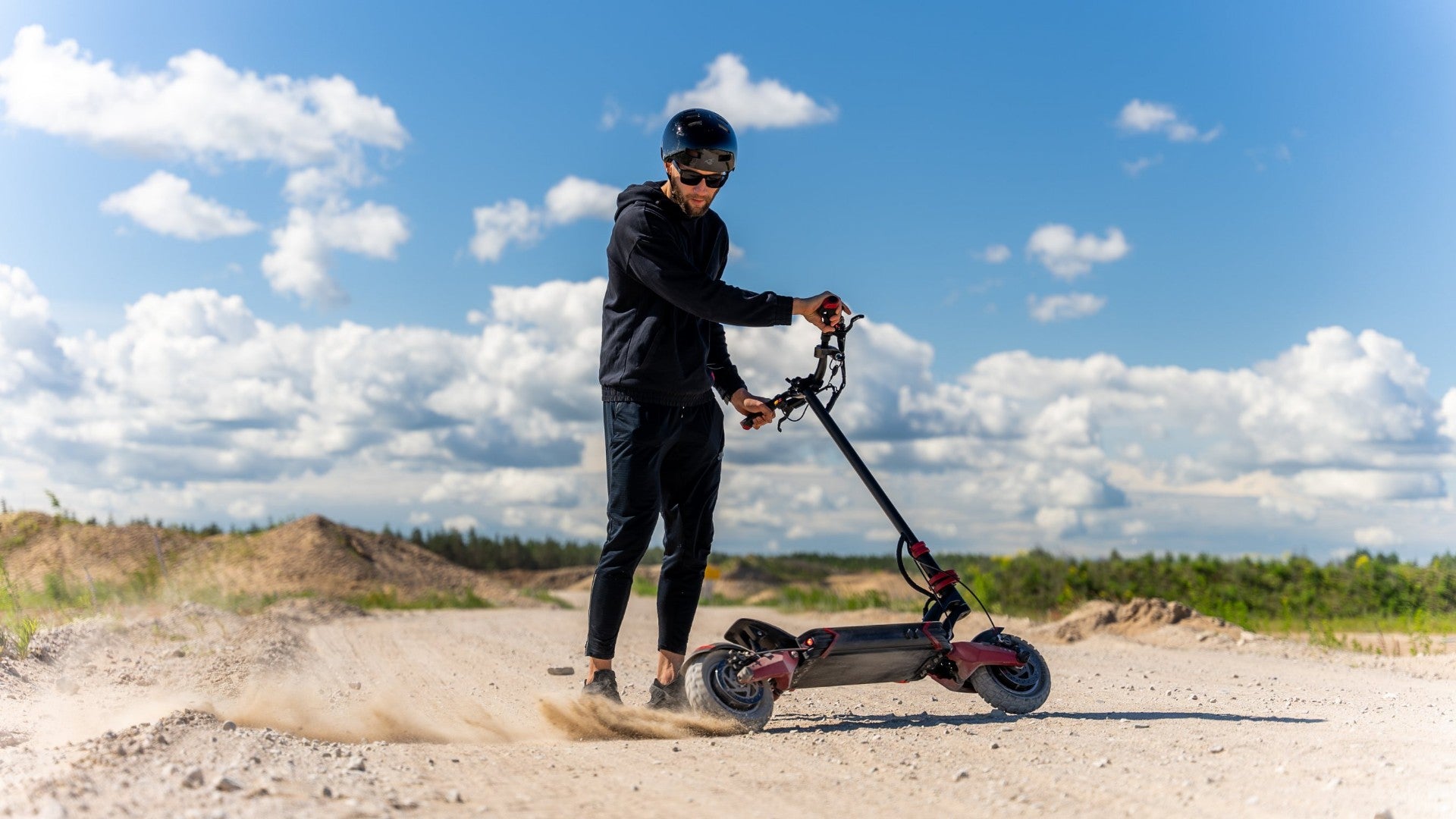 Black Friday Gift Guide: Find The Comfort Commuter Electric Scooter
The best method to figure out the right electric scooter for your needs is to take the time to look over your daily commute. Do you require a fast electric scooter that you can take to work? Do you require something that is durable to be used regularly over long distances? Perhaps you're looking to take a trip off-road? We'll look at what you need to think about when selecting the best electric scooter for your needs this B.
In the first place, you should select the commuter scooter that is designed to maximize the comfort of the rider.
Choose Wider Scooter
The handlebars are vital for maintaining control of your fast electric scooter while you ride. Handlebars that are small or narrow can cause fatigue to your shoulders and arms. Pick a long range electric scooter that is a commuter model with larger handlebars for maximum control and confidence with the vehicle.
When you're taking longer trips You should consider an electric scooter that has an expansive deck to ensure that your feet don't get crowded. It is important to choose a model that allows you to adjust the position of your feet, no matter the style of riding you prefer.
Similar to the handlebars and deck, tires with wider widths will also make a difference to the all terrain electric scooter's ride. They provide more cushion and balance while navigating challenging streets in the city.
Motor Power
Another thing that makes a difference between scooters is their performance. It doesn't matter if you're going on a weekend trip either off-road or within the city, you'll need to make sure you're able to push through uphills and downhills on your scooter, streets, and traffic with no issue.
A Powerful Motor is The Key
The most important thing to consider is the motor's power which is measured in watts. You should consider buying an escooter that has a dual motor, as this should be enough to traverse uphill in most urban or off-road environments.
The power should also be balanced to maximize performance. Many commuter scooters provide 25+ miles of range with a single battery charge. This is well over the requirements of most commuters who drive urban scooters.
Furthermore, you'll want a fast electric scooter that is able to keep up with street traffic. The maximum speed of adult electric scooters in several states is 20 miles per hour however, some states permit greater speeds. For instance, the Varla Eagle One long range electric scooter is capable of achieving a top speed of 40 miles per hour.
VARLA EAGLE ONE (best for off-road)
VARLA PEGASUS (best for commuting)

MOTOR: 2 x1000w Dual Motor
RANGE: 40 miles Per Charge
TOP SPEED: 40+ mph
BATTERY: 18.2 Ah 52V Lithium-ion
BRAKES: Dual Hydraulic ABS
SUSPENSION: Dual Shock Absorption
TIRES: 10 Inches Pneumatic Tires

MOTOR: 2 x 500W Dual Motor
RANGE: 28+ Miles Per Charge
TOP SPEED: 28+ mph
BATTERY: 15.6 Ah 48V Lithium-ion
BRAKES: Dual Disc Brake ABS
SUSPENSION: Dual Shock Absorption
TIRES: Puncture-proof Vacuum Tires
Suspension
Suspension, which is similar to the one in cars, smooths out bumps and indentations on the road and increases the ride quality. If you don't have it, particularly in the case of sturdy (airless) tires and a suspension system, you'll be able to feel every bump you ride over. In the event that your ride is long or you have difficult terrain to traverse it is recommended to consider purchasing an electronic scooter that has dual shock suspension.
There are three primary kinds of suspension systems: spring and air pistons, or hydraulic as well as rubber suspension.
Suspension is able to be mounted to either the front, rear or both. Off road electric scooters of the top commuter class must include either rear or front suspension.
Tires
There are two types of tires that include solid (airless) tires and pneumatic (air-filled) tires.
Here are several differences between commuter scooter tires.
Solid tires: These tires are inferior to pneumatic tires in every aspect, but they don't require any maintenance whatsoever. If you're riding on tires that are solid you're susceptible to feeling every bump, and even fall over lines of paint along the road.
Pneumatic tires: You should consider purchasing an electronic scooter that has pneumatic tires as they provide the best ride quality (with suspension or not) and their soft rubber is more effective in adverse road conditions. Some air-filled tires feature inner tubes which can be repaired if damaged. Other air-filled tires are tube-free. Tires with pneumatics have the benefit of shock absorption as well as better handling (especially during bad weather).
The disadvantage of pneumatic tires is that they require more maintenance in comparison to airless. Pneumatic tires can be prone to punctures and require filling with air at times when they are at low pressure. Pneumatic tires, which include tubes or tubeless, are typical across all price ranges, with the exception of the lower price bracket which is almost entirely solid. You can know some tips about how to Avoid Vacuum Flat Tires On Your Long Range Electric Scooter here.
Reliability and safety
Safety is certainly paramount when you ride an all terrain electric scooter. If you're riding along roads, riding on bike trails, or passing pedestrians, an electric scooter is reliable for your safety and that of others.
Are electric scooters safe? Yes, provided you pick one with the appropriate safety features.
Sound and Sight
The most important safety aspect that you must be aware of is visibility, especially in the dark. Be sure to select an all terrain electric scooter with both tail and headlights. It is also important to ensure that the e scooter comes with high beam as well as brake lights to increase security. These are vital for notifying other people around you that you're close by at night or during the evening.
Furthermore, you should not just be visible, but as well as heard. Be sure that the escooter that you select has the bell, at least an analog bell. This can be useful both during the day as well as at night, particularly when you're passing cyclists, pedestrians as well as other vehicles.
Maneuverability And Brakes
Take into consideration the kind of brakes you'd like on your commuter scooter. Select a brake system with actual levers instead of a thumb button for the best reliability. A lot of scooters have regenerative brakes, which can aid in slowing down as you let off the throttle.
Choose a Trusted And High-Quality Brand
Equally important to the components in themselves, is the quality of their construction. Be sure to select an electric scooter that with premium components. Another tip to consider is to choose an all terrain electric scooter with the battery on the deck as it offers a lower centre of gravity as well as more balance in comparison to a commuter scooter with the battery on the stem.
Naturally, you must buy a commuter scooter that is a reliable brand. As opposed to other manufacturers of electronic components who also manufacture electric scooters for adults such as Varla which has been manufacturing electric vehicles for a long time is a better option. Choosing a brand with an extensive history of safety in vehicles is essential.
Summary
Hopefully, you can make an informed decision about what sets a great commuter scooter apart from the rest. In addition to these features, other factors like the budget will certainly also be important when considering a purchase.
Factoring in all these criteria, and including price in your consideration, it would be difficult to beat the Varla Eagle One and Varla Pegasus in terms of features, quality, and affordability.
---
---
Share Article
Newletter
Promotions, new products and sales. Directly to your inbox.
Lastest Blog Post
Category