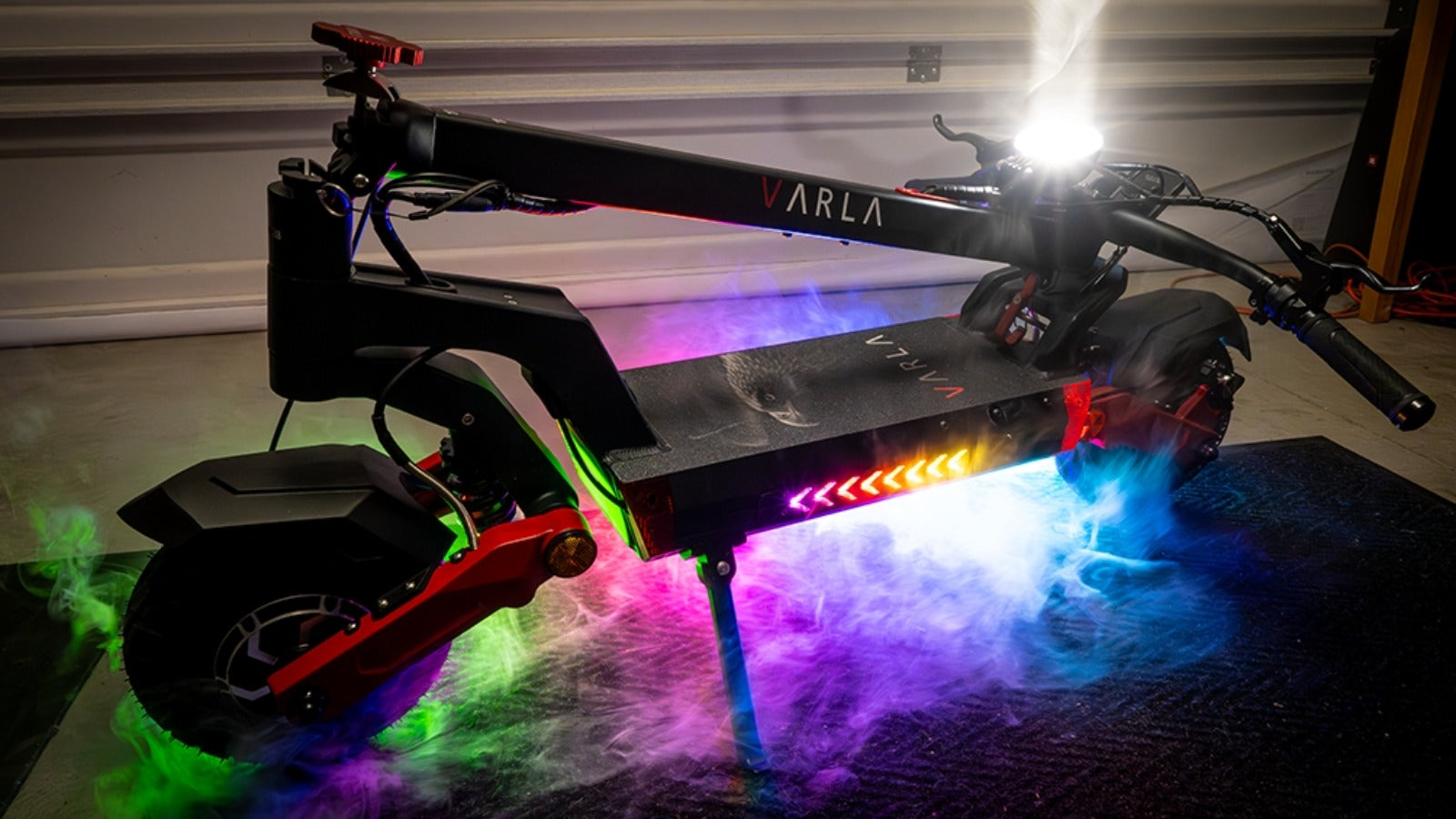 Black Friday Ultimate Guide: Choosing Your Perfect Varla Scooter and Getting the Best Deals
Black Friday is one of the year's biggest shopping days and the perfect time to pick up a new scooter. This year, we are taking things to the next level with our new Black Friday deals. 
There are a couple of models and features, so figuring out where to start can be challenging. Hence, we've compiled this guide to choosing the perfect Varla scooter for your needs and getting the best deals on Black Friday.
Why Varla Scooters Are the Ideal Choice for Electric Transportation
Varla scooters are a good choice for electric transportation and outshine other options. Here's why:
Varla scooters are portable, and effortless, so you can take them on public transport or put them in your car without hassle. Riding them is quite easy, even if you've never tried an electric scooter.
Varla scooters produce zero emissions, helping to reduce your carbon footprint, protect the environment, and preserve the planet. Plus, they're energy-efficient, which means you can save money on your energy bills.
Varla scooters are a pleasure to ride. They're fast and easy to maneuver. Whether you want to get groceries, get to the bus station, or enjoy a sunny day, you can bank on your Varla e-scooter.
Why Varla Scooters Outshine Other Electric Transportation Options:
Varla scooters are a much more budget-friendly choice than electric bikes and cars. This makes them a top pick for people who want to save costs.
Varla scooters are easy to carry, so you can bring them on public transport or fit them in your car. This convenience is perfect for those who need to commute or travel.
Riding a Varla scooter is straightforward, so you can quickly get the hang of it, even if you're a beginner. This makes them suitable for people of all ages and fitness levels.
Choosing the Perfect Varla Scooter Model
When you're in the market for a Varla scooter, you need to make the right choice to fit your needs, preferences, and budget. Varla provides a range of scooter models, including the Eagle V2.0, Eagle PRO, and Pegasus. 
Eagle One V2.0 Powerful Off-road Electric Scooter: 
Varla's flagship model, the Eagle V2.0 off road electric scooter, is designed for high performance. It's an excellent choice for both daily commuters and off-road enthusiasts. With a top speed of 40 mph, this vehicle offers an exhilarating and fast-paced experience. The impressive range of 42 miles ensures that you can enjoy longer journeys without the need for frequent recharging. The scooter boasts dual 1000W motors, hydraulic brakes, and 10-inch pneumatic tires for a smooth and efficient ride.
Eagle One PRO All Terrains Electric Scooter: 
If you need an entire beast-action option with top-notch performance, go for the Eagle One Pro All-Terrain Electric Scooter. This electric vehicle boasts a dual 1000W motor, providing powerful and efficient performance. It is equipped with a 60V 27Ah battery, offering ample energy for extended rides. With a top speed of 45 mph, this vehicle delivers an exhilarating and fast-paced experience. The impressive range of 45 miles ensures that you can enjoy longer journeys without the need for frequent recharging. Safety is prioritized with the inclusion of dual hydraulic brakes, offering reliable and responsive stopping power. The vehicle rides on 11-inch tubeless tires, providing a smooth and stable ride on various terrains.
Designed for versatility, this electric vehicle has a weight capacity of 330 lbs, catering to riders of different sizes. It features dual hydraulic suspension, optimizing ride comfort by absorbing shocks and providing a smooth experience, even on uneven surfaces. Additionally, the vehicle is equipped with a 10W headlight and taillight, ensuring visibility and safety during nighttime rides or in low-light conditions. These lights offer sufficient illumination, enhancing overall safety and visibility for the rider and other road users.
Pegasus City Commuter Electric Scooter
Surely, this is one of Varla's most affordable scooter models. The Pegasus caters to casual riders and daily commuters. You get a top speed of 28 mph and a range of up to 28 miles. With dual 500W motors, mechanical brakes, and 9-inch solid tires, the Pegasus City Commuter Electric Scooter delivers a dependable and budget-friendly ride.
The mechanical brakes provide a responsive and reliable stopping mechanism. With a weight capacity of 280 lbs, this electric vehicle is suitable for a wide range of riders, accommodating different body types and sizes. The inclusion of front and rear suspension enhances ride comfort, absorbing shocks and ensuring a smoother journey.
Factors to Consider When Choosing a Varla Scooter 
Range: 
The range of an electric scooter refers to how far it can travel on a single battery charge. Consider your typical daily or weekly riding needs to make the right choice. A scooter with a longer range will be good if you plan on covering more significant distances without frequent recharging.
Speed: 
Consider the maximum speed you desire for your scooter. Different electric scooters have varying top speeds, so choosing one that fits your preferences is important. If you need to travel quickly, look for a scooter with a higher top speed. However, ensure the speed is legal and safe for your intended use.
Power:
The power of an electric scooter is influenced by its motor. You can evaluate your power requirements by considering how you plan to use the scooter. Your riding style and the terrain you expect to encounter will impact the motor power you need. 
Portability: 
Portability is crucial, especially if you must carry your scooter regularly. Consider your daily routine and how often you must transport the scooter. If you need to take it on public transport or have limited storage space at home, a foldable and lightweight scooter becomes a practical choice. Assess how easy it is to carry, fold, and store when unused.
Terrain Capabilities: 
Think about the type of terrain you'll be navigating during your rides. Different scooters have varying capabilities when it comes to handling different terrains. Select a scooter that matches the surfaces you'll encounter to ensure a safe and comfortable ride.
Budget: 
Determine how much you're willing to spend on your scooter, considering your financial preferences and constraints. Electric scooters come in a wide price range, so having a clear budget will help you narrow your options and make a more informed decision.
Black Friday Shopping Tips: Securing the Best Varla Scooter Deals 
Black Friday is the perfect time to buy new Varla as black friday gifts , as we offer you premium discounts on Black Friday. For the Eagle One Dual Motor Electric Scooter, you can save up to $400 using the Code 'BFCM100'. Eagle One & Off-road Tires Combo have $494.01 off; with the Eagle One & Seat Combo, you get $529.01 off. 
The deals don't stop here as Code 'BFCM100' can save you $200 while purchasing the Eagle One V2.0 Powerful Off-road Electric Scooter this Black Friday season. For the Eagle One PRO All Terrains Electric Scooter, you save $367.92 with 8% off the original price. 
Pegasus City Commuter Electric Scooter and Falcon Urban Commuting Electric Scooter have $300 off, while buying the Wasp Portable Electric Scooter this season saves you $150.
Here are some tips to help you secure the best Varla scooter deals on Black Friday:
Research and Compare Models Before Black Friday:
Researching the models before the big day helps you to understand the different features and capabilities of each model and to narrow down your choices.
Stay Updated on the Latest Deals and Promotions:
You can stay updated on our latest deals and promotions by checking the Varla website regularly. Watch for these deals, as they often sell out quickly.
Shop Early
If you're serious about getting the best deal on a Varla scooter on Black Friday, shopping early is important. Many of the best deals sell out quickly, so it's best to start shopping as soon as they go live.
Conclusion
Black Friday is the perfect time to buy a new Varla scooter. With so many different models to choose from and deep discounts available, you're sure to find the perfect scooter for your needs and budget. Consider your needs and preferences, such as range, speed, power, portability, and terrain capabilities. You can also research and compare different Varla scooter models before deciding. Make the most of the Black Friday shopping season and enjoy your new Varla scooter.
---
Related Product
Eagle One V2.0 Powerful Off-road Electric Scooter
---
Share Article
Newletter
Promotions, new products and sales. Directly to your inbox.
Lastest Blog Post