1000Wx2 Dual Hub Motor
The Dual 1000W hub motor on the wheels can provide the peak power output of 3200W, which is powered by 2 x 25A speed controllers, maintaining the optimal performance of the e-scooter at all times.
Dual Suspension
The front and rear independent suspension can greatly absorb the discomfort caused by rough roads.
Dual Hydraulic Brake + ABS
Dual hydraulic brake plus ABS system ensure you a safe and smooth sudden brake.
LED Headlight & Taillight
Equipped with front & rear lights, they can illuminate the road and remind others, making you safer to ride at night.





52V/18.2Ah Lithium-ion Battery
Equipped with the 52V/18.2Ah capacity lithium-ion battery, 
 it's able to reach more than 40 miles long-distance riding on Eco Mode.
8-9 h (1 charger)
4-5 h (2 chargers)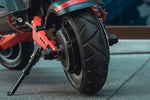 10 Inches Pneumatic Tire
With a good performance in shock absorption, anti-skid performance, and high control sensitivity.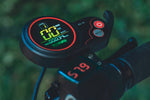 LCD Display
With intuitive and informative LCD Display, everything you need to know: distance, speed, battery power, etc. all available to you at a glance.
Fully Hydro Brakes
When you're cruising in speed with the Varla Scooter, you're always in control thanks to the fully hydro brakes.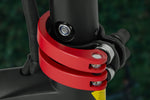 Dual Lock Clamp
Fast and convenient locking clamp makes folding and unfolding in only 3 seconds.
Motor
Dual Hub Motor, 1000W x 2
Tire
10 x 3 Inches Pneumatic Tire
Charger
2.0A quick charger
Frame Material
Aluminum Alloy
Brake
Dual Hydraulic Brake + ABS
Payload Capacity
Max. 330 lbs
Recommended 265 lbs
Battery
52V/18.2Ah Lithium-ion battery
Charging Time
8~9 Hours(Single charger)
4~5 Hours(Two chargers)
Lighting
LED, Front & Rear