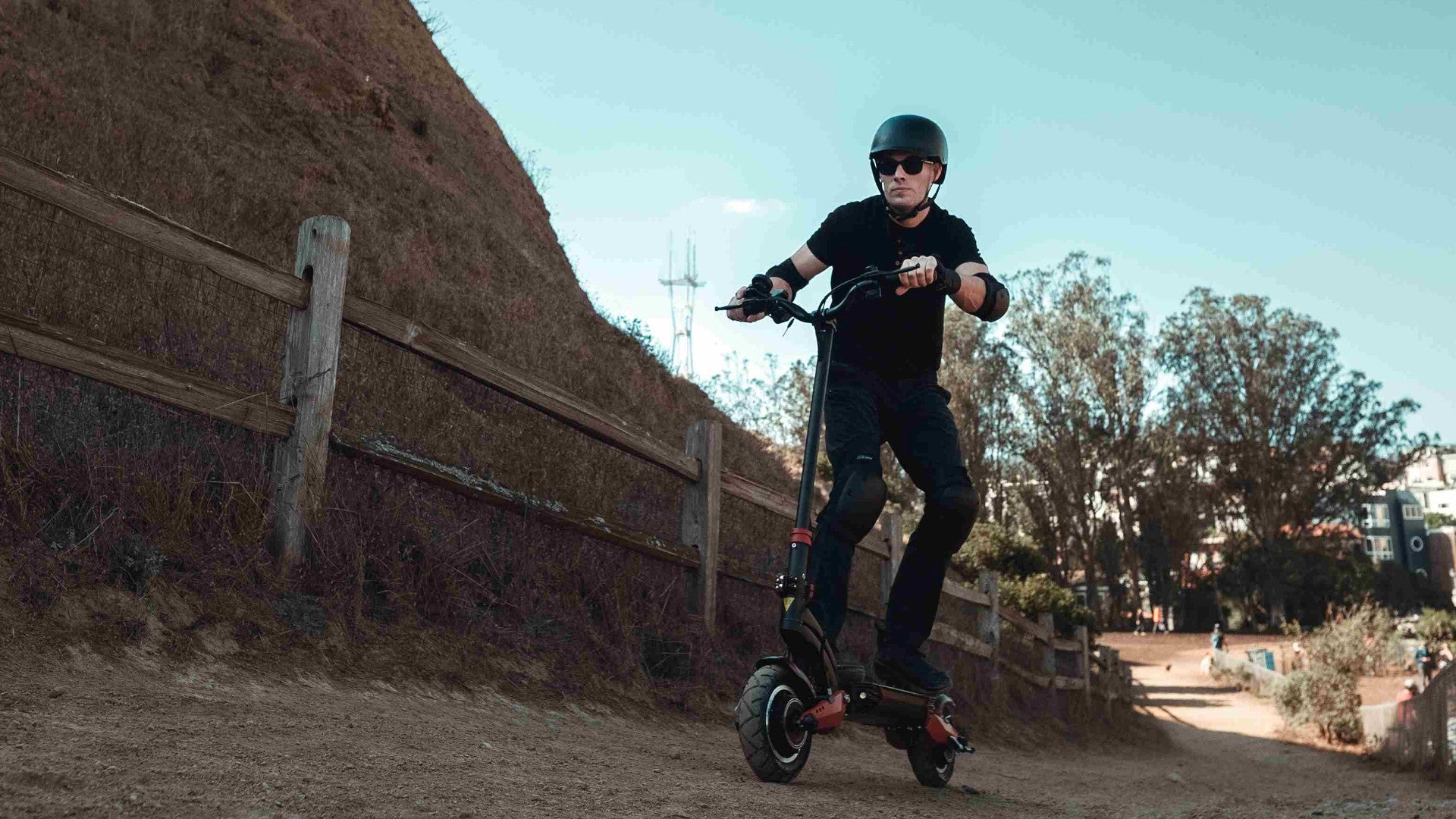 Electric Scooter General Settings Adjustment - Varla Eagle One
Before driving your electric scooter, a crucial step is to check all the general settings to ensure safe and proper riding. This blog will detail the basics of the Varla Eagle One to help you start exploring the world safely and smoothly when riding this beast!
LCD display On Varla Eagle One Scooter
QS-S4 LCD display and finger throttle are mounted on the Eagle One's handlebars. It's not just a way to get the ability to see the speed, gear (1-3), battery life, and miles (both the total and trip) as well as the capability to modify your motorized scooter's configuration to your requirements.
When the power is on, the total mileage shows on the screen.
Press the Power button once, and the single mileage(TRIP) shows on the screen.
Press the Power button twice, the screen shows the voltage.
When it shows the single mileage(TRIP), press and hold the MODE button for three seconds to reset the TRIP.
Varla Eagle One has 3 levels of gears. To change the gears push the MODE button when the LCD display is on.
Turn the head and taillights on by pressing the MODE buttons for a few seconds.
Eco/Single Button
You can switch between different driving modes, and choose single or dual motors.
Eco/Turbo: It controls your top speed and acceleration power. Select Turbo for the fastest velocity and speed.
Single/Dual: This determines how much power you can get from your motors. Choose Dual for the maximum power.
Turbo/Eco button affects top speed for each gear, Single/Dual button affects mostly for acceleration.
IMPORTANT: Do NOT press the SINGLE/DUAL button and ECO/TURBO button during riding.
P-Settings About Electric Scooter
What are P-settings?
P-settings allow riders to customize their ride. Varla Eagle One is equipped with preset settings (P-settings) that permit users to alter features such as the cruise control feature, zero-start as well as speedometers (mph/kph). 
Find out how to easily access the P-settings on Varla Eagle One, which settings you can adjust, as well as the settings you shouldn't touch.
Varla Eagle One P-Settings
Varla Eagle One has 20 P-settings, including some presets which should not be adjusted. Presets that should not be adjusted are P3 battery voltage, P6 Wheel diameter, P7 Motor magnets and P15 Automatic all terrain scooter voltage shut-down. These presets affect how the motor and battery are calibrated and should not be adjusted unless you understand the functions.
To access the P-settings menu, hold the MODE and Power buttons for about 3 seconds. Press the Power button to switch between P-settings, and alter values with the MODE button.
To save settings, allow the LCD display to timeout (8 seconds) or long press the MODE and Power buttons to exit the menu.
Varla Eagle One P-Setting Menu
P1 LCD brightness: 1: low 2: mid 3: high
Default: 3
P2 Speedometer units: 0: kph 1: mph
Default: 0
P3 Battery voltage: (do not adjust) From 24V to 60V
Default: 52V
P4 Auto-off time 0: not set 60: 60 min
Default: 5
P5: Unused
P6 Wheel diameter: (do not adjust) Default: 10.0
P7 Motor magnets: (do not adjust) From 0 to 255
Default: 28
P8 Power level 1: slowest 100: fastest
Default: 100 km/h
P9 Start mode 0: zero start 1: kick to start
Default: 0
P10 Unused
P11 Regenerative/Electronic brake:  strength 0: off 1: weak 5: strong
Default: 3
P12 Acceleration 0: off 1: weak 5: strong
Default: 3
P13 Unused
P14 Unused
P15 Automatic scooter voltage shut-down: (do not
adjust) From 37.0 to 47.0
Default: 42.0
P16 Lifetime odometer reset Long-press Mode button to reset to 0
P17 Cruise control: 0: off 1: on
Default: 0
P18 Unused
P19 Unused
P20 Communication protocol: (can not adjust) Default: 4
Varla Eagle One Electric Scooter Fault Codes
If your Varla Eagle One adult scooter has a malfunction, it will display an error code on the LCD display. It will also show a red alarm icon. You can check the list below and read what each error code means.
2: Brake
4: 6 km/h cruise
6: Battery under voltage
7: Motor faulty
9: Controller faulty
10: Faulty comms between controller and LCD
11: Faulty comms between controller and LCD
12: BMS failure
13: Headlight failure
IMPORTANT: When the dashboard LCD displays an error code, please contact the Varla after-sales team as soon as possible: customer[at]blogimport.kinsta.cloud
Frequently Asked Questions
How do you turn on a Varla Eagle One Electric Scooter?
Turn the key to power on your motor scooter. Press the power button on the LCD display and keep it down for a little while. 
How do I change the Varla Eagle One P settings?
Turn on your adult e scooter.
Hold the Mode + Power buttons for three seconds to access the P-setting menu.
Use the Power button to toggle through P-settings.
Press the Mode button to change the value
How I can limit the Varla Eagle One speed?
Go to the P8 setting to change your electronic scooter speed limit.
Why is my Varla Eagle One going slow?
You can adjust your escooter speed with:
Gears 1-3
Eco/Turbo button
Single/Dual motor button
In P8 setting, which is the Speed setting.
In P12 setting, which is Acceleration setting
What to do if  I change those features that are marked "do not adjust"?
If you change these settings you will be able to see the default settings on this page or inside the Varla Eagle One Owner's Manual.
For instance, when you set the wheel's diameter wrong the speedometer will be incorrectly programmed and not show a precise speed. So please change those settings if you are 100% what you are doing.
Summary
Check out something you need to know about Varla Eagle One. Hope this guide blog can walk you through each setting. By the end, you'll be an expert at adjusting your Varla Eagle One!
---
---
Share Article
Newletter
Promotions, new products and sales. Directly to your inbox.
Lastest Blog Post