Imagine zipping through the city streets on your electric scooter with the crisp morning air on your face. There are no concerns about the morning traffic with not a care in the world because you are on the latest electric scooter, Varla Pegasus!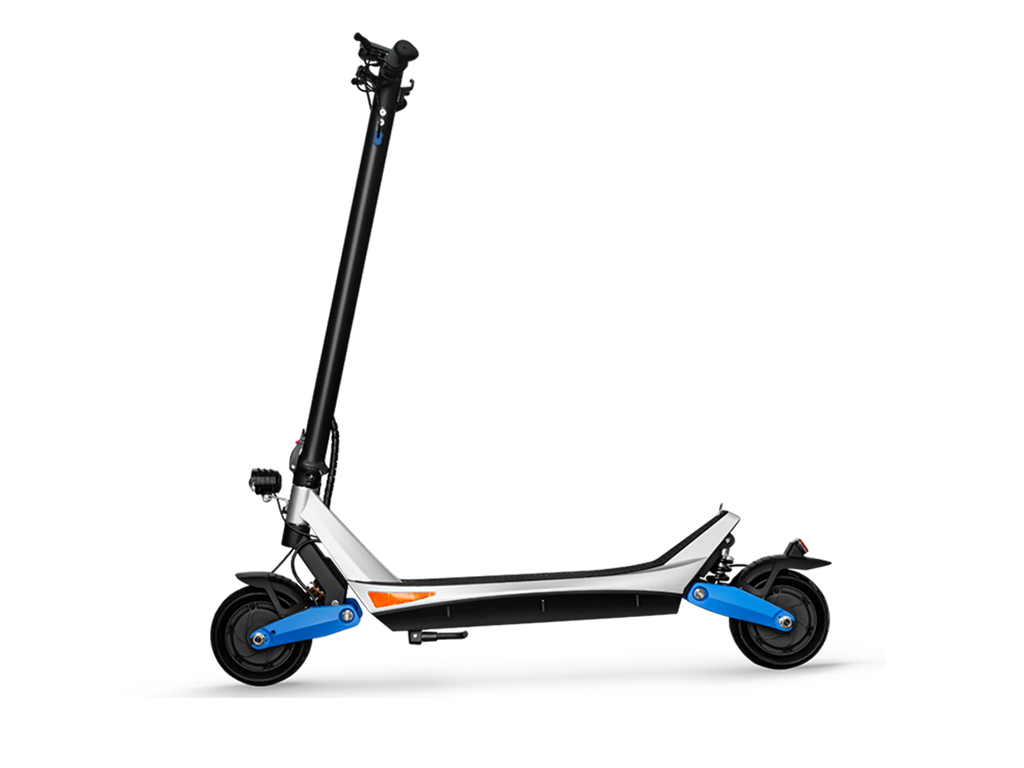 Not only are you saving on fuel costs, but you are saving the planet too by reducing your carbon footprint. This portable electric scooter by Varla is heavy-duty and has a long range. By far the best electric scooter for commuting – you won't even need to find parking.
Whether you enjoy a slow Sunday afternoon cruise or need speed – the new Varla Pegasus electric scooter is for you!
What else makes this nifty adult electric scooter so practical?
Why Buy A City Commuter Electric Scooter
An electric scooter by Varla is an excellent way to replace city transportation. Let's explore the reasons why you must have the new Varla Pegasus:
No more traffic: Ride on the curb and miss the morning traffic rush.
Exercise: No more standing on a train or long Uber rides in traffic. Use your body to balance and maneuver your electric scooter around town.
Affordability: Let's face it – city living can be expensive. With a once-off cost of your new electric scooter, you can save money on transportation in the long run.
Lightweight: Just fold your scooter up and carry it until your next ride.
Durability: Made from aluminum and magnesium alloy, so your ride gets built tough.
Eco-friendly: Save the planet! With no carbon emissions expelled, you can do your part by commuting on the best city commuter electrical scooter.
Safety: With a headlight and taillight for night driving and dual disk braking – you can be sure that your electric scooter will do its job at keeping you safe.
Excitement: One of our favorite reasons why you must have an electric scooter – it is fun!
Did you know that there's next to no maintenance for you ever to have to worry? No more digging into your pocket for oil changes and the ever-increasing gas prices. The easy assembling makes this ride perfect for everyone. The Varla Pegasus is a scooter of convenience!
What's In a Name
We all know that Pegasus gets most recognized as a mythical winged horse in Greek mythology. The name of the Varla Pegasus is inspired by this wild and free creature and represents ultimate freedom. There are no boundaries in the Varla Pegasus design, and our goal is when you ride your e-scooter, you know nothing is beyond your reach.
Be free from your public commute and soar through the streets like Pegasus in the clouds.
The Varla Pegasus
The Varla Pegasus long-range and heavy-duty city commuter are just what you want for heading to work and back each day. With a 300-max load, you can carry a backpack with all your essentials for the day.
Here are some impressive specs for the Varla Pegasus:
Design: The beautiful and innovative design will turn heads.
Speed: Don't worry if you are late for work. The Varla Pegasus will help you maneuver with a top speed of 35 mph.
Incline: This adult electric scooter has a 25°climbing angle.
Tires: 3.5-inch solid tires for your riding durable
Motor: 2 x 500-watt motors so you can ride
Ease of use: Simple 3-step fold and unfold scooter.
Brakes: Powerful dual disc brake so you are safe in wet or dry conditions.
The features of this city commuter electric scooter are what make it so unique. It got designed for city travel with long-range and heavy-duty construction. With its easy thumb throttle and safe braking system, you can make it from point A to point B comfortably and safely. Once you reach your destination, fold it up and carry it along.
Varla Pegasus and Varla Eagle One – How Do They Compare
While we know that the Varla Eagle One has proven itself one of the best entry-level electrical scooters in our range, it is interesting to see how it can compare with the Varla Pegasus.
Both of these amazing electric scooters have duel suspension and payload capacity of over 250 lbs. The Varla Eagle One has 2 x 1,000w motors and a climbing angle of 30°+ making it perfect for road and offroad riding.
With the Varla Eagle One's success and its popularity for offroad riding, we saw our consumers' need to commute through the city. The Varla Pegasus got designed with city commuting in mind, so its weight is almost 10 lbs lighter than the Varla Eagle One. Just fold your e-scooter up and carry it with ease.
What we know is that both adult electric scooters are built to last. With their outstanding performance and durability, neither will disappoint!
Price
The Varla Pegasus only costs $1,099, thanks to the $200 discount! We also offer an INTEREST-FREE way of paying off your electric scooter through PayPal over 6 months. We know this electric scooter won't disappoint – we will provide you with a 2-year warranty. Chat to us online to see if you qualify for the monthly payment benefit.
Choose the Best City Commuter Electric Scooter – Varla Pegasus
Apart from the initial payment, you don't have to pay for gas, taxis, or public transportation again. The Varla Pegasus is heavy-duty and has a range of 28 miles at 35 mph. That's the perfect range and speed for city travel!
This adult electric scooter has top-notch safety features such as front and rear lights, a dual disk braking system, and tires made for wet or dry conditions. Zip through town on your electric scooter and be the envy of everyone sitting in traffic.  
Now is the time to pre-order your Varla Pegasus and receive $200 off your purchase! Don't miss out on getting the best long range and heavy-duty electric scooter for commuting and ride in style.