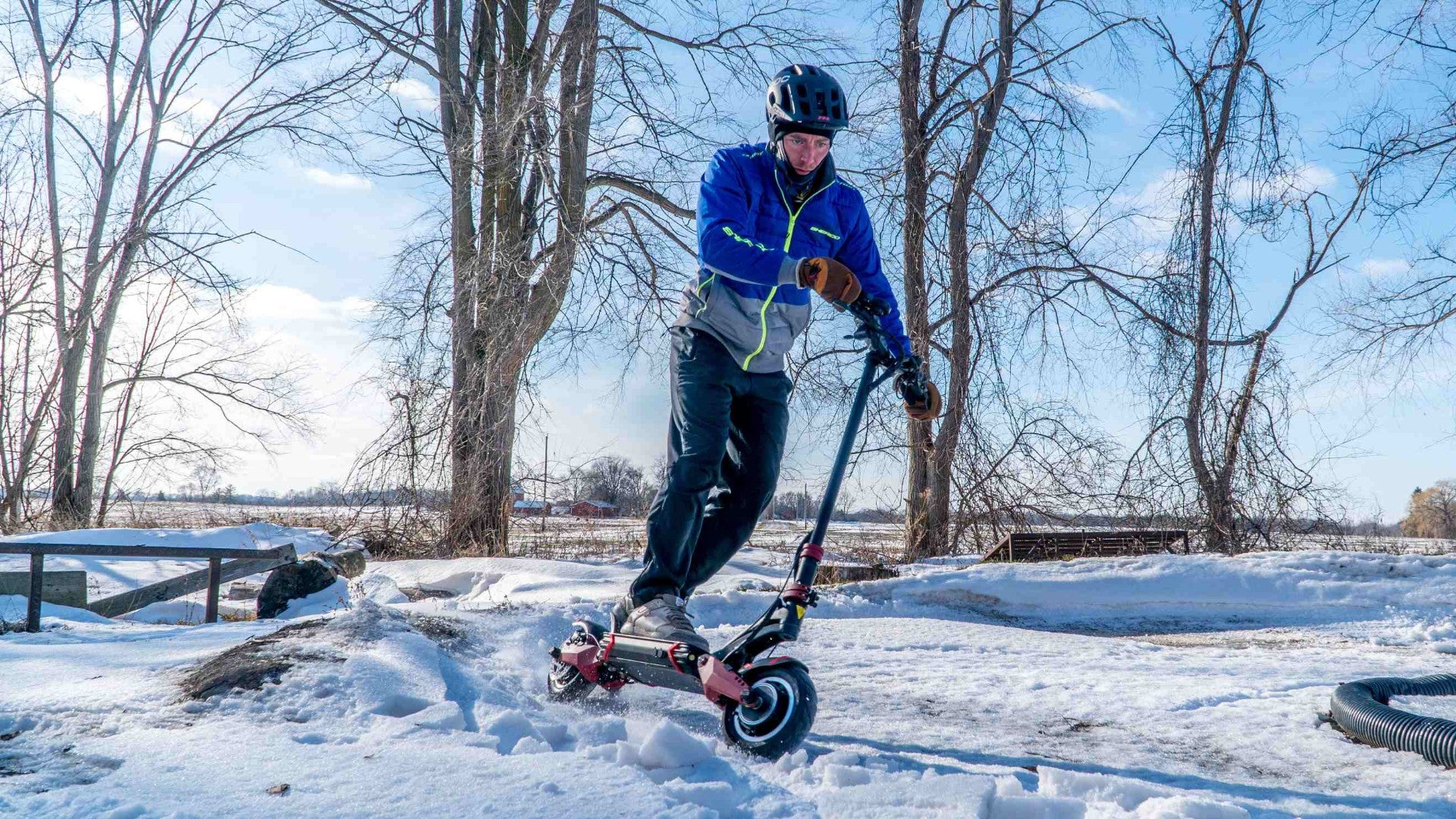 All Terrain Electric Scooter Routes in Georgia This Winter
Georgia is a beautiful electric scooter riding place to be in winter. With diverse untapped natural resources, pristine and majestic mountain terrain, and friendly locals in rural locations across the region. The State provides opportunities to immerse yourself in the Georgian environment's rich culture and natural values. You can not only find serenity and meditation on snow-covered walks but also have your hearts filled with love as you look at blue skies and colorful waters. Get ready to know some all terrrain escooter riding tips to have a blast this winter!
Traveling across Georgia in the winter allows you to relish the quiet cities and magnificent snowy scenery. It makes wonderful memory mementos and creates the ideal setting for a romantic getaway. Especially when armed with the Eagle One Pro dual motor escooter equipped with a dual hub motor and a 45-mile range when fully charged, undoubtedly, you can go farther and experience more.
This article considers 8 terrain electric scooter routes across Georgia this winter and the unique experiences each route gives.
Borjomi & Bakuriani – Hot Springs, Skiing & Winter Hikes
Borjomi is one of the numerous locations in Georgia with naturally hot sulfur pools. After Gudauri, Bakuriani is the most popular ski resort in Georgia. This is a snow bunny's dream, with 20 ski lifts and 29km of slopes that range in difficulty. There are elevations between 1,600 and 2,700 meters above sea level.
Bakuriani is on the northern slopes of the Trialeti Range in the foothills of the Lesser Caucasus mountains. The entire region is a winter wonderland of ivory-colored trees and gloomy slopes, as you can expect. So get ready to enjoy traveling uphill and downhill on your off road electric scooter.
Aska Adventure Trails Area In Blue Ridge
A 17.0-mile-long network of hiking, mountain biking, and trail systems was in the Aska Adventure Area, a local favorite, on National Forest properties close to Deep Gap on the Aska Road in south central Fannin County. All year long, the public is welcome to use the trails for scooter riding, ranging from one to five kilometers. Trails climb to a height of around 3,200 feet, offering views of mountain ranges. Then they descend to Lake Blue Ridge's shoreline. They also travel through laurel and rhododendron thickets and coves of mature hardwoods, where you can enjoy hours of riding.
Lagodekhi – Tranquil Landscapes
Lagodekhi National Park, a haven for hikers and scooter riders in the summer. It has an entirely different vibe in the winter. This small moist, warm forest in parched Kakheti, near the Azerbaijani border, is covered in silvery rivers and vast expanses of snowy pasture in the winter.
Herders bring their flocks down to pasture in Lagodekhi and Vashlovani in the winter to seek refuge from the severe winter weather in the mountains of Tusheti. When you ride your commuter scooter here, you may frequently witness streams of sheep roaming the countryside at this time of year. The large expanse of moving woolly mass in the snowy background is a beautiful sight and a nice adventure riding route for a countryside romantic. 
Jekyll Island
A barrier island in Georgia's Golden Isles is Jekyll Island. You can ride around the entire area seeing historical monuments and taking in the beautiful views of the lake. Thanks to its 25 miles of routes and trails. There are many different places to ride, including the beach, marsh, maritime forest, and the National Historic Landmark District. They include the Jekyll Island Club (1888) and the "cottages" that affluent tourists initially owned. The Jekyll Island Authority, a self-supporting state body, established to serve as the island's steward. It oversees the island, which was once a winter refuge for the affluent. According to the law, 65% of the island, including parks and picnic places, must stay in a primarily natural state. This creates a paradise of natural reliefs for nature lovers who dare to experience the magnificent.
Forest Sabaduri – Fairytale Landscape Of Frosty Trees
Sabaduri Forest, just an hour's drive from Tbilisi. It's the ideal winter playground and the spot to visit this winter for images of snow-glazed walkways among powder-puff trees. Get lost in a snowy heaven by picking a peaceful area on the side of the road that skirts Tbilisi National Park. Sioni Lake, located a half-hour further up the road, is picture-perfect when reflecting the frozen vegetation. The perfect winter day excursion from Tbilisi includes a stop at the nearby Martkopi Monastery, hidden deep within a forest. Actually, dual motor scooter is better than tourist guides.
Silver Comet Trail From Smyrna To State Line
From the beginning in Smyrna to the Georgia-Alabama state border, the Silver Comet Track is more than 60 miles long and is the country's longest cycling trail. The Silver Comet Trail, named after the train that ran along this portion of the railroad, still has numerous remnants of an earlier rail line. As they pedal through old trestles and tunnels, riders take picturesque views of rural and small-town Georgia. 
The excitement of your electric scooter for heavy adults adventure allows you to the paved trail. The 18 miles of natural surface paths snaking through the woods immediately off to the side are a favorite among mountain escooter riders. These off-road routes provide a challenging intermediate ride with intriguing technical elements. It is a worthy challenge for anyone equipped with an all terrain electric scooter.
Kakheti – Clear Skies & Frozen Vines
Most people advise visiting Kakheti in the fall during the Rtveli grape harvest. However, the all terrain electric scooter trail is just as beautiful in winter, and even more so, considering the clear, crisp outdoor air.
The bright skies are the main benefit of visiting Kakheti in the winter. In contrast to other seasons, particularly summer, when haze blocks the view, the Greater Caucasus may be seen across the Alazani Valley in the winter.
Chehaw Park In Albany
Chehaw Park is a fantastic family getaway that deepens our ties to the outdoors with unique outdoor activities like mountain biking, and a fully licensed zoo! Bring your long range electric scooters and explore the paths that meander through the surrounding scenery. The pathways are suited for dual motor electric scooter riders and provide a wonderful beginning to mountain riding because they have no elevation variation. Riders with more experience enjoy the flowing speed and added obstacles. Chehaw offers a variety of accommodation and camping choices for overnight excursions.
Final Thoughts
Every adventure comes with its risk, especially in the winter. It's crucial to ensure and adhere to safety protocols while preparing for a scooter safe trip through these routes. Keep your feet warm, dress for winter outdoors, and wear lots of thin layers, enabling you to regulate your body temperature effortlessly by adding or removing layers of clothes. Most importantly, equipped with the right gadgets and tools, especially if the trip spans an extended period.
All terrain electric scooters have proven to be an excellent choice for navigating nature. So, as you prepare to explore these routes in your next winter trips, it is highly recommended that you get one and enjoy all that the Georgian landscape has to offer.
---
---
Share Article
Newletter
Promotions, new products and sales. Directly to your inbox.
Lastest Blog Post
Category