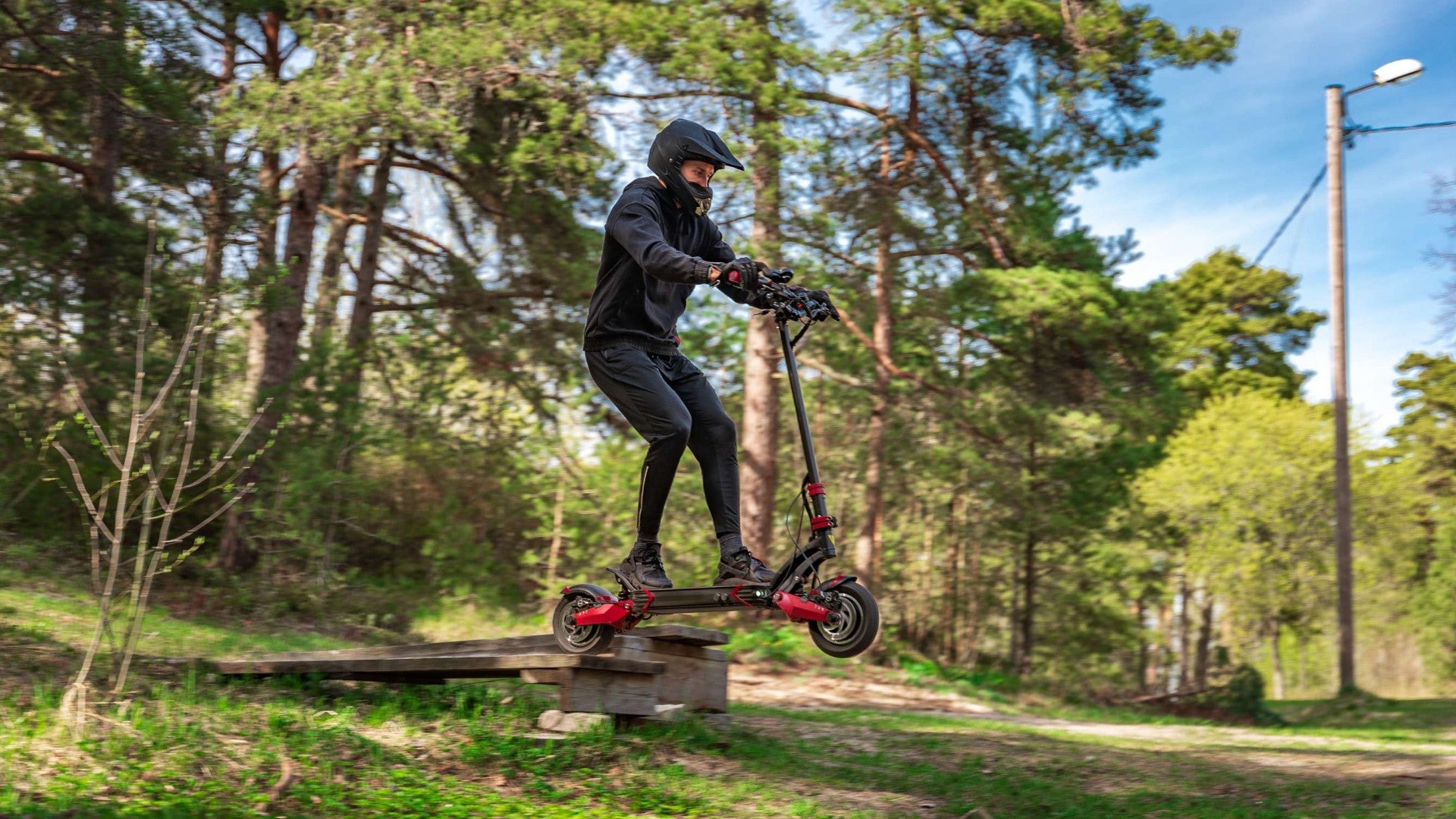 Varla First Electric Scooter 2nd Anniversary -Varla Eagle One
The Varla Eagle One electric scooter is celebrating its 2nd year anniversary now. An electric scooter is a popular option for stylish, environmentally friendly commuting way. Varla scooter has more than 20,000 Varla riders around the world. The Varla Eagle One is one of the scooters on the market with good performance, and we are excited to see it continue to grow in popularity.
What Do You Know About Varla Electric Scooter?
Varla Electric Scooter stands for:
Venture - If you want to venture out, we will be your best partner.
All-terrain - With Varla scooter, you can conquer all-terrain in a trendy way.
Rambler - Be a rambler, admire out of surprising views on the road.
Limitless - You can go wherever you want, with no limit.
Action capability - No matter what questions proposed by you, we will act immediately.
Varla Slogan
Dual motor conquers all terrain.
Varla's Vision 
To empower Varla riders to perceive the periphery from the unique riding experience.
Enjoy their exploration journey interacting with this world in a different way.
Commit to product quality customer satisfaction and fulfilling social responsibility.
Varla's Mission
To offer a unique blend of speed, smoothness, safety and so much fun for people living with passion.
Environmentally Friendly Varla Electric Scooters
One of the most significant environmental advantages Varla e scooters have is that they do not emit emissions. In contrast to cars and motorcycles, electrical scooters don't require fuel to run. So, they don't release hazardous gases, like sulfur and carbon dioxide.
The area that will get the most benefit from motorized scooters is the urban. Because commuters are dumping cars to use adult scooters, general levels of pollution being pumped into the atmosphere could be reduced. They do not just lower emissions when used, but they also aid in reducing noise pollution in areas that are crowded.
Noise pollution could seem like something that isn't a big deal. The problem is obvious and is usually found in urban areas. It's due to the high levels of noise generated by cars or construction equipment, as well as people and neighborhoods, and even nightlife. Long-term exposure to noise pollution could cause difficulties to sleep, headaches and fatigue, as well as hearing loss, and damaged eardrums, among others. This is what makes Varla electric scooters a great alternative for commuting. Particularly when riding in the suburbs or quiet areas.
Varla Electric Scooter Developing
The genesis of Varla was based on the concept to provide adult scooter users with an amazing all-terrain riding experience. It grew into the guiding principle of Varla giving people the ability to explore any time, anywhere.
To attain its top performance on all terrains The Varla electrical scooter blends its dual motor's powerful power with dual shock absorption. It`s a reinterpretation of high-performance e scooter design DNA.
Many popular publishers like Forbes and Cnet have featured Varla scooters in their articles.
Varlas professional quality control and pre-shipment quality check, every high-performance motorized scooter that will be sold would spice up customer's life. That being said, the Varla scooters have a rating of 4.9/5 based on nearly 300 real customer reviews.
Varla Eagle One-Best Dual Motor Electric Scooters For Adults
Specifications:
Motor: 2 x 100W Dual Hub Motors
Battery: 52V/18.2Ah lithium-ion battery
Range: 40 miles
Top Speed: 40+ mph
Max Load: 330 lbs
Climbing Angle: 30 degrees
Suspension: Front and rear
Brakes: Dis, Hydraulic
Tire Type: Pneumatic (Air-filled)
Portability: Folding frame
Weight: 77 lbs
Specifications Description:
When riding, the Varla Eagle One is incredibly well-balance and provides a comfortable ride. The Varla Eagle One is an all-terrain scooter design for both on and off-road riding.
Varla Eagle One Dual Motor e scooter can be the ideal electrical scooter for rough terrain, as it comes with extra-large off-road tires of 10 inches. The adult scooter has two motors of 1000W combined to produce an incredible power of 3200W.
With the 52V 18.2 Ah battery of top quality and superior lithium-ion cells, this electric scooter is capable of a range of 40 miles and is capable of carrying a payload of 330 lbs.
With two 1000W motors as well as a 2 X 25V speed controller, which puts out a thumping amount of 30Nm torque, you`ll be able to climb up to 30 degrees slopes and hills with ease
Varla Eagle One's frame is made from aluminum alloy, just like the majority of electric scooters. The 77-pound weight and robust frame make it look luxurious. Particularly in comparison to other electrical scooters, the handlebars are solid and comfortable, giving riders great grip. Everything is conveniently situated, allowing for an easy & straightforward riding experience. Handlebars have a curving design like a bicycle's which enhances the ergonomics and maneuverability of the motorized scooter.
Varla Eagle One has an IP54 water resistance rating, which provides protection against dust ingress and continuous water blasts of moderate pressure in any direction. The majority of electrical components are integrated inside the deck, with any external wiring being secured and protected.
Contrary to the cheap plastic parts that are in the majority of low-cost scooters of today the LED lights and display consoles feel luxurious. Varla Eagle One can as a top-quality motor scooter with tons of premium accessories and a high-quality build.
Varla Eagle One Electric Scooter Customer Reviews
With over 190 real customer reviews Varla scooter has earned trust and appreciation among its customers. Take a quick peek at what customers have to say about the Varla motorized scooter.
"The Varla Eagle One scooter is so awesome from its crazy acceleration to its very nice suspension. The ride of this adult scooter is just awesome and the hydraulic brakes will stop on a dime. So if you are thinking of purchasing this electronic scooter DO IT NOW !!!"
"I Love This Thing! Had it for several months now. I have truly put the test on the beast e scooter. The way it handles is amazing! All terrain definitely ! I have let several people try it that had questions for me on the road. Once they got on it, they were just as amazed as I was when I first tried it! I don't think I could find better! At least at this time! Way to go Varla, and Thankyou!"
"I wanted an E-scooter to use primarily for recreation (riding on paved bike trails). As a person who weighs 275 lbs, I wanted a motor scooter that had a high range so even a person like me could ride for 20+ miles. Just did a 20 mile ride babying it on single motor (switching to dual motor when going uphill) travelling between 8-10 mph with the headlight on. Was shocked that I still had 70% battery left. Gives me confidence that I can just leave it in dual motor mode and travel faster without worrying about range. I'm truly satisfied!!"
Let's Expect Varla's Future!
We are a young and dynamic team. We are always improving and developing. In the past, we've formed a long-term alliance with the manufacturers of motorized scooters. More models will be coming out in the near future. We are also looking into opening stores offline to offer customers the best and most efficient after-sales services.
We are a client-focused and focused team that includes individuals from all over the globe. Our highly skilled and experienced engineers and customer support team are available 24/7 to answer your questions.
Take a look at the Varla Scooter Gallery. We've put together this gallery of videos and photos to help you take an inside look at what our adult scooters look like.
Have fun, be young, go far, and enjoy the opportunity to live, Varla is always there to support you.
---
---
Share Article
Newletter
Promotions, new products and sales. Directly to your inbox.
Lastest Blog Post
Category