Electric scooters are on the rise! You've probably seen them in some of your favorite shows, like Zoey's Extraordinary Playlist. Maybe you've seen them pass you by on the sidewalk or when you're stuck in traffic.
If you're reading this article, then you're probably looking into why buying an electric scooter would be a good investment for yourself. This article can be an electric scooter guide for you and could even answer some of the questions that you might have.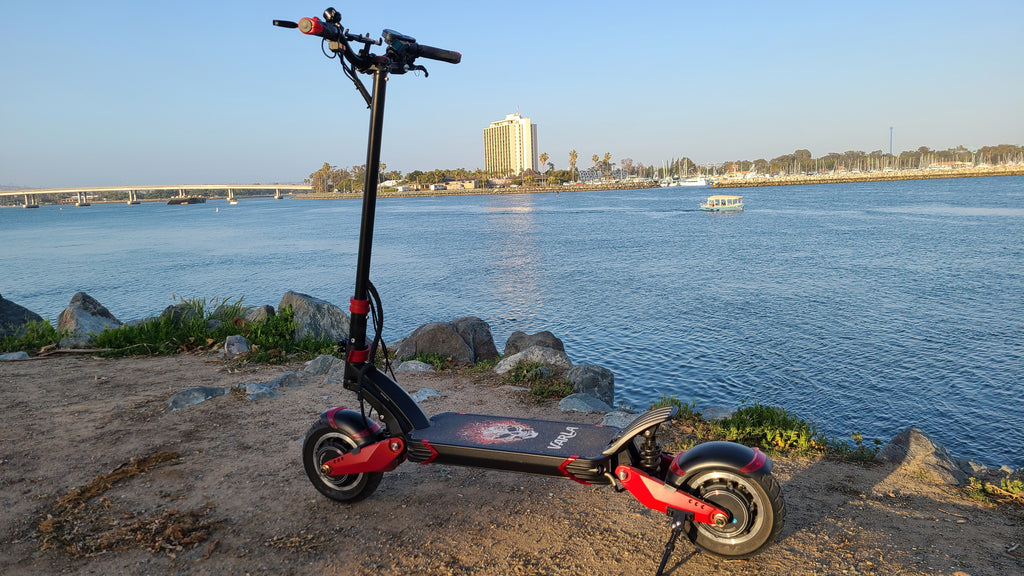 Questions like: how much an electric scooter costs, or what the best scooter for adults is? You might even be wondering how to lock an electric scooter. Let's explore some of the reasons why the electric scooter seems to be exploding onto the scene of urban transportation.
Mobility of the E-Scootercooter
Electric scooters could just as well be called urban scooters with how well they perform in urban areas. They're perfect for urban use and even for engaging in little side adventures for yourself.
Electric scooters are durable and fast! You can be on time, and with offroad balancing scooters, your adventure is sure to be memorable. Meaning you can navigate from rough to smooth terrain, having fun with ease.
One of the best features of electric scooters is that they're easily portable. They are foldable scooters, which means that you can pack up your scooter when you've reached your destination and take it with you!
Here are a few ways the electric scooter can be enjoyed:
Cutting commune costs: scooters cost way less than your usual commune costs. Instead of paying for each time you travel to and from a place, you could just have a once-off payment
Avoid the traffic: Scooters are relatively lightweight and can easily navigate through stuck traffic by using alternative paths. This means you could avoid traffic and be on time!
Safeguarding: You don't need to worry about safeguarding your scooter. You could just pack it up and take it with you!
 Servicing Your Scooter
Electric scooters are relatively easy and inexpensive to service. However, should your electric scooter need assistance, you could do the following:
Personal electric vehicle (PEV) repair shops are your best option. With the growing demand for electric vehicles, they have started to appear everywhere!
You could simply return your scooter to the distributor. However, this would typically depend on the distributor, policy, and time-lapse from your purchase of the scooter.
The local bike store, especially those that work with electric bicycles, should help you.
If your electric scooter is maintenance-friendly, you could do the common repairs yourself.
Even locking up your scooter is a breeze. However, if you need to lock up the scooter, you could use the following:
Cable locks
Ring locks
Scooter chain locks
Or you could just fold up the scooter and take it with you. Traveling with style has never been easier!
Tire trends
One of the more common problems you face when owning an electric scooter is flat tires. If you don't know how to fix a flat tire, it can be confusing and surprisingly annoying.
These quick tips can help you prevent flat tires:
Check the air pressure. Fast and easy, using a bicycle pump (preferably with a built-in gauge). This is a relatively cost-effective way to check your tires.
Using tire liners is a sure-fire way to avoid flat tires. Tire liners are a heavy rubber and plastic material that is flexible. They are placed between the tire and the inner tube. You can even buy it online.
Solid tires are another way. Solid tires are tires that use a solid filler. This means that the tires are less likely to get flats or be affected by punctures. But they're usually more expensive and aren't worth it if you take preventative steps.
If your tires need replacing or they get punctured, then taking your scooter to a repair shop would be the best thing to do. However, you will have the added bonus of the repairs being far less expensive than other vehicle repairs.
Eco-friendly
The environment is always a big concern when considering which transport to use. But, unfortunately, our carbon footprint and global warming go hand in hand and are constantly rising.
Part of the electric scooter's charm is that it leaves a very low carbon footprint behind. In addition, operating on electricity and not gas makes the scooter much easier to maintain with a better impact on the environment.
It's easy to see why electric vehicles and modes of transportation are on the rise. For urban areas and beyond, electric vehicles are 100% the transportation of the future.
Beginner's Luck
Here are a few scooter riding tips for beginners:
Like with all types of transportation, your safety comes first. Using these electric scooter accessories will help to ensure your safety:
Don't risk a head injury, and wear a helmet to protect your head if you fall.
Use bike lanes or sidewalks when you're riding your scooter. This way, you stay out of the way of oncoming traffic and potential blindspots.
Stay vigilant! Electric scooters are a fun and quick way to travel but make sure that you're paying attention to your surroundings.
Wear appropriate clothing. Long-sleeved jackets, pants, and the necessary padding will help protect your body if you fall.
The Bottom Line
It's not often that people get to say their transportation is changing things for the better. But, with electric scooters, you can! They are lightweight, stylish, sturdy, and eco-friendly!
Electric scooters give you the advantage of avoiding traffic, saving time, and even having a bit more flexibility in terms of where you can and can't drive. You just might love it!
So whether you choose to indulge in a Varla Eagle One, this might be the thing for you. See for yourself and test the waters.