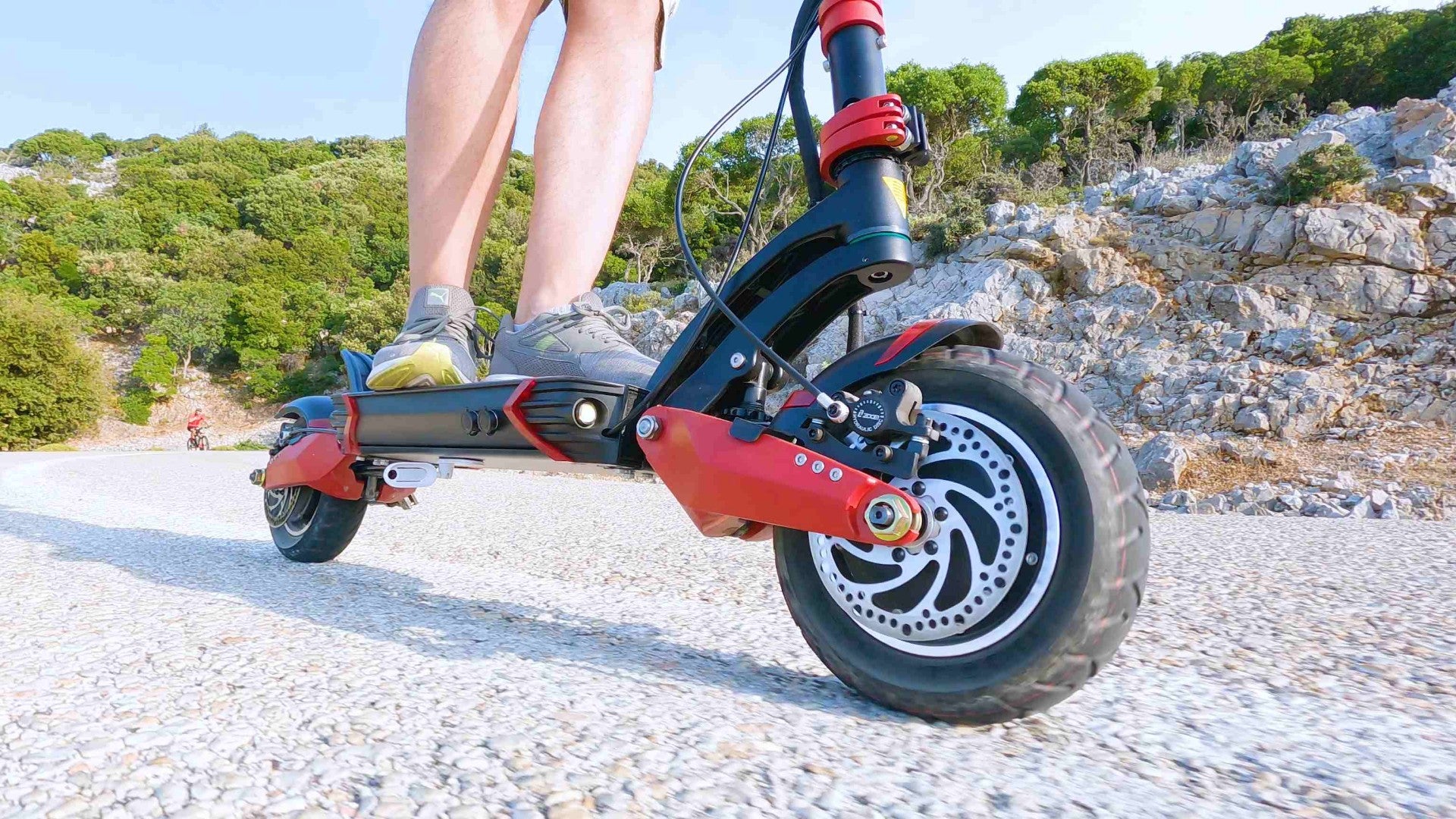 How to Prevent Your Commuter Electric Scooter Motors Failure?
Electric scooters are fun and convenient to ride. However, like any other vehicle owner, you must be careful when operating your all terrain electric scooter to prevent damage, or you may have to pay a lot for repairs and upkeep. The battery and motor are the most common reasons a scooter breaks down. A scooter's motor will typically last 2 to 3 years, but you may need to replace it sooner if you ignore regular motor scooter maintenance.
All Varla scooters have a dual motor, including the Varla Eagle One Pro All Terrain Electric Scooter with its 2x30A speed controllers power, which delivers a maximum power output of 2600W while maintaining the scooter's performance.
Before you purchase your best electric scooter, you should do your best to learn all about it to avoid unnecessary damage and get the most out of it. This article will take you through how the dual hub motor works and ways to fix it when damaged.
How Dual Hub Motor Works On Electric Scooters?
Motorized scooters for adults with dual hubs have a motor in each wheel. After turning on the dual-hub escooter, the rear starts first, while the front motor doesn't start until you press the dual-mode button.
Dual motor electric scooters are fun to ride and highly efficient. These motorized scooters for heavy adults provide more mileage than other models because they have two motors, one on each wheel. Since they can ride 60 miles on a single charge, the dual motor electric scooters are ideal for long-distance rides. 
Also, they have two batteries you can charge separately or simultaneously. Moreover, they are also simple to ride and control, as they have various speed settings that allow you to tailor your riding experience. 
What Is Improper Riding For Electric Scooters? 
Improper riding can be hazardous to you and can also cause damage to your all terrain electric scooter. 
Steep Hills Climbing For A Long Time
Ride your fastest electric scooter uphill and downhill but avoid climbing for a long time. Moreover, this can put unnecessary strain on the battery and damage it over time. As you are approaching a stop sign, ensure you slow down before the stop sign. Afterward, slowly move until it's safe to accelerate. It helps to avoid extra pressure on the motor.
High Speeds For A Long Time
Furthermore, don't ride on roads with speed limits higher than 20 miles per hour - this is also illegal, especially if there are other cars around you. Going above the stipulated speed of the electric scooter overworks the motor. Also, don't ride on the sidewalk, as it's illegal and dangerous and can induce consistent movement and stop or even lead to an accident. 
Troubleshooting Your E-Scooters Motor
There are ways to fix the motor of your electric scooter. Below are some solutions for an all terrain electric scooter motor that won't start.
Inspect the motor
You can examine the wires and wire connectors for disconnected or loose wires. Gently tighten each wire and wire connector to prevent them from disconnecting or becoming loose. Then, check all wires and wire connectors connected to the motor. 
Examine the motor, speed controller, and other electrical components for odors. If there is a smell, the coils must have overheated, and the speed controller is damaged. The motor's short circuits will stop working when the plastic insulation on the magnet winding melts. Then you may have to replace the motor right away.
Check the battery and charger.
Without the battery, there would be no power source to start and run the dual motor electric scooter. So if the commuter scooter motor is not running, check the battery. When you expose your battery to elements and strenuous riding activities, you can damage it and cause your motor to stop running. These include stunts or extreme riding activities and riding over water and uneven and unpaved surfaces.
Additionally, ensure that the charger is operational. Plug it into a power outlet and check for any indicator lights. The charger is faulty when its light doesn't come on, or it blinks on and off. Make use of a multimeter to test the charger's output voltage. It should be a few volts higher than the voltage level (24V, 36V, or 48V). If the output voltage is zero or lower, the charger is faulty. It helps if you learn how to prevent commuter electric scooter battery fires.
Inspect the fuse or circuit breaker.
If your dual motor electric scooter has a fuse, check the inside of the fuse to see if it's burnt. Remove the fuse from the device and replace it. If your motorized scooter has a circuit breaker, you can turn it on or flip it to see if it will reset. Fuses can burn in places where you can't see them, while you can't reset the circuit breaker mechanically. Using a multimeter will determine whether or not they are functioning.
Test the throttle
With a 4.5-5V DC power source and a multimeter, you can test the throttle of your escooter. 
STEP 1: Try applying 4.5 through 5 V DC positive (+) to the throttle red wire and ground (-) to the black wire. 
STEP 2: Attach the multimeter set to read the DC voltage between the black wire (-) and the green, blue, or white wire (+). 
Step 3: Then press the throttle. When the throttle is engaged, the output voltage should range between 1 and 4V. If the throttle produces less than 4V DC at full throttle, the throttle is defective, and the commuter scooter motor will not start.
Inspect the speed controller
You have to check the controller's speed for damaged wires or wire connectors and the smell of burnt plastic. Also, ensure you test all the electrical parts around the controller. The speed controller is defective if all the components function, but the dual motor electric scooter doesn't.
How to Prevent Electric Scooter Motors Failure? 
As an commuter scooter rider, you need to know some tips to keep and maintain your motor in good condition. Here are some tips on ways to prevent electric scooter motor failures: 
Avoid Storing in a High Temperature or Wet Environment
It's best to store your motorized scooter in a moderate-temperature environment. The motors will overheat when the temperature is too high, leading to motor failure. It is also essential to keep your it dry and clean, as dust can get into motors and cause damage.
Another factor you should consider is heat dissipation when storing an electric scooter for heavy adults. If there are no vents on the side of the motors, they wouldn't be able to dissipate all of the heat away. This scenario can lead to overheating, which in turn can cause the failure of the motor itself.
Prevent Frequent Starting or Braking
To avoid commuter scooter motor failure, avoid frequent breaking and starting of the scooter. When you break or start your scooter, the motor runs at high speed and consumes more power. This process can cause the battery to run out faster than usual. As a result, the engine may overheat and fail. To avoid this, use your motor scooter normally without breaking or starting it too frequently.
Conclusion
Electric scooter motors typically can last for 3 to 5 years without fault. Their durability is subject to their design, model, and maintenance. However, improper riding can damage your e scooter's motor and shorten its lifespan. However, you must take proper precautions to avoid damage to your motor scooter and prolong its life. For excellent riding performance, purchase any of the Varla scooters today, as they have durable batteries and efficient motors.
---
---
Share Article
Newletter
Promotions, new products and sales. Directly to your inbox.
Lastest Blog Post