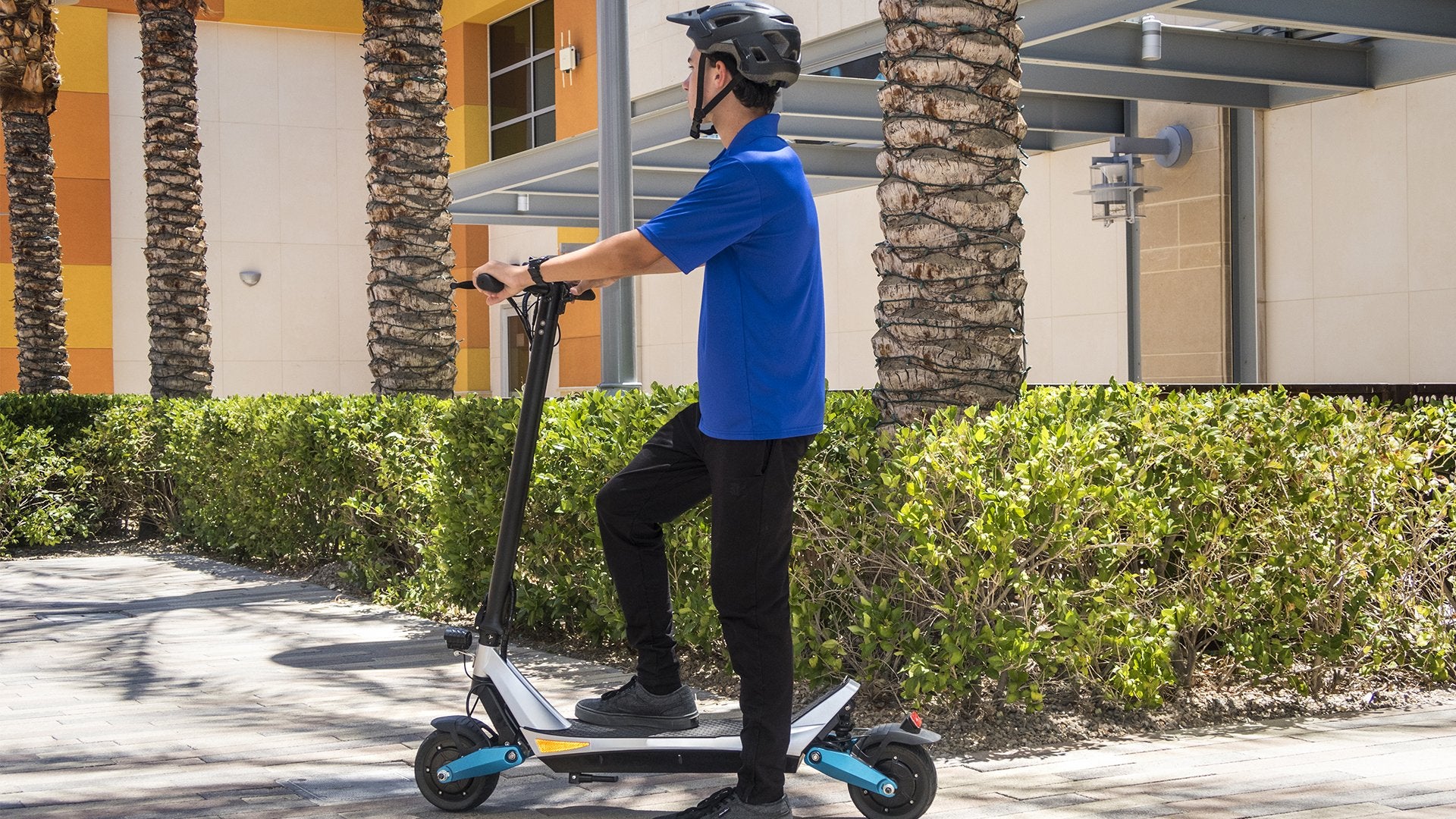 What is the Best Electric Scooter for Adults?
If you are out shopping for a foldable electric scooter for adults, then you have come to the right place! You can commute in style, miss traffic jams, and explore your neighborhood with an awesome electric scooter. There is no better time than now to buy an electric scooter!
There are various reasons you need an electric scooter, and one of our favorites is the shortened commute. Why walk the mile when you can have the crisp morning air on your skin as you zoom through traffic. You even have time to stop for your morning coffee and bagel by cutting commute time. Why take a cab or the bus when you can ride? Finding the best electric scooter for adults isn't hard when you know what you are looking for. However, there are different brands and features with various budgets to consider. So, how do you know you are getting a heavy-duty, long-range scooter for your commute? Let's discover what the
best electric scooter for adults
 is and where you can buy one!
Create a Checklist
You need to have a checklist ready on all the things to consider before you swipe your card before running out and buying the first electric scooter you can find on your Google search.
Budget: The first thing you should have is the budget. Knowing what you want to spend will help you in your search.
Laws: What is the top driving speed in your neighborhood? Are you allowed to ride an electric scooter during your commute?
Weight: If you weigh 200 lbs, your electric scooter's payload can be the dealbreaker. Consider your weight with a backpack and heavy clothing, so you have the option to ride with your belongings without worrying about the added weight on your e-scooter.
Range: Know how far you plan to ride each day and choose an e-scooter that can get you where you need to go without running low on battery.
Suspension: The quality of the suspension will greatly affect your riding experience.
Portability: Folding electric scooters are convenient because you can carry them when you can't ride them, such as when you hop on a bus or train. The weight and its ability to fold is a deciding factor.
Varla Pegasus – The Best Electric Scooter for Adults
Now that you have your checklist in hand, you can compare it to the
Varla Pegasus electric scooter.
 It has everything you need for a long-range, heavy-duty scooter and will become your new favorite mode of transportation. The Pegasus has a beautiful sleek design and ready to be your new commuter scooter! Let's take a look at the specs:
Motor: Your Pegasus is equipped with 2 x 500-watt motors to give you the power and range to manage your commute efficiently.
Suspension: With dual spring suspensions, your scooter will absorb all the bumps on the road for a smoother and more enjoyable riding experience.
Tires: Reliable 3.5 inch puncture-proof solid tires for leisure riding and commuting.
Range: You get 28 miles of smooth riding. Get where you need to be with a long-range.
Payload capacity: The Pegasus is perfect for heavy adults, and riders who weigh under 280 lbs will enjoy this commuter scooter.
Brakes: There are dual disc brakes for optimum safety.
Battery: 48V/15.6Ah lithium-ion battery for a long-range and fast charge.
The Varla Pegasus is the ultimate commuter e-scooter, and you can ride comfortably through your neighborhood and city streets. You can park your scooter almost anywhere or fold it and carry it. Riding has never been easier. Start the e-scooter and use the thumb throttle to accelerate. With a wide deck and trendy design, your Pegasus will be the envy of the neighborhood.
More Pegasus Features
Your commuting electric scooter must come with excellent lighting to keep you safe while riding at night. All road users must be able to see you at night with ease. The Pegasus has a headlight and taillight to ensure everyone can see you no matter the time of day. The easy-to-read LED screen displays all the essentials. Your battery power, speed, and range will keep you informed while riding. Never worry about how much battery life you have left with a smart LED screen. Don't forget about the integrated kickstand!
Pegasus Accessories
What is having the best electric scooter for adults if you don't have nifty new accessories to go along with it. Let's start with safety gear! A must for all electric scooter riders. There are knee and elbow pads and gloves to protect your skin in the event of a fall. The
Varla accessories store
 also has the following:
Electric scooter seat for those long commutes
A foldable lock to ensure it never gets stolen
Grab a handlebar bag for your Pegasus for small items such as your keys and phone
USB rechargeable front light for added protection for night riding
Pick up an extra Pegasus charger so you can get fully charged within 4 hours
The Bottom Line
The
Varla Pegasus
 is the best electric scooter for adults. With its dual suspension and 2 x 500-watt motors, your ride will be smooth every time. Designed with comfort in mind, you can commute in style with the best foldable scooter for adults. In addition, better your riding experience with accessories from the Varla accessories store. Save money and the environment with the Varla Pegasus! You are not only reducing your carbon footprint, but you never have to pay for gas or parking again. In addition, your commute has never been more exciting, and you can start your day right with a scooter ride to work, school, or running errands. Adults love the Pegasus because it gets built with the highest-quality parts so that you get years worth of fun out of your scooter! What makes Varla different? Did you know you can buy now and pay later? Through PayPal, you can get your e-scooter and pay it over six easy installments – interest-free!
---
---
Share Article
Newletter
Promotions, new products and sales. Directly to your inbox.
Lastest Blog Post
Category