Scooters provide a practical and interesting method of short-distance transportation, which is suitable for various daily activities. Most of the scooters you will see on the streets are designed for smaller riders. Due to most manufacturers usually make for riders weighing 170 lbs (77 kg). However, according to the survey, we live in a world where most adults are larger. For example, the average weight of American men is about 200 lbs (90 kg).
Times are changing, and scooters are also developing. Manufacturers are designing more electric scooters for heavy adults 300lbs. Taking into account the performance of riding, at least 1000W electric scooter will work. Considering the comfort of riding, heavy duty electric scooter with seat for adults comes.
We are delighted to see the emergence of more and more electric scooters for heavy adults, and people will also have a lot of questions when purchase. Today we will introduce the points that need attention from this aspect.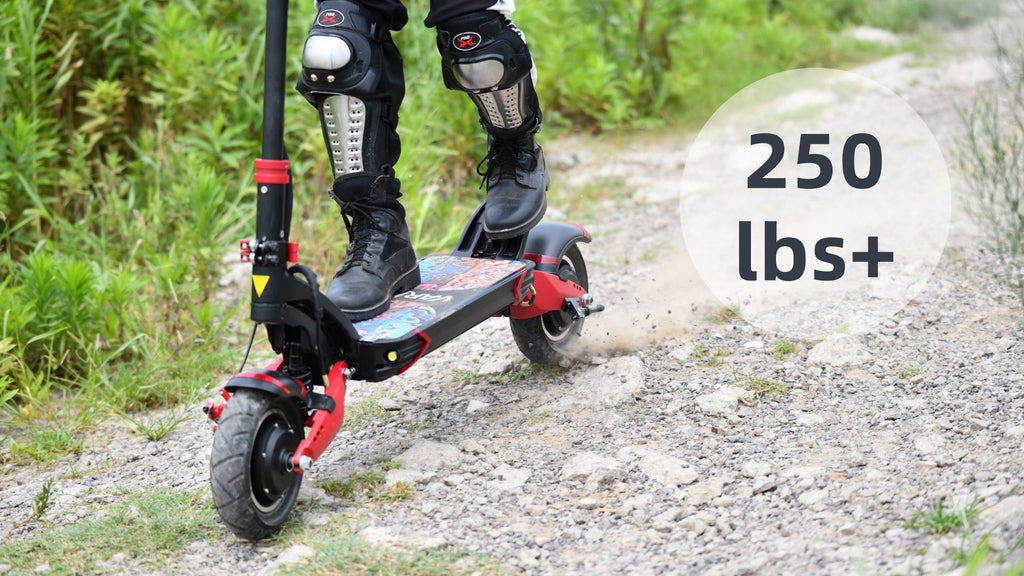 What is the weight limit for an electric scooter?
The weight limit that an electric scooter can carry usually depends on the model of the scooter. Generally, the max. load capacity is 220 lbs (100 kg) to 265 lbs (120 kg). However, at present, due to demand, some manufacturers make electric scooters that can carry a weight of 200 kg (440 lbs).
The weight should not exceed the scooter's recommendation because the electric scooter's performance may be impaired. Such as, excessive weight carried by an electric scooter will affect the riding speed, battery life, aggravate tire wear, and damage the scooter frame. Therefore, if you are a heavier adult, then the weight limit will be an important factor in choosing an electric scooter.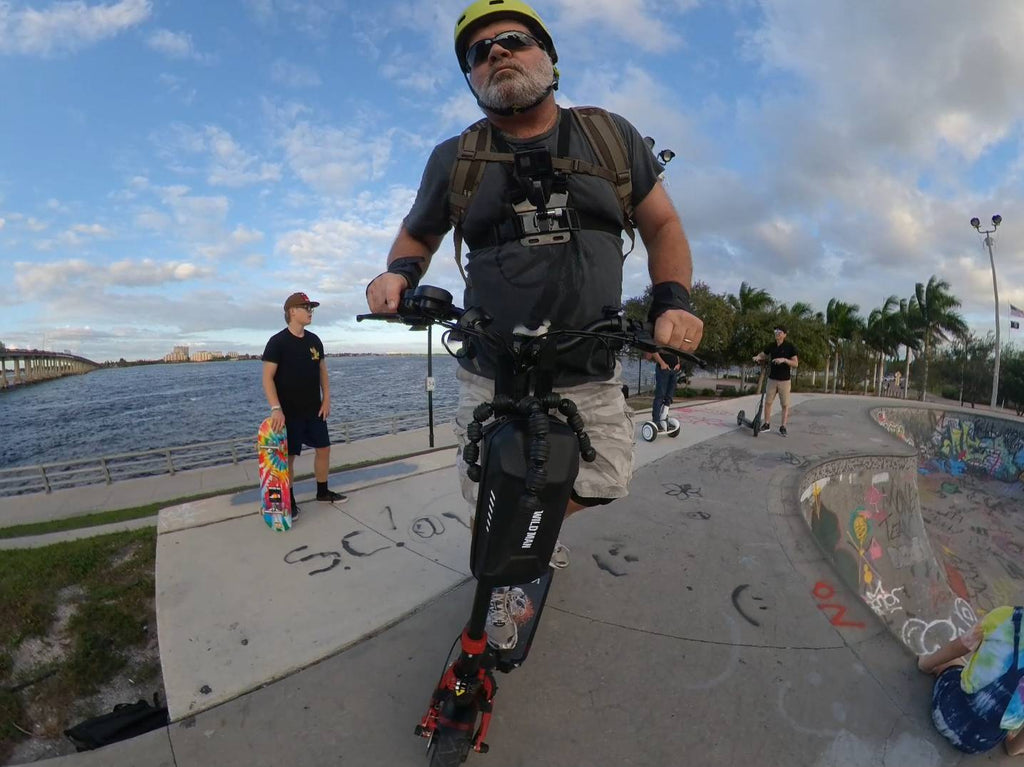 What affect the weight limit for an electric scooter?
The weight limit is determined by multiple factors, including the scooter's motor, battery, frame, and braking performance. Understanding these elements can help you better know the carrying capacity of the scooter when buying.
Although weaker battery capacity and smaller electric motors will make the scooter lighter and cheaper, these components will greatly reduce the max weight limit. When the load is too heavy, the cruising range will be affected, but the weaker battery cannot provide enough energy for the motor.
If the scooter could take over 265 lbs and go fast to 20mph, we will say it belongs to one of the best electric scooters for heavy adults. Suitable eclectic scooters for heavier riders generally require two motors to provide enough power. Electric motor with a rated power of 500W or higher is enough to carry heavy-duty riders, but due to the impact of battery power, the speed will be around 20 mph.
The sturdiness of the electric scooter frame affects the weight it can carry. Fragile structures are unlikely to cope with higher loads. When buying an electric scooter for heavy adult, make sure to choose a high-quality model made of sturdy and durable materials. Aluminum alloy and carbon fiber are the most common materials in scooters. They are durable and not easily corroded. Carbon fiber is lighter in weight and more expensive. For a scooter with the same performance configuration, the price of carbon fiber will be about 30%-40% higher than that of a scooter made of aluminum alloy. Still, there is not much difference in robustness.
Considering that the increased load will result in a longer braking distance at higher speeds, for heavier riders, electric scooters' braking capacity needs to be paid more attention to when purchase. Common brake types on the scooter market include foot brakes, electronic brakes, drum brakes, and disc brakes. On scooters that can reach high speeds, they are usually equipped with disc brakes, which brake sensitively and respond quickly. Please always keep in mind that the parking distance will be affected by weather conditions, terrain, and response time.
As one of the best electric scooters for heavy adults, Eagle one equipped with hydraulic disc brakes. It allows the scooter to stop within one second once you brake.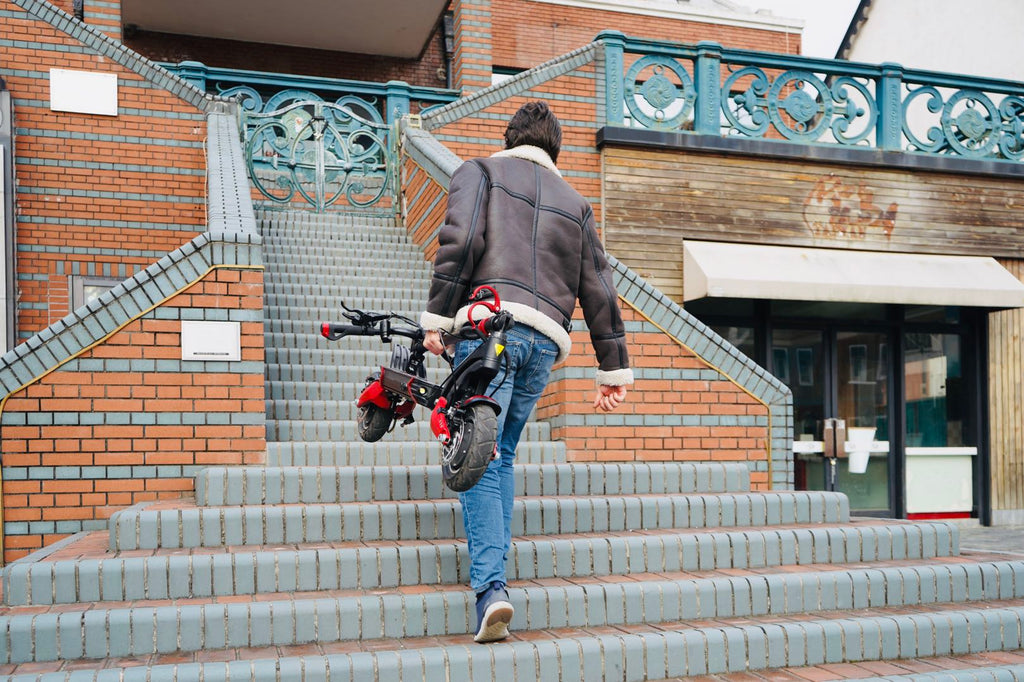 Why Varla Eagle One is one of the best electric scooters for heavy adults?
Sturdy Frame – Max Load Capacity
Varla Eagle One is made of high-quality aluminum alloy, which is strong and corrosion-resistant. The sturdy frame structure supports a weight of up to 330 lbs (149 kg).
Eagle One has a 9.1-inch-wide deck, which provides enough space for the rider's feet. The deck width also greatly affects the comfort of riding, while few people will notice this. A deck that is too narrow does not have enough space for the rider's feet; thus, the rider will get tired easily. Even more, too narrow's width may even affect riding safety.
Varla dual motor electric scooter, equipped with 1000W motor, the highest peak can reach 3200W. It can be said to be for people up to 330 lbs. If you want to hit the top speed, we recommended weight is 265 lbs. Considering the power loss caused by the excessive load, the maximum speed can still reach 38 mph, a smooth and fast portable vehicle.
Max Range For Heavy Riders – 35 Miles
Depending on the rider's riding style and the load's weight, you may see that the maximum cruising range is less than the full standard range, but based on high-quality batteries, this will not be too far off. The farthest distance Varla Eagle One can reach is 40 miles. Even riders over 265 lbs can also get 35 miles per single charge.
Smooth And Comfortable Ride – Independent Suspension
Varla Eagle One electric scooter is equipped with dual suspension and applies independent suspension technology, which means that when you pass the bumpy, the wheel will maintain its grip on the street, thus making your riding safer and more stable.
Extra Shock Absorption – Pneumatic Tires
Taking into account the comfort, we use 10×3 inch pneumatic tires, it can absorb shock when encountering bumps, and larger tires can provide a more smooth and stable riding experience.
For heavy adults, standing for a long time will be bad for the knee. Varla Eagle One allows you to install a seat to make your journey never tired. You can see the optional seat in the Varla store, the height can be adjusted, and it is equipped with spring shock absorption, providing you a more comfortable trip.
Even if you weigh more than 100 kg (220 lbs), the Varla Eagle One electric scooter can accommodate you. And you will enjoy the 2-year warranty, ride with confidence.
Check out more helpful tips from Varla Scooter: